WASHINGTON — The underdogs huddled together in a seventh-floor D.C. ballroom, eyes wide and cheeks flushed, trying to figure out the most acceptably Nebraska way to celebrate.
Minutes earlier, this group of University of Nebraska-Lincoln journalism students and professors had watched as a D.C. power broker announced the shocking news from the dais and hundreds of political and literary bigwigs — including at least two Kennedys and at least three members of Congress — had clapped and cheered. The group had hugged and cried and shook the hand of Ethel Kennedy, the 89-year-old widow of Bobby Kennedy, the namesake of this prestigious award.
And now some students silently stared out the Newseum ballroom's giant picture windows toward the Capitol Building, shining brightly six blocks away. Others chattered, struggling to reconcile the project that had brought them here — the nine months they spent on the dusty, dirty, drunken main drag of Whiteclay, Nebraska — with this view, this ballroom, this night, this prize.
They stood together, blinking and wondering: What in Ethel Kennedy's name do we do now?
Joe Starita, the group's lead professor and a man rarely at a loss for words, barreled into the gaggle of college kids and shattered the silence.
"The first time a college has won in the 49-year history of the award!" he yelled. "We beat HBO and the New Yorker! We beat the New Yorker!"
"Don't yell that too loud," shushed a student.
"I don't care," Starita said, laughing. "This is totally insane."
And it was. Tuesday night, these Nebraska college kids did indeed beat HBO, National Geographic, the New Yorker and every other TV network, magazine and U.S. newspaper finalist. They won the grand prize in the Robert F. Kennedy Human Rights journalism awards, an honor never before bestowed on a group of college students.
And they did it with a project, "Wounds of Whiteclay," that already had played some role in an achievement the UNL students regard as more important than an RFK grand prize. For the past year, these students have written stories, snapped photos, shot video and designed a website that together shone a floodlight on the infamous 12-person town where four beer stores have sold annually the equivalent of 3.5 million cans of beer to desperately poor Oglala Lakota Indians living on the nearby Pine Ridge Reservation.
This spring, a group of state leaders and activists and attorneys succeeded in doing something that Nebraska had refused to do for the previous 103 years: They emptied Whiteclay of the product that has been both the cause and a symptom of so much Pine Ridge suffering. They have, at least for the time being, shut down the beer stores of Whiteclay.
"It's proof that quality journalism leads to action," said Calla Kessler, a UNL senior-to-be, a graduate of Omaha's Mercy High School and a photographer and videographer on the Whiteclay project. "People will listen. They will be appalled. And they will act."
A few weeks ago, I clicked on woundsofwhiteclay.com and quickly fell in love with the hard-hitting exposes, tender profiles and heartbreaking visuals telling the story of this tiny town's booming beer business, its most vulnerable customers and the heroic — and oft-valiant — efforts to help them.
This is journalism at its scrappiest, all rolled-up sleeves and swinging elbows. Journalism at its smartest, deftly weaving more than a century of fraught history into a complex modern narrative that has left many a veteran reporter (including this one) overwhelmed by its enormity. And it is also journalism at its big-hearted best, journalism that pounds on the table and snarls: We care what is happening in Whiteclay. Do you?
Frank LaMere, a Native American activist from South Sioux City, Nebraska, has worked for two decades to halt beer sales in Whiteclay. He said he's never been as affected so deeply by Whiteclay-related journalism as he was by the student project.
"Many can comprehend, but few can feel," LaMere said. The UNL students "could feel the hope and the pain of Whiteclay, and they communicated it to every one of us. ... They told the story, and they did a great service to Nebraska, to our Lakota neighbors, to those of us who continue to toil to stop the death and the dying. I congratulate them. I applaud them."
Click on that link, and it is really easy to forget that 11 college students completed "Wounds of Whiteclay" while also taking classes and working part-time jobs.
We couldn't believe this was a college project, one RFK journalism judge told the UNL group Tuesday night. After the ceremony, another judge, C-SPAN producer Delia Ross, approached the gaggle of students and summed up her view of their project in a single word.
The 11 students and three professors had no idea how this would go when they first made the 430-mile drive from Lincoln to Whiteclay last summer. What they found when they arrived is a scene that has shocked hardened journalists for decades.
Members of the Oglala Lakota Tribe — the descendants of Crazy Horse and Red Cloud — lay passed out on the sidewalks and streets, in full view of law enforcement. Others huddled in abandoned buildings and doorways, drinking malt liquor and sometimes staggering the 200 yards back to the dry reservation.
The stench of excrement and urine assaulted the students' noses. The ever-present dust stung their eyes. They wondered: What, exactly, do we do now?
"When I stepped out of the vehicle, it felt like a Third World country," said Kessler. "It was shocking that it was in Nebraska, in our own backyard."
The students could have dropped out of the course and high-tailed it back to the safety of a college campus. Instead, they got to work. Instead, they started to find human stories in the middle of all this hopelessness.
Chris Bowling, a senior-to-be from Cincinnati, charts the demise of a woman named Melissa Shields, whom we first meet as she lies virtually lifeless on the street, her pants around her ankles and her bare legs blistering in the July heat. She is saved by a friend, who then tries to convince Melissa to go to a treatment center or hospital. "Take me back to Whiteclay," she says.
Lauren Brown-Hulme, a senior-to-be from Kansas City, follows a 22-year-old missionary named Abram Neumann as he befriends, feeds and tries to get the street people of Whiteclay into treatment. Neumann tells Brown-Hulme that, in his two years at the Lakota Hope Ministry, eight of his friends have died alcohol-fueled deaths. He questions how anyone can continue selling the street people beer day after day, and death after death.
A photographer named James Wooldridge spent his entire spring break shooting photos at Whiteclay. Another, Jake Crandall, taught himself to fly a drone, got his license and shot drone footage that became the centerpiece of many of the project's videos.
"I don't think I have ever felt so strongly about something in my life," Bowling says.
The students had some high-powered help guiding the project to completion. Starita, a longtime UNL professor, is a former Miami Herald investigative reporter who has written three acclaimed books about Native Americans. Bill Frakes, the project's visuals instructor, is a famed Sports Illustrated photographer. And the project's unsung hero, say Starita and the students, is Rebekka Schlichting, a member of the Ioway Tribe. Schlichting, who has a master's degree from UNL, co-taught the class and pushed the students to get beyond "poverty porn" and superficial stereotypes and dig deeper into the culture, history and trauma of the Oglala Lakota.
"It was important for me that the students see that the Native culture is a strong and vibrant one," Schlichting said, "a culture that has withstood a barrage of attacks and is still with us today."
The students I interviewed came away from the project convinced that closing down the Whiteclay beer stores was the right thing to do and believe it's only the first step in improving the future of Whiteclay and Pine Ridge.
"People who say that closing the beer stores won't change anything, I want to ask them, 'Don't you think we should start somewhere?' " Bowling said. " 'Don't you think we should end 100 years of sitting on our hands and saying we're helpless?' "
"We're not helpless. We can do something. And we have."
Brown-Hulme, sitting next to him at a Washington restaurant, broke into a huge smile.
"There's your kicker quote," she says to me, using the journalism phrase for a powerful quote that often ends a story.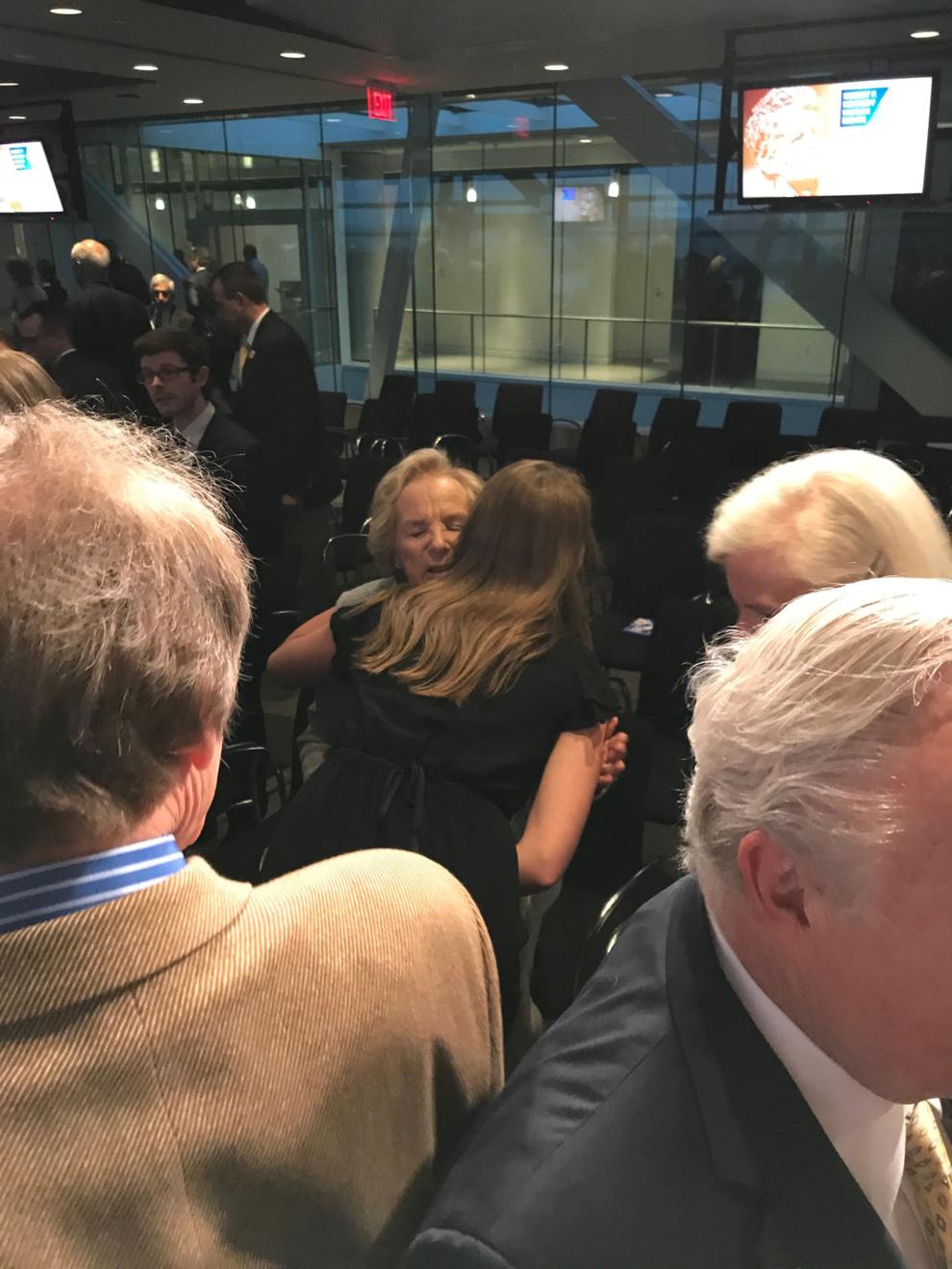 Except it isn't the kicker to this column, because the very next night, I watched as this group of underdog UNL students and professors bested media titans like HBO. I watched as they spilled onto the stage, flushed with shock and pride, and accepted one of the biggest awards in American journalism for reporting done in Whiteclay, Nebraska.
And then I watched as a UNL student photographer named Amber Baesler leaned down to hug Ethel Kennedy. "Thank you," Baesler told RFK's widow. "Thank you."
Ethel Kennedy is 89, frail and hard to hear. The room was crowded and joyously noisy. But I watched Ethel Kennedy's lips moving, and I'm almost certain how she responded.
No, thank you, she replied to the Nebraska student. Thank you.
Correction: Jake Crandall's contribution to the project was incorrectly attributed to another student.