The Omaha Children's Museum could be part of plans for the renovated riverfront at Lewis & Clark Landing.
Lindy Hoyer, executive director, confirmed the museum's interest but said no decisions have been made.
"OCM has made no commitment to the Riverfront Redevelopment Project," she wrote in an email, "other than continued discussions around potential involvement."
Founded in 1976, the museum moved to 20th Street and St. Mary's Avenue in 1989. Now attracting more than 300,000 visitors a year, the museum states its mission as encouraging the imagination and creating excitement about learning.
In 2010, the Greater Omaha Chamber of Commerce named it the Omaha nonprofit of the year.
As for a possible move to the riverfront, Hoyer said: "We welcome the conversations and are excited about the opportunity."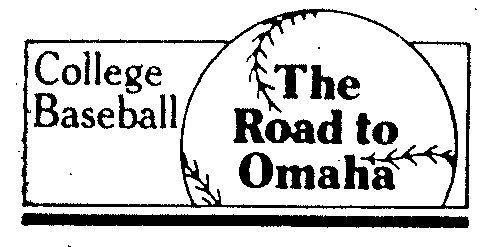 Where did 'The Road to Omaha' begin?
"The Road to Omaha" is a phrase so tied to the College World Series that the NCAA owns the trademark. But where did it originate?
From 1982 to 1991, when I was World-Herald sports editor, we regularly ran a logo of "The Road to Omaha" with articles leading up to the CWS. I'm not claiming we invented the phrase.
But an archive search shows only three uses in our newspaper before that, including the late sports columnist Wally Provost writing of the CWS in 1979: "The road to Omaha is an obstacle course, not an expressway."
The phrase later came into wide use in the media. Meanwhile, unrelated to baseball, author Robert Ludlum in 1992 published a bestselling thriller, "The Road to Omaha." (It was about a plan to reclaim Nebraska for Native Americans.)
In the late 1990s, sculptor John Lajba of Omaha was commissioned to create the "Road to Omaha" statue of ballplayers celebrating. It stands today outside TD Ameritrade Park.
And in 1998, the local nonprofit College World Series of Omaha Inc. filed for a "Road to Omaha" trademark. In 2002, the local group conveyed it to the NCAA, which owns it, along with "The Road to the Final Four" for basketball.
So while we can legally write about "The Road to Omaha" in news stories, it would be a trademark violation if we used the phrase to promote or sell newspapers.
I'm not arguing, "Hey, we had that phrase first." Even if I did, it's far too late.
After all, the iconic sculpture outside the ballpark, emblematic of Omaha's beloved CWS, is a solid reminder that there's, you know — a "statue" of limitations.
A two-generation connection for families
Bill and Deb Eidam of Elkhorn threw a farewell party Friday night for their foreign-exchange student from Spain — part of a two-generation connection.
Paula Lopez Alvarez enjoyed her sophomore year at Elkhorn High, which included rising early for 5:15 a.m. swim team practice.
Four decades ago, Bill's family hosted Paula's mother as an exchange student in Wilcox, Nebraska, south of Kearney. Four years ago, in New York, the two families hatched the plan for Paula to stay with the Eidams.
It's been a great year for Paula (pronounced Powell-a), as well as her hosts. They traveled to the Black Hills and Mount Rushmore, Yellowstone Park, California, Chicago, Florida and elsewhere, as well as to a Husker football game.
Retirees Bill and Deb were empty nesters, and said it was fun having a teenager at home again.
"Paula is vivacious," Deb said, "and she's made a bazillion friends."
The end of Regency Lodge's piano bar
The Regency Lodge motel east of I-680 at Pacific Street is closing June 30, which also means the end for its longtime piano bar.
Ray Williams has played there for visitors and locals for 12 years on Friday nights, and said he is treating the news as a celebration of all the good times, not sadness for the loss.
A manager at the motel, which also has been the site of many wedding receptions, parties and meetings over 40-plus years — under varied ownership and different names — confirmed the closing date but said he has been told little else.
Other staff members say the motel is to be razed and replaced with offices. A year or so ago, a framed architectural rendering in the lobby showed a proposed new motel of several stories, but that apparently fell through.
The manager said he would ask corporate ownership to return my call, but I hadn't heard back Friday.
Windstorm hampers Summer Arts Festival
Last weekend's 44th annual Summer Arts Festival downtown endured hot weather for the third year in a row, but the worst problem was the Saturday morning windstorm.
Of the 135 artists at the event, said organizer Vic Gutman, seven or eight sustained such damage that they had to pack up and leave. One, who said he had no insurance, suffered the loss of all the glass and ceramic artwork in his tent.
"It's pretty unusual to lose all your stuff," Gutman said. "Unfortunately, that has happened in Omaha."
In a good year, he said, total sales reach $750,000 to $800,000, but this year probably will be under $700,000.
Since 2002, the arts festival has set up on Farnam Street between 10th and 15th Streets. With plans to renovate the adjacent Leahy Mall, Gutman said, he will have to find a different location next year or the year after.
A bread museum in Ralston?
A 6:30 p.m. Monday public meeting at the Ralston Baright Public Library will be held to discuss the possibility of turning the town's old granary into a bread museum.
Donna Kozak, the organizer, said the granary operated as a grain and bean sorting and distribution hub, and includes an antique wooden grain-sorting machine.
A showing of 'Persona non Grata'
The historical drama "Persona non Grata" will be shown at 7 p.m. Tuesday at the Jewish Community Center.
It's the story of an unlikely Holocaust rescuer, Japanese diplomat Chiune Sugihara, "a world-class spy" who served as consul in Lithuania. Japanese Consul-General Naoki Ito will speak before a panel discussion.
At 6 p.m. Wednesday, author Julija Sukys will speak about her "Siberian Exile" at the Bookworm, north of 90th Street and West Center Road.