While others were breathlessly awaiting "Hamilton," I was blasé. Maybe even a little smug.
I scoffed at the hype. What is a hip-hop musical, anyway, and would I even understand the words? And what does it have to feed my traditional, Rodgers and Hammerstein heart?
People are like sheep, I concluded. They like "Hamilton" merely because it's the cool thing to do. I steadfastly remained immune to the madness.
You know where this is going, right?
After Wednesday night at the Orpheum Theater, I succumbed to "Hamilton" fever. About three songs in, I turned and whispered to my friend: "Lin-Manuel Miranda is a freaking genius."
Sign up for the Go newsletter
This complete guide of local music, movies, dining and entertainment will have you weekend ready.
Miranda wrote the book, music and lyrics for this retelling of America's birth with immigrant Alexander Hamilton at its center. He was a confidante of Gen. George Washington (later the first prez, of course), a key player in the fight for independence from England, the first Secretary of the Treasury who crafted the fledgling country's economic system and a multi-layered, ego-driven and not always admirable human being.
But though the musical carries his name, it's as much about the other Founding Fathers and the rocky path to ratification of the U.S. Constitution, a document that's been threatened before and that some say is being threatened once again.
You leave the theater with a better understanding of why our system is so special and why it's worth fighting for. Who knew that a story long relegated to dusty (and boring) history books could achieve that with staccato hip-hop lyrics and dance moves, other musical genres such as R&B, classic Broadway showtunes and British honky-tonk, some off-beat humor and nontraditional casting. (Yes, I know. You discovered that while I was being stubborn and smug.)
Every kid should see "Hamilton." It sucks you into history like "Star Wars" takes you into space. It's so engaging that you want to tell others: I spent about 20 minutes eagerly relating the plot to my husband the minute I got home. From history classes, I knew vaguely who Hamilton was, but I didn't know (or remember) many interesting tidbits such as his founding of the New York Post and his involvement in perhaps the first sex scandal in American politics.
I also didn't know the back story of the relationship between Hamilton and Burr, a complicated tale that ends in the famous duel. They were frenemies before it was a thing.
There's not a weak link in the cast, and the show takes advantage of that by using nearly 90 percent of the ensemble most of the time, sending a message that's in line with the show's focus on the Founding Fathers' desire to build a country in which everyone is equal. That's even more apparent at the curtain call, when no actor takes an individual bow. And Miranda was right: casting actors of color as Hamilton, Burr and their compatriots gives a familiar story a fresh and welcome angle.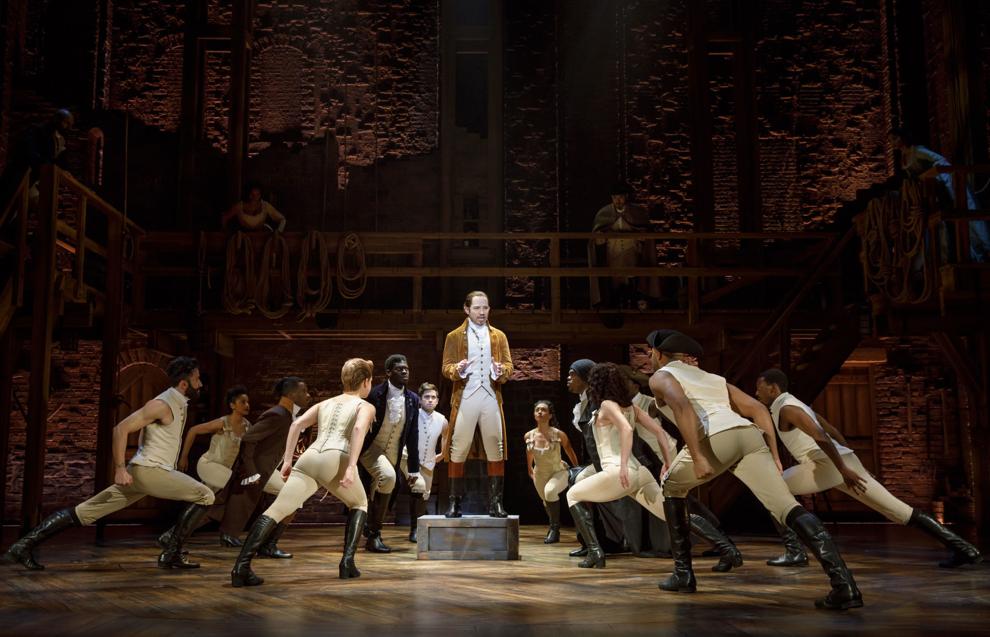 Some memorable performances:
» Erin Clemons as Eliza, Hamilton's wife, who gets many of the most dramatic scenes when she discovers her husband's infidelity and endures her son's death. Both Clemons and Ta'Rea Campbell, who plays her sister Angelica, are vocal juggernauts, as are Marcus Choi as Washington and Pierre Jean Gonzalez as Burr (He gets the best song, "The Room Where it Happens.")
» Joseph Morales as Hamilton, who does a fine job giving his character multiple dimensions: arrogance, sometimes endearing cockiness and some disappointing flaws, among many others. He doesn't have the strongest voice or presence onstage, but he holds his own.
» Warren Egypt Franklin and Neil Haskell, who provide much of the show's humor as Thomas Jefferson and King George, respectively.
I usually don't mention sound in touring Broadway shows unless it's substandard, but this sound was the polar opposite of that, and it deserves praise. Lightning fast lyrics were easily heard and understood (thanks also to the actors) and Miranda's exquisite music rocked the house. The small orchestra also was awesome.
I have to admit I was so bowled over by the totality of the show's technical and performing excellence that I didn't give much thought to dissecting its nod to slavery (kind of an elephant in the room), which probably wasn't emphasized enough.
I've also read reviews criticizing the script's depiction of the women as weak accessories to the men, but I didn't find that to be true. They certainly got their share of the best songs, such as "That Would Be Enough" or "It's Quiet Uptown" a stunning song about the impact of death on parents.
Not surprisingly, the show was a sellout and the crowd was respectfully raucous and extremely appreciative. If this is any indication, this cast will get lots of love over the next couple of weeks.
Count me among the smitten. I admit — wait for it — that I couldn't have been more wrong about "Hamilton."