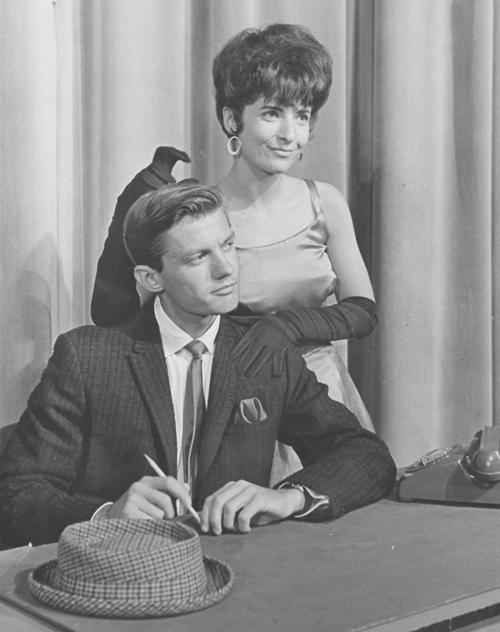 Dishy tidbits about Omaha's theater history flow from a local actor's new endeavor:
» Did you know that the founder of an experimental theater in the Old Market was known nationally and internationally for her innovation?
» Or that the man behind the former Firehouse Dinner Theater was once in a quartet that played in nightclubs across the country and had a national recording contract?
Mike Markey's Legacies Project features those tales and more.
Hoping to build an archive, he decided last year to start videotaping interviews with people who have played key roles in the development of Omaha's performing community. So far, nine people have been interviewed.
Snippets of those conversations will premiere tonight at Theatre Arts Guild's annual awards ceremony. The history lesson is especially timely as the group celebrates its 50th anniversary.
The project has been rewarding, said Markey, who led the Nebraska Shakespeare Festival for 18 years and now is deputy director of the Nebraska Arts Council.
"I have a natural curiosity that makes it enjoyable to do these, beyond how important I think they are," he said.
» Megan Terry, the founder of the innovative Magic Theater in the Old Market. Markey said she was featured in his college theater textbook. Co-founder Jo Ann Schmidman also participated in that interview.
» Dick Mueller, who became a member of his vocal quartet as a student at Omaha Central High School. He focused on theater when the group disbanded and he opened the Firehouse in 1972.
» Bette Swanson, a fixture at the Bellevue Little Theater.
» Mark Manhart and Bonnie Gill, who founded the Grande Olde Players, a theater troupe for seniors.
» Dwayne Ibsen, an Omaha director and costume shop owner who was one of the people behind the Rudyard Norton Theater, a classical troupe named after a man The World-Herald once called "the dean of Omaha actors."
» Sue Perkins, a longtime Omaha actress.
» Elaine Jabenis, known to theatergoers for her work on various local stages and to television viewers for her fashion commentary.
Former Omaha Community Playhouse assistant artistic director Susan Baer Collins interviewed Jabenis and Perkins. Markey conducted the rest.
He credits the Theatre Arts Guild leadership with making the project happen.
"The board was looking for new ideas, and I said 'Here's one,' " he said.
The project is a natural fit for the guild, which was born as the Metropolitan Actors Guild in 1967. Mueller was there at the beginning.
"It started in my apartment at the old Aquila Court," he said. "A bunch of us had been doing a lot of community theater, including some people who thought we should be paid for our efforts."
They didn't really want a union, and the notion of payment faded. (At that first meeting, Mueller said, Rudyard Norton delivered an impassioned speech against compensation. Years later, he admitted he was wrong.)
But they formed an advocacy group and organized a yearly recognition night, creating an award called the Maggie. Mueller's brother, who designed cars, designed the statue.
Rosalee Roberts, public relations director for Omaha Performing Arts, also was involved with the group in its early days. Her late husband, Robert Roberts, was a widely known local performer.
The group changed its name in 1987 to better reflect members who were involved in all areas of the theater, she said. The name change also facilitated its incorporation as a tax-exempt nonprofit.
"We had started a scholarship program and we wouldn't be able to get donations to build a fund without it," Rosalee Roberts said of the 501(c)(3) designation. "An attorney and accountant advised us to call a meeting of MAG, vote to disband, and immediately become a new group."
She was on the group's board and still acts as its official representative with the state.
Over the years, TAG has promoted and supported live theater through workshops, awards, scholarships and other activities. Now Markey hopes it will oversee the Legacies Project with the help of area theaters.
Outgoing TAG board president Jodi Vaccaro said the group is ready to move forward.
"The board is very excited about the possibility of more interviews and absolutely thrilled to have these as a beginning — we definitely see them as a beginning," she said.
They've compiled a list of potential interview subjects and keep getting suggestions. The board turns over in the fall, and new leadership will figure out who owns the project. They also want to seek funding from grants and other sources to continue, perhaps engaging professionals to help.
"We're so grateful for the volunteer efforts of the folks who have been involved," Vaccaro said.
The videos of notable Omahans talking about their craft will be valuable not only as history but as education for younger actors, directors and backstage workers, Markey said. He's working with an archivist at the University of Nebraska at Omaha so people will be able to view the interviews in their entirety. Edited versions already are on YouTube and on the TAG website.
He's pleased with the response so far, and amazed at what he's learned about the links among various performers, directors and theaters.
"It's been a fun project," he said.