Art can help us understand — or at least thoughtfully examine — things we can't experience. In Omaha, artists are creating paths through the grief, anger and unrest over the recent deaths of George Floyd in Minneapolis, James Scurlock in the Old Market and others.
Screen-printed displays of unity
"It's how we move through everything we do," she said, and it was that way long before the coronavirus pandemic or the protests of the past week.
The organization's artists and programs address issues such as economic inequality; gay, lesbian and transgender rights; hunger; racism; mental health and more in a variety of creative ways: theater, photography, music, performance art, painting, textiles and most any other expression you can think of.
Like screen printing. Two staffers, Joey Lynch and Dan Crane, handle that area, and over the last week they've been involved in an all-consuming project.
They've created and printed nearly 2,000 "Black Lives Matter" posters for distribution across the city.
The staff at the Union is about equally divided between black and white. After the shooting death of 22-year-old Scurlock by downtown business owner Jake Gardner last Saturday night, McQueen emailed her black employees and told them to take a week off to absorb and grieve over the recent events.
She then emailed the Union's white employees to tell them why that was important.
"The response was incredible," said McQueen, who has been isolating at home with her toddler daughters since the coronavirus pandemic began. "The white workers asked what they could pick up and what needed to be done."
They also came up with a new project: designing, printing and handing out the posters in what McQueen called "a spontaneous and impromptu effort." They were so enthused that they launched it before they told her.
Word spread on social media and 200 posters went quickly the first day. They printed 300 the next day with the same results. Wednesday they made another thousand and handed them out Thursday at the Union, though it has officially been closed since March.
McQueen said she is being inundated with social media photos of people hanging the posters all over town.
"Almost a message a minute," she said. "It's overwhelming but very beautiful."
The posters have shown up on Cuming Street in north downtown and at the nearby Mastercraft building.
They're hanging on windows and doors of residences and businesses alike.
They were passed out at Tuesday's meeting of the Omaha City Council.
McQueen wants people to know that the posters, black type on a white background, espouse more than an empty slogan.
"Black Lives Matter," she says, goes beyond the black deaths in police custody. It signifies a commitment to ending systemic racism in all areas: the economy, education, food security and many others.
"It's not saying that certain lives are more important than others. It's correcting the thought that certain lives are less important than others," she said. "That's why I'm telling people 'Don't hang one (a poster) if you can't make a commitment to that sentiment.' That goes for blacks as well."
She said her staff plans to pause and reflect on what else is necessary after they distribute the posters printed on Wednesday. Staff members have stepped up community volunteering while the Union building on North 24th Street remains temporarily closed.
They're planting additional food in the Union garden to serve people who will face hunger as the pandemic continues, and providing home art kits for kids, families and seniors. Some are donating time to No More Empty Pots and others are sewing masks for the University of Nebraska Medical Center.
"The (Union) facility is closed but our work continues," McQueen said. "We are more present than we ever have been."
A mural he didn't know he wanted to paint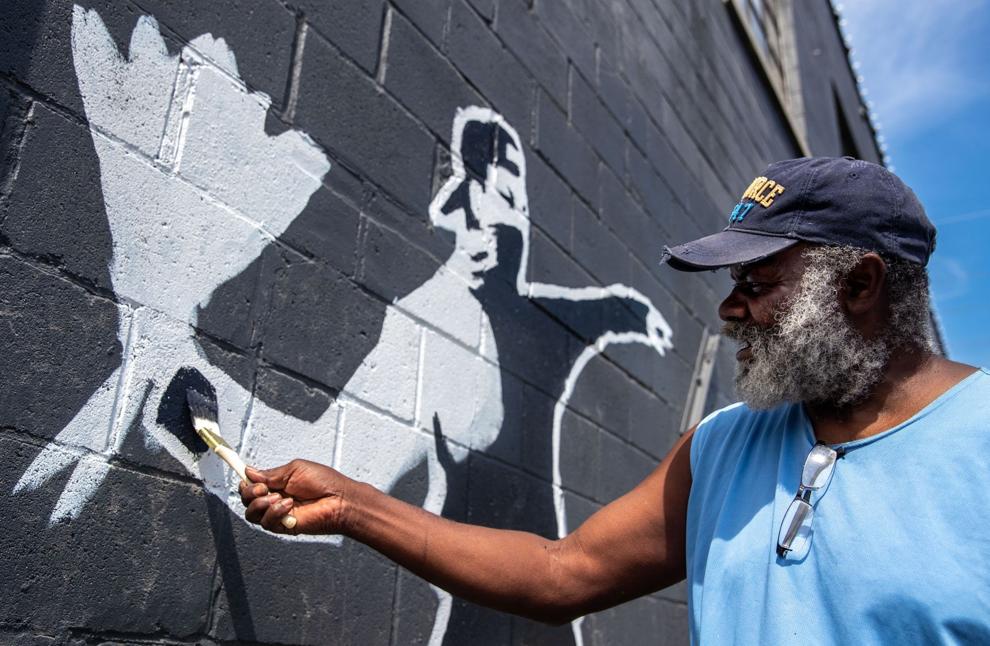 Jeremiah Neal will tell you straight up: He wasn't in the mood to paint a mural about love. Or unity. Or optimism.
An unsettling setback had left him consumed by frustration.
But his good friend, Ted Ostronic, insisted: There's no better time to commit an act of hope than when you're feeling despair.
And there Neal was on Tuesday, with the sun beating down on him, drawing fat brushstrokes of white and black on the side of a commercial building in midtown Omaha.
Then something happened. Drivers started honking their horns. Strangers stopped to talk. A newspaper photographer snapped a picture. A woman posted a video on Facebook and it sparked more than 2,000 likes and a GoFundMe campaign.
"By the time I got done, I got to meet some wonderful people," Neal said. "I'm humbled by the fact that I sat out there in the hot sun and painted a little picture on a wall, and now I'm getting this positive response. It feels great. I'm going to sleep really good tonight."
Neal created the mural on Ostronic's building, Unique Automotive, 4504 Cuming St. Ostronic said he thought the high-traffic location would be an ideal place to make an artistic statement.
And he was sure it would be therapeutic for his friend.
"When your mind is going crazy, sometimes keeping your hands busy helps a lot," Ostronic said.
The two agreed on the mural's content: a copy of a painting by anonymous street artist Banksy. In the painting, a young man wearing a bandana over his face leans back to heave ... a bouquet of flowers.
Neal, 63, says he likes how the flowers are counter to what people expect.
For him, the message in the Bansky painting is one of love.
"Fight hard for love," he said. "We fight for justice, we fight hard for financial success and certain things. We just have to fight hard for the real thing, to love people."
A script about history that's relevant today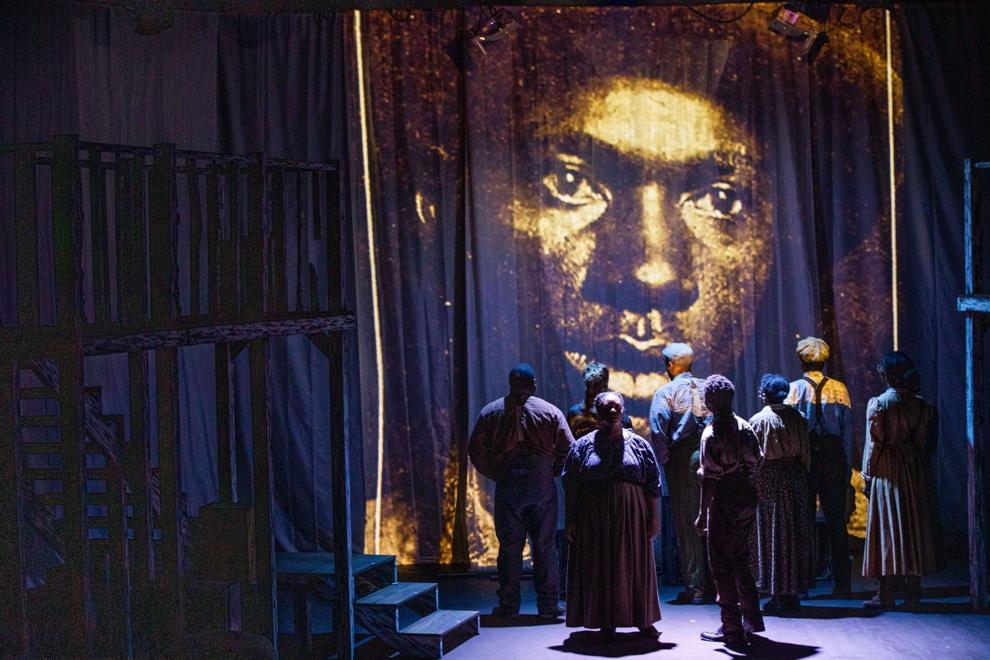 Actor and playwright Beaufield Berry took a deep dive into local and national history when she wrote "Red Summer," a play about the 1919 lynching of black Omaha meatpacker Willie Brown.
It deals with the bigotry blacks found when they migrated here from the South, among other issues. The Blue Barn Theatre produced it in fall 2019 as a world premiere.
Berry's research gave her a disturbing look into racism in America, and she couldn't help but see similarities between 1919 and 2020.
She was already dealing with the pandemic while raising three young children, so she wanted to shut out the deaths of Floyd, Scurlock and others. But she couldn't.
"It feels like an elephant sitting on my chest," stirring up anxiety, depression and other emotions, she said. "It's hard to focus, hard to think straight."
Berry realized she needed to do something, and it could start with making "Red Summer" accessible to the masses.
She put a link to the complete script on her social media accounts. She talked with Blue Barn artistic director Susan Clement-Toberer and the link will soon be on the theater's website.
Promoting the play amid troubling times, Clement-Toberer said, fits well with the theater's mission to provoke thought, emotion, action and change.
"Our stage is silent right now but we won't be silent in the face of systemic racism or in the face of injustice," she said.
Burke High School drama teacher Emily Mokrycki told Berry she wanted her students to read the script and others have contacted the playwright as well.
"That really galvanized me," Berry said. "Now I will be proactive about making sure it gets into students' and educators' hands."
She also hopes to reassemble cast members for a videotaped reading.
When she wanted to make a difference, Berry turned to the methods she knows best, writing and performing.
"We need to continue the Willie Brown and now the James Scurlock legacies by sharing our truth and collective history as Nebraskans and Americans," she said. "Right now there is no theater, so the best way is to just allow as many people to read it as possible and hope that schools will pick it up in their curriculum as they send kids who will be inheriting these problems out into the world."
Boards over windows become a work of art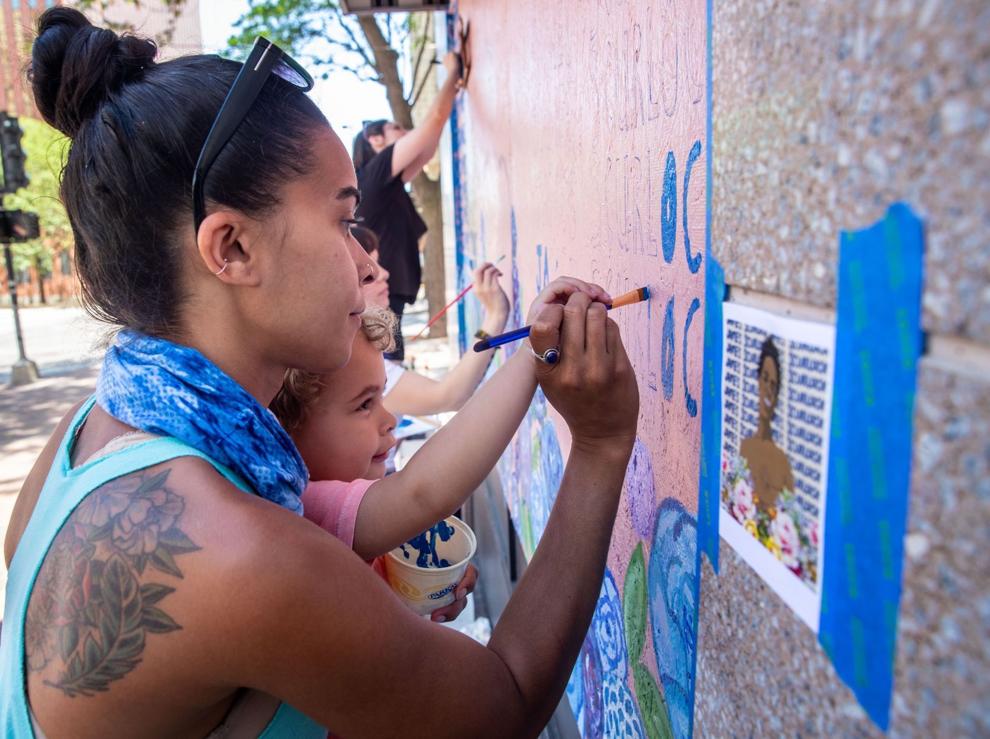 South High School art teacher Julia Mason is on summer break, but she's still inspiring students.
Mason recruited kids from her classes to help her create a mural on the boarded windows of the Culprit Cafe at 16th and Farnam Streets.
Protesters against the death of George Floyd in police custody smashed the plate glass windows last weekend.
The mural is a memorial to James Scurlock, the Omaha man who was shot and killed during the protests. It features a figure and blue roses, with rows and rows of Scurlock's name in the background. It reproduces a work by artist Kat Morrow with her permission.
Omaha artist Kim Darling put out a call for artists to contribute to murals and other works related to recent events. Mason answered the call and was sent to coordinate the Culprit Cafe work.
Her students were among more than 100 people who contributed to the mural. An aunt and a cousin of Scurlock were there to thank them, the teacher said.
"It was such a beautiful thing. To be able to do that for the family was a special thing," she said. "I was in tears."
Mason said she's not sure what will happen to the window boards. Culprit owner Luke Mabie said he would leave them up for a while, but she didn't know how long. Mabie didn't return calls from a reporter.
Passersby have been complimentary and supportive, she said. Some have stopped to donate money for materials; others have said the mural has started good conversations.
Some painted a letter in Scurlock's name.
"A lot of people are saying 'say his name,' " Mason said, so they encouraged people from the community to participate in repeating it over and over on the mural.
"We thought it was important for people to feel as though they were giving back in some way and expressing their condolences."
World-Herald staff writer Nancy Gaarder contributed to this report.
---
Photos: Peaceful protests mark an emotional night in Omaha