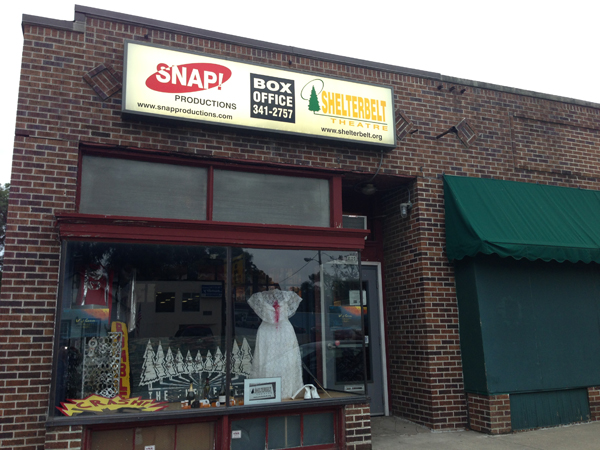 Without showing one tree or a blade of tall grass, "Catherland" captures the mystery and beauty of the Nebraska prairie.
The musical premiered Friday night at the Shelterbelt Theatre as part of its "By Local/Buy Local" season featuring shows by Nebraska playwrights. Becky Boesen wrote the book and lyrics and David von Kampen wrote the music.
It's not at all what you might expect — and not even what you think it is when it begins.
The main character, Susan (Jennifer Gilg), is a writer in Chicago who agrees to relocate to her husband's Nebraska hometown — Red Cloud, home of famed author Willa Cather — once her novel is finished. When it's time to move, she's apprehensive: How will she survive in the middle of nowhere? What will happen to her career, her dreams? And is she ready for a baby?
She's forced to confront those fears — and others — when mysterious events occur as she and Jeffrey (Craig Bond) are settling into their new rental home on land once owned by Cather's family.
The entire production — script, set, lighting, music — was strikingly evocative of the Nebraska landscape, perhaps because the spectre of Cather was looming. When Susan looked out the window of their rustic Red Cloud home, I saw the sparse, vast landscape she was seeing.
"Catherland" premiered as a staged reading in 2015 at the Red Cloud Opera House and then toured Nebraska. The authors say the Shelterbelt's edition — directed by Roxanne Wach — is "about the 27th version of the script." That may be an exaggeration, but the work shows: It has a plot with surprising twists and turns (at one point, I turned to my friend to exclaim "I did not see that coming ..."), well-conceived suspense and lots of humor and heart.
With help from the past, it examines problems in the present such as career-family balance, mobility and violence. Boesen's affinity for Cather comes through. Without giving too much away, I can say that Willa (Sara Planck) makes an appearance and is integral to the drama. Ironically, Susan's not a fan at first; in fact, she's never finished "My Antonia."
The cast's enthusiasm for the material resonates in their performances. Other actors included Laurel Rothamel as Annie, who shows up at Susan and Jeffrey's new home and stirs the mystery; Ben Adams as Ricky Lee, Annie's ex-boyfriend; and Randy Vest as Dr. Delmar Ditmar, the folksy physician who owns the couple's rental.
Each actor is excellent alone, and as an ensemble, they were amazing.
The jazz-style music — under the direction of Peggy Holloway — propels the plot rather than just acting as window-dressing. Some of von Kampen's melodies — combined with Boesen's lyrics — were touching enough to provoke tears, especially the beautiful "The Mom I Wish I Knew," wistfully performed by Rothamel. Adams also has some great moments in "Find That Girl," in which he begs for a do-over.
Instrumentation — just a piano, two cellos and percussion — was just right, though I'd love to hear the songs again with a standard keyboard instead of the more tinny-sounding electric. The Shelterbelt's small space probably precludes that, however.
And I've gone back and forth in my head about the ending — was it a little too pat? I'm still not sure. Regardless, spending an evening in "Catherland" was a joy. This show will stay with me for a while.
Catherland
Where: Shelterbelt Theatre, 3225 California St.
When: Today through May 14
Showtimes: 8 p.m. Thursdays through Saturdays, 6 p.m. Sundays (exception: 2 p.m. May 14)
Tickets: $25 general admission, $20 students, seniors 65 and older and Theatre Arts Guild members (exception: $15 on Thursdays)
Correction: An earlier version of this story listed incomplete showtimes.