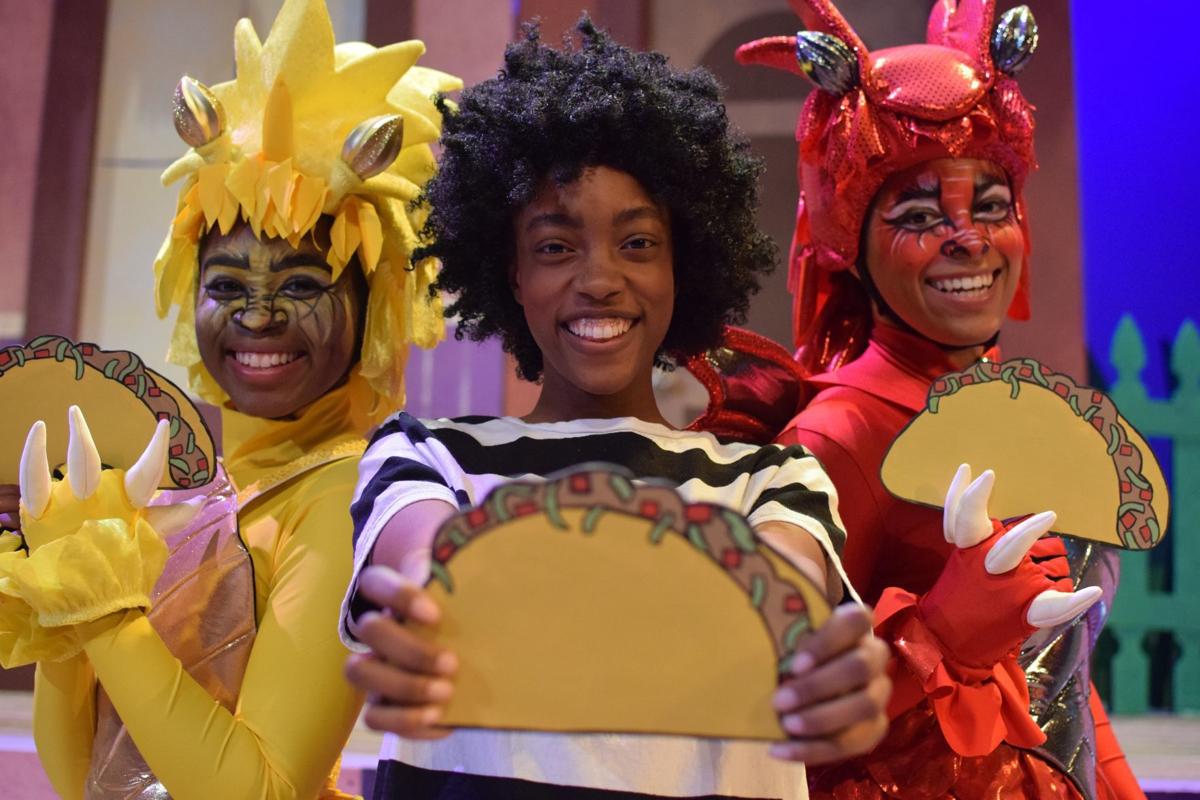 I always thought that if dragons dined on anything, it would be shish kebabs, because they have a built-in way to cook them.
I now understand, however, that dragons love tacos. A pretty cute play at the Rose Theater told me so.
"Dragons Love Tacos," directed by Denise Chapman, captivated excited elementary schoolchildren from across the city at a Friday morning preview.
Here's what your kids will love
»  The kooky story. Boy (Dana Pittman) and his dog LeRoy (Krysta Stock) are at loose ends when Mom goes to pick up dinner. Boy had been fighting a tough math problem, but Mom encouraged him to take a break. He starts to channel-surf and runs across a manic TV pitchman (Al Kroeten) who claims to have the inside story on dragons. Pretty soon, the guy's pushing his knowledge in the middle of Boy's living room.
The accomplished cast, including four lively dragons (Alisha Davis, Nadia Ra'Shaun Williams, Karl Houser and Matthew Kischer), brings a lot of joy to the stage. You can tell they love the material. The dragons are funny and endearing. The pitch-perfect Kroeten is the glue that holds it together. And it's all accomplished with a minimum of words. When Boy finally utters a phrase, it's monumental.
» The audience participation. The pitchman, referred to as Man in Suit in the credits, turns to the kids for answers to pertinent questions, such as the perfect taco toppings. The kids catch on quickly, and pretty soon they're positively screaming at the stage.
» The production's picture-book quality. Jeff Stander apparently used every color that exists on a clever set that consists of Boy's house, both exterior and interior. For kids, it's like stepping into a favorite children's book. Costumes by Sherri Geerdes, including multi-hued dragons with shiny scales, complete the look. Sets elsewhere rarely are as vividly colorful as they are at the Rose.
» Special effects. Taco lettuce lights up. The stage "catches fire." Somehow, it looks like a program is actually broadcasting from the freakishly big and cartoonlike TV set in the living room. (OK, parents will like this, too.) Credit goes to lighting designer Craig S. Moxon and sound designer Christy Hernandez.
What you will like
» The messages. That pitchman is way more than just an infomercial huckster. His trademark phrase is a motto your family can embrace: "With a little drive and determination, amazing things can happen." It inspires Boy, and it can inspire your kids. The dragons also show some responsibility for their actions in the end.
» The wonderful flamenco and Latin-style guitar music that accompanies much of the action.
» Watching young people have such a pure and simple good time. This show is aimed squarely at kids. It has an uncomplicated and somewhat repetitive story that doesn't move too fast, so it's not super-engaging for anyone older than middle school age. In adapting Adam Rubin's book, writer Ernie Nolan put in few of the sly asides that others sometimes put in children's plays for the benefit of adults.
So, though I found my mind wandering at times, I derived my joy from seeing the kids' reactions. Not a bad way to spend a morning at work.
Sign up for the Go newsletter
This complete guide of local music, movies, dining and entertainment will have you weekend ready.
Junkstock, Nebraska Renaissance Faire, fireworks and 25+ other fun things to do this weekend
Looking for something fun to do in Omaha this weekend? Check out these family-friendly suggestions, which take place April 25-28.
Be the first to know
Get local news delivered to your inbox!