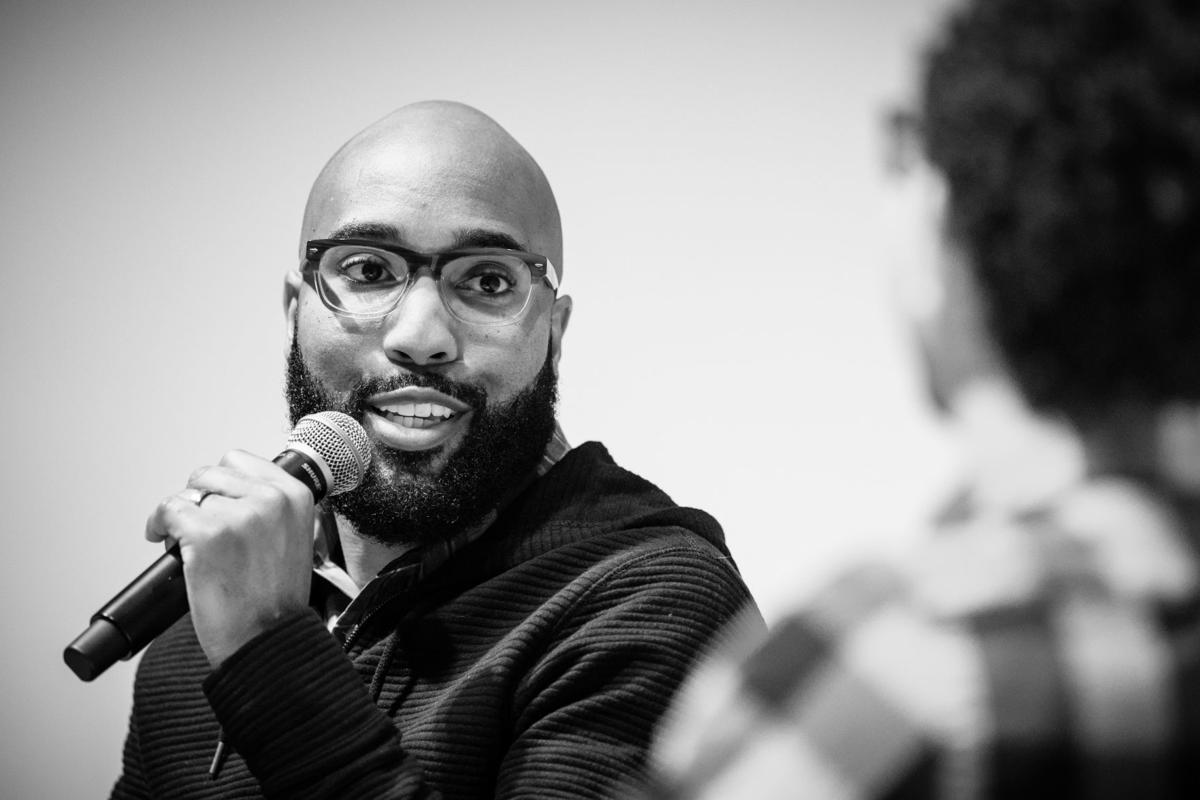 Burgeoning movie producer Timothy L. Christian ticks off two current projects: the CIA thriller "Against the Clock," released in mid-January, and the "found footage" mystery-horror film "Streetwalkers" that's in production in Los Angeles.
The conversation is tailor-made for a trendy restaurant in Los Angeles or New York — or, as it turns out, a coffee shop centered between the two. Christian is Omaha born and raised, just like his film finance and production company, Night Fox Entertainment.
"I wanted to show that we can have this kind of business in the Midwest," Christian said.
Founded in 2014, Night Fox Entertainment makes independent films with $10 million budgets or less. It has two releases so far: 2018's horror story "Wilding," which premiered at South by Southwest, and 2015's post-apocalyptic "Z for Zachariah," which debuted at Sundance. "Against the Clock" — starring Andy Garcia, Dianna Agron and Justin Bartha — hit theaters Jan. 11.
"We don't want to tell a story that you've heard a million times. We want to figure out a way to tell stories that are unique and will resonate," Christian said. "At the end of the day, a good story is going to drive everything else."
"Streetwalkers," which began filming in various parts of LA this week, stars horror movie legend Tony Todd ("Candyman"), Omaha's John Beasley ("The Apostle," "The Purge: Anarchy"), William Lee Scott ("The Butterfly Effect", "Pearl Harbor") and Danny Nucci ("Titanic", "Crimson Tide"). 
"I love the script. It's what drew me to the story," Christian said.
"It's going amazing thus far," he told The World-Herald via email Friday from LA. "We have a great cast and crew on this film. Very exciting." 
Also notable: A number of major distributors have expressed interest, Christian said.
Night Fox will follow that project with "Airport," a survive-the-night thriller involving a group of passengers on layover.
Christian is equally enthusiastic about "Citizens United," which tells the story of a young billionaire CEO who runs for president of the United States. "It's a project that everyone in our company is passionate about," Christian said. Night Fox, he added, is "weighing options" for selling the script to a studio or maybe even making it into a TV show.
"It's a really cool story," Christian said. "It mirrors a lot of what's going on now in terms of politics, and it will be something that resonates with people."
Also in development, "The Magician," which details the rise, fall and rise of Omaha native and Super Bowl champion Marlin Briscoe, the first African-American starting quarterback in modern pro football history. Christian is serving as a producer, along with lead producers Beasley, Terry Hanna and Dave Clark of West Omaha Films.
"We are thrilled to be working with Terry, Dave and John to bring this story of a Nebraska legend to life," Christian said.
For Christian, an Omaha Creighton Prep graduate who attended Penn State University, Night Fox was a natural next step in a career that has always revolved around entertainment: the music business initially.
"I worked for one of the top producers in the business, Teddy Riley," he said. "He created a movement in music called 'new jack swing.' I started interning for and then working for Teddy. Through that, I found that I loved entertainment in general, and I said to myself, 'What business can I merge storytelling and music and still work with artists?' I found that film was that space. It's a compelling place to play. From a financial standpoint, if you approach it smart, you can be successful."
Katie Weitz, executive director of the Weitz Family Foundation, is a friend and champion of what Christian is doing. She said she loves that he "is bringing the grounded Nebraska sensibility to Hollywood" and "demonstrating that there are additional ways to make money in the film industry without leaving our state."
"Nebraska has a proud tradition of developing film directors and promoting film as an art form," she said. "Now, Night Fox Entertainment provides a means for investment in the film industry."
Saying you want to create a film production company and actually creating one are two very different things. The former requires only a dream; the latter takes money; nitty-gritty capital. Intent on launching his company in Nebraska — a way to boost the economy and provide local filmmaking opportunities — Christian said he had to come up with a strategic plan to attract very conservative, Midwestern investors and get them to see value in the business.
"I'm coming to them and I'm telling them that we can produce a film for $3 million with some of the biggest talent in the world, and we can be successful. You don't have to make $50 million movies. When you see the kind of talent that we have in our films (including Liv Tyler, Margot Robbie, Chiwetel Ejiofor and Chris Pine), it takes it from something abstract to something real."
Jack Hansen, president of commodity trading company Hansen-Mueller, is one of Night Fox's primary partners/investors. He said he got involved because he believed Christian would "make it work."
"The greatest reward to date," Hansen said, "is seeing Tim grow as he persists with the struggles and problems a new business has and to see him deal with obstacles and challenges as he goes forward."
More than anything, Christian said, the company's investors want Omaha and Nebraska to be successful. There is opportunity for additional investors to join in.
"We want to make Nebraska a film capital and raise its profile in order to attract top-tier talent – not just film talent but entrepreneurs, technology folks and business people," Christian said. "An exciting industry like film will help to do this, and Night Fox can be at the forefront of this push."
Outside his downtown Omaha headquarters, Christian is working to bring even more film business to the state as immediate past president of the Nebraska Film Association.
"I'm lobbying along with the entire Nebraska Film Association team to get tax incentives passed in the state so that it makes sense to film here – not just for myself but for other people," he said. "That would drive the revenue and help boost the economy of Nebraska."
In five years, with proper incentives, he said, Nebraska and Omaha could see a true emergence. 
"We are doing something in Nebraska and for Nebraska that hasn't been done before. We are attempting to build a new industry here and that industry is film," Christian said. "It's a big undertaking, but we believe with the support of those in Nebraska we can pull it off."
Location filming is a slam-dunk. "Nebraska is a place where we have almost any landscape you could want, which tells me that no matter what kind of film you're doing, there's probably a way you can shoot it here. If we got incentives here, we have enough open space, we could build sound stages."
In the meantime — with plenty on the Night Fox calendar — Christian said his focus is firmly fixed on turning out work that he and his partners are proud of: "If you can do that and you're doing what you love every day, you can't ask for a better life."
A Hollywood ending — right here in Omaha.
Staff writer Chris Christen contributed to this report.