Millwork Commons — the emerging north downtown Omaha district targeting tech companies and entrepreneurs — is about to welcome its first apartment building.
A second is to follow soon after, for a total of nearly 400 newly constructed residences.
Construction on the first five-story structure begins in the coming weeks and is projected to open the summer of 2022 just east of the district's Mastercraft Building office hub.
Called the Hello Apartments, that initial $30.5 million residential building is to contain 171 units. Rent ranges from $900 to about $1,500.
Bluestone Development says the name reflects the property's "personality" and also is intended to send a welcoming vibe to people visiting, working and living in the broader 50-acre district.
"In a world with social distancing and mask wearing, we are reminded that the simple gesture of saying 'hello' speaks to everyone regardless of who you are or where in the world you live," said Christian Christensen, who runs Bluestone with his wife, Debra.
Individual floor plan names also represent diversity and inclusiveness, Christensen said, as the various 21 layouts of studios and one- and two-bedroom apartments are named "Hello" in 21 different languages.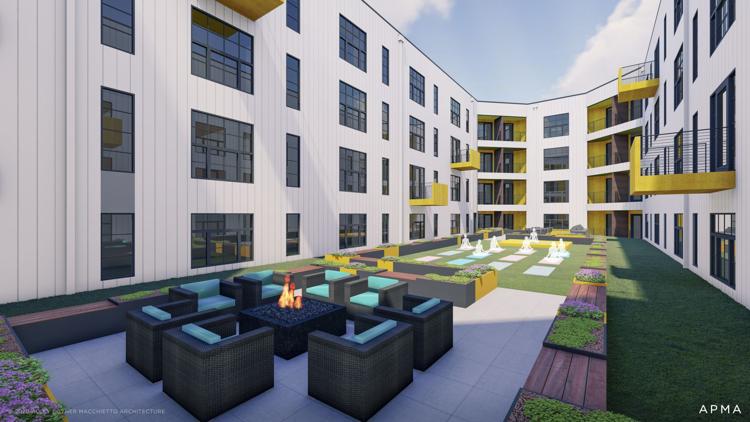 Among highlights of 1200 N. 12th St. is a parking garage, a fitness center, outdoor courtyards and a rooftop deck overlooking the neighborhood's future green space between the Ashton and Mastercraft buildings.
Designed by Alley Poyner Macchietto Architecture, the property also is to feature public art, solar power and a street-level floor with 11,000 square feet of retail, office and apartment amenity space.
Bluestone is asking the city to approve $3.4 million in public tax-increment financing for Hello.
The second apartment structure, still to be named, is to contain 220 units and currently is in the design stage, said Christensen. Bluestone also is the developer on that sibling building, which is to sport a different style and start rising in about a year and a half.
The Christensens said that they are excited to participate in Millwork Commons and that they share the same vision for the area as Paul Smith and the Black Dog Management group, primary financial backers of the neighborhood.
"This project pushes the envelope within a neighborhood that's pushing the envelope," Christensen said. "That's fun for us."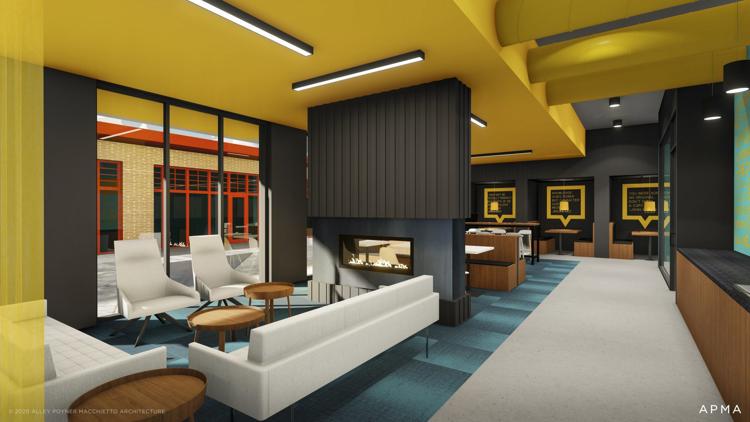 Black Dog and Bluestone believe Hello will appeal to those who want to witness growth of the neighborhood and those who want to live close to their workplace.
Christensen said he believes demand remains high for urban living and foresees the units filling up. He said any coronavirus-related wariness about dense environments is more focused in large centers like Manhattan or Chicago.
"I don't see a mass exodus out to the suburbs," he said of Omaha.
Meanwhile, Black Dog is approaching the summer opening of the newly rehabbed Ashton building, which has fast-growing Flywheel tech company as its anchor tenant.
Millwork Commons is described as a collaborative community near 13th and Nicholas Streets designed to support the work of innovators. Developers are restoring 140-year-old warehouses with offices, shops, restaurants and services. More than 60 startup businesses and nonprofits already occupy the Mastercraft Building.
---
At a glance: 11 key developments around the Omaha metro area
The business news you need
With a weekly newsletter looking back at local history.