A nearly $30 million project is underway to transform a rare Old Market area industrial complex into a modern mix of condos, apartments, office, retail and gallery space.
When done, the three-building Fairmont Creamery at 12th and Jones Streets is to stretch seven stories high on its east end. That's where a new floor is to be added for penthouse condos.
A new floor also is to be built atop the westernmost part of the complex, adding a fourth level to house amenities for apartment dwellers that include a fitness room and rooftop swimming pool.
Wrapping new ground-floor retail bays will be a raised dock area where people can socialize, eat, drink or stroll around the place that will retain the nostalgic Fairmont Creamery name.
All told, the complex — most recently used as a cold storage and meat-processing plant — is expected to grow to as big as 142,000 square feet, up from the 132,000 square feet (not including basement) when last occupied by Glenn Valley Foods' 50 or so workers.
Perhaps most notable, say city officials and the developer, is increased activity and pedestrian traffic the project's residences and retailers are expected to breathe into a stagnant downtown spot.
"This will help expand the Old Market," said developer Paul Waggener, who bought the Creamery property for $3 million. "It's such a beautiful corner, and the building was only 20% utilized before; we think it needs to be 100% in use."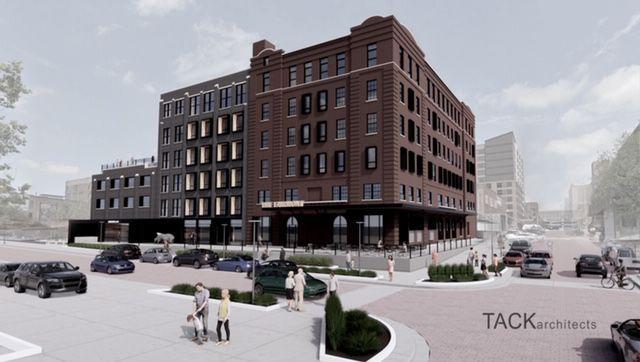 As it now stands, the imposing brick Fairmont Creamery is like a wall between the Hollywood Candy store at 12th and Jackson Streets and a stretch of Jones Street a block away that's undergoing its own $3.5 million face-lift. The city-led road improvement project to restore the bricks on Jones Street between 11th and 13th also will upgrade sidewalks, sewers and parking to mesh more with the Old Market.
After the Creamery renovation is complete (in an anticipated two years), Waggener envisions people and tourists flowing down 12th Street from the candy shop and into the Creamery shops. A turn east on Jones would lead to the popular but somewhat hidden Boiler Room restaurant.
Kitty-corner to the Creamery is the Kaneko arts and cultural gallery. A few steps farther south, and pedestrians arrive at the Bemis Center for Contemporary Arts.
Waggener, an art lover, was purposeful when he included a gallery in his tenant mix. He hopes to co-host art-centric events with neighbors Kaneko and the Bemis Center and contribute to the growth of an arts and culture hub.
Last week, the City Planning Board gave the Fairmont Creamery project its initial green light by approving a zoning request. Waggener said he plans to seek tax-increment financing later.
The Planning Department views the renovation as positive for the city landscape. "Redevelopment of an underutilized site is good anytime, and especially in downtown," said director Dave Fanslau.
For Waggener — who is president and owner of 7 Oaks Investments Corp., which owns and manages about eight properties — the Creamery is his first redevelopment effort. The Omaha native, who is an architect and civil engineer by trade, said he was walking near the complex a couple of years ago and saw the for-sale sign.
Sellers described the property as "one of the last large industrial historic rehab projects left" in the Old Market area. Industrial Realty broker Ryan Kuehl said a search of downtown properties between Cuming and Leavenworth Streets showed only one other building larger than 75,000 square feet that was still used for industrial purposes (Central Supply at Ninth and Dodge).
Waggener couldn't stop himself. He offered more than the asking price.
"I fell in love with her," Waggener said. "I wanted to make sure she was taken care of properly."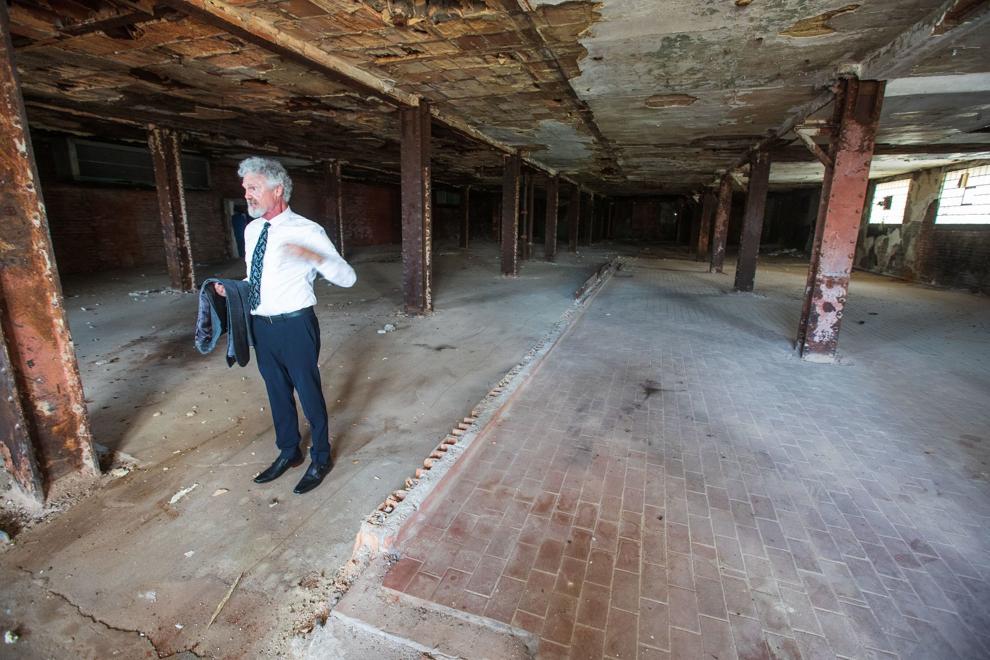 After the Glenn Valley meat-processing workers relocated to their new Omaha digs about a year ago, the buyer's team launched a cleanup. When COVID-19 stalled some other projects, Waggener said he decided not to pause. "I just kept moving. You can't control everything in life."
The World-Herald toured the complex a few days ago. Asbestos has been removed. Ammonia was drained from piping. The team is salvaging original tile, barnlike doors, marble and other vintage elements.
Interesting but out-of-code features, including narrow, near-hidden stairwells and old elevators, dot the interior.
"We're not throwing anything away," Waggener said. "If we can't utilize it here, we'll use it elsewhere."
In planning the retrofit, architects found a property assembled in different eras, with three distinct skeletons: one steel, another wood, another concrete.
The oldest section dates to 1898, the most recent addition was built in 1943. Jeffrey Cunnington of TACKarchitects, which is working on the project, said that at some point, certain facades were "re-skinned" so the complex appeared uniform.
Cunnington said variances in history and context and architectural styles bumped up the design challenge.
He said bricked-up windows will be punched out and other changes made to create plenty of natural light.
Sign up for our Money headlines newsletter
Get the latest development, jobs and retail news, delivered straight to your inbox every day.
Much of the 26,000 square feet of basement space (which is beyond the 132,000 above ground) is to serve as parking.
Though layout can change as renovation progresses, Waggener's vision includes recruiting an anchor restaurant and Speakeasy bar. If all goes as he hopes, commercial mercantile space will span the ground floor. Some retailers (like a dry cleaner) would cater to the property's residents.
The westernmost building would be mostly apartments and the new amenity level.
The middle structure would contain apartments, with office space on the sixth floor.
The east building would have apartments on floors two through five, with for-sale condos on the sixth floor. The new seventh floor would feature "penthouse" condos and a green roof with gardening possibilities.
Up to 60 apartments and a half-dozen condos are expected. Waggener hasn't determined a rent range. He said it would be commensurate with area market rates. Waggener estimates the overall project price tag to be nearly $30 million.
Waggener said this may be his first redevelopment venture but it likely won't be his last in downtown.
"This isn't our last hurrah," he said. "I love the Old Market. I think it's important to invest in your city."
---
11 key developments around the Omaha metro area