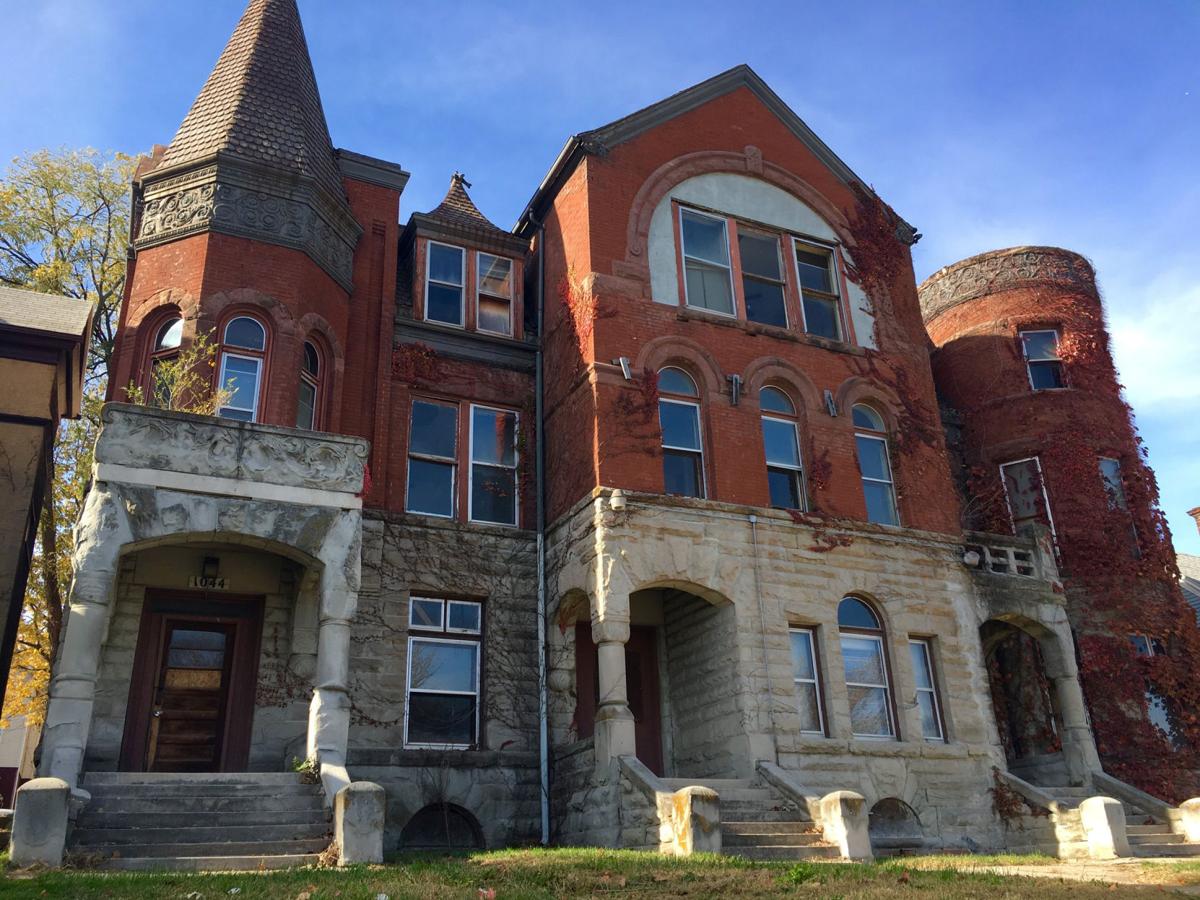 More key property exchanges are underway in midtown's Park Avenue neighborhood, the latest focus in the ongoing renewal of urban residential neighborhoods in Omaha. One transaction is expected to breathe new life into a castlelike structure; the other ends an era for a small, family-run convenience and liquor store. Meanwhile, public meetings are beginning to come up with a multivoice plan for future redevelopment in the area.
A midtown castle in distress is being rescued.
Its knight in shining armor is InCommon Community Development, a nonprofit neighborhood group that aims to resurrect the worn, medieval-looking Georgia Apartments into affordable rental housing for a dozen families.
Vacant and 126 years old, the structure at 1040 S. 29th St. cost $275,000, according to county records. It's part of InCommon's strategy to preserve housing for low-income people on and around the Park Avenue corridor, said Executive Director Christian Gray.
InCommon leaders, who bought the historic landmark from Bellamini Properties, fear that an influx of investment and wealthier "gentry" is raising rents and pushing out poorer folks who had an established support network in the Park Avenue area.
They want to ensure availability of housing to those who can't pay market rents charged by developers drawn to the city's core during the past six years. Eventually, families in need of two and three bedrooms will be housed in the building.
The Georgia purchase furthers an InCommon anti-gentrification mission launched a year ago when the organization bought the 64-unit Bristol at 1029 Park Ave.
That 32,500-square-foot stucco Spanish Colonial style structure (originally built in 1922 as Hanscom Apartments) cost $1.5 million, and that purchase also was made possible by the organization's supporters.
While the Bristol is on its way to getting national historic status, the Georgia already has that distinction and also is a local landmark.
According to its historic nomination, the three-story "picturesque eclectic" was built in 1890 for J. Herbert Van Closter, president of the Nebraska Mortgage and Loan Co. and financier of several development projects.
Designed in the Queen Anne style, it derived its name from Georgia Avenue, the earlier name of South 29th Street.
Over the years, it was reconfigured and often is referred to as the Georgia Row House.
While in need of much restoration, the for-sale sign on the Georgia was fortuitous for InCommon. That's because the organization, which fights poverty by strengthening neighborhoods, had been considering changes to the nearby Bristol to create some larger, family-sized apartments.
Messing substantially with the Bristol's exterior, however, would have jeopardized any financing tools involving historic tax credits.
"Serendipitously, the Georgia Apartments came on-line for sale," Gray said. "And it is virtually across the alleyway from the Bristol."
The plan is to renovate the Georgia for families, and retain the Bristol for singles and couples.
Because the two properties are so close to one another, Gray said residents could share the Bristol's future community kitchen and event space, computer lab and bike room.
Broader than the Bristol and Georgia projects is a related effort — pushed by InCommon — to create a neighborhood master plan for what the Park Avenue area will be and look like in 20 years.
Gray called it a big-picture guide. The first public meeting to gain input was held Monday at InCommon headquarters at 1340 Park Ave.
Stakeholders including real estate developers, area residents, neighborhood activists, urban planners and other city officials are to have a voice in the final product, which is expected to lay out the group's desired cultural identity and economic return goals.
Those collective goals would be considered when a proposed project surfaces, said Gray, adding that members might say: "We agreed upon this and this particular project fits, this one doesn't."
Gray said InCommon was taking a risk in pushing for a 20-year-plan, as a majority might not be as interested in preserving low-income housing and instead might prefer a high-rent district.
He said InCommon still likes the idea of a master plan rather than piecemeal development.