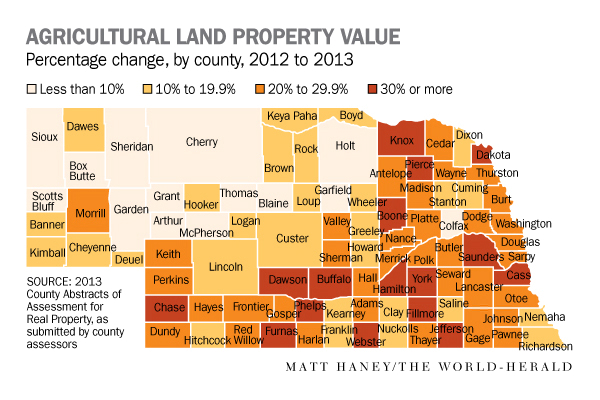 LINCOLN — Agricultural land is carrying an increasingly heavier share of the property tax burden levied across Nebraska.
Ag land now makes up about a third of the statewide property tax pie. It was about a fifth of the pie in 2007.
"That's huge,'' said Bruce Johnson, a University of Nebraska-Lincoln agricultural economist. "I never imagined seeing it up that much. Agricultural land is the heavy lifter for local units of government across Nebraska.''
Johnson was reacting to a new Nebraska Revenue Department report showing that a boom in ag land prices over the past year has pushed the state's taxable property valuation up by nearly $13.6 billion.
Ag land values climbed by 22.8 percent from 2012 to 2013. The tremendous boost comes on top of growth ranging from 10percent to 12 percent each year since 2008 in the agriculture category, said Ruth Sorensen, the Revenue Department's property tax administrator.
"Agricultural land property values have seen double-digit increases for five years and going on a sixth,'' she said. "The increases are based on sales.''
Hamilton County ag land led all other counties with a 40.09 percent increase last year.
Nebraska residential and commercial growth were much more modest last year. Residential property values grew by 1.62 percent. The commercial and industrial category saw 3.5 percent growth.
Overall assessed valuations for real property across Nebraska increased 8.76 percent.
Johnson's own surveys have shown similar robust ag land values. Despite an extreme drought and indicators of weaker ag earnings on the horizon, the markets for farms and ranches have remained strong.
The state's all-land average value rose 25 percent over the 12-month period ending Feb. 1.
Higher property tax valuations do not automatically translate into higher property tax bills. The amount property owners pay depends on both the value of their property and the property tax rates set by local governments.
"Booms get to be precarious, but that's what assessors have to deal with,'' Johnson said. "There was no way to factor in anything less than this during the last two or three years.''
The land boom is riding a surging ag economy, particularly among farmers who grow corn and other commodities. Livestock producers have had a tougher time.
Johnson said farmers and ranchers, not outside investors, are buying most ag land.
"Outside investors are the wannabes,'' Johnson said. "No doubt that they're bidding up some of the land, but 75 percent of sales are to active farmer buyers.''
Ag land property taxes are a significant source of revenue for counties, schools, fire districts, educational service units, natural resources districts, rural housing developments and other entities in many parts of the state. Ag land represents more than half of the assessed value in 58 of Nebraska's 93 counties, according to Johnson. It's more than 60 percent of the value in 47 counties.
"Ag land carries 80 percent or more (of assessed value) in some low-population counties,'' Johnson said.
Statewide, new construction and growth accounted for $1.73billion, or nearly 13 percent, of the overall increase in property tax values, the report showed. The remaining $11.84billion, or 87 percent, of the increase reflects the higher values for existing property.
Douglas County's residential property values increased by forty-two hundredths of a percent, commercial by 2.83 percent and agriculture by 24.12 percent. Sarpy County's residential property values were up sixty-five hundredths of a percent, commercial by 2.5 percent and agriculture by 26.27 percent. Lancaster County's residential values were up 2.11 percent, commercial 4.6 percent and ag land 27.31 percent.
Real property valuations are set by county assessors and are subject to review before the Tax Equalization and Review Commission.
World-Herald staff writer Joe Duggan contributed to this report.