When it comes to hot housing markets, a southwest Omaha ZIP code is feeling the sizzle.
Realtor.com, in its latest Market Hotness Index, catapulted 68144 to the No. 2 spot nationally after analyzing some 32,000 ZIP codes and how quickly houses were viewed and sold.
Area residents might remember that two years ago, the 68144 ZIP code — northeast of Zorinsky Lake — made No. 16 on the real estate listing website's list. Now it's second only to a ZIP code in Grand Rapids, Michigan, and a notch above one in Boise, Idaho.
The cast of new hotties represents a general shift toward metro areas less packed with people as millennials are priced out of big cities, according to the analysis on Realtor.com, which is affiliated with the National Association of Realtors.
Last year's top tier included more towns on the outskirts of large, densely populated cities such as New York and San Francisco, whereas this year's steaming lineup has half the total number of households of their predecessors.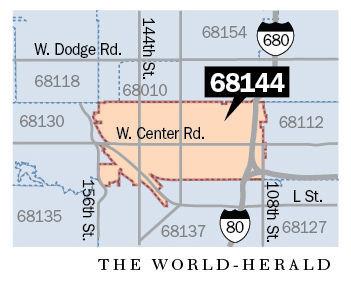 "Affordable housing and high-paying jobs ... are attracting many 'boomerang buyers' back to the (Omaha) area after living in other more expensive parts of the country," the Realtor.com report says.
"Even though buyers are moving to smaller markets, they are looking to retain an urban lifestyle by living closer to the city center," Danielle Hale, chief economist at Realtor.com, wrote in the report.
"This tells us that today's home buyers are trying to have it all — proximity to downtown, room to grow and affordability — and they're finding it outside of the biggest cities in the U.S."
While Omaha's 68144 ZIP code is 12 miles west of downtown, Doug Dohse of the Omaha Area Board of Realtors noted that it's in the thick of new development, including the growing Sterling Ridge mixed-use campus near 132nd and Pacific Streets.
Dohse, a sales associate at Berkshire Hathaway HomeServices Ambassador Real Estate, also noted that 68144 is just outside the new 500-acre Heartwood Preserve development that's gearing up for a mix of uses, including senior living, apartments, houses and retail shops.
"There's a lot of anticipation about what is next for this part of the city," Dohse said.
He said the Millard area is landlocked, with not much room for new housing, which contributes to rising property values and rapid turnaround of a dwindling number of for-sale homes.
Sign up for our Money headlines newsletter
Get the latest development, jobs and retail news, delivered straight to your inbox every day.
The 68144 ZIP code has a mix of high-end and starter homes, a strong school system and relatively affordable housing, according to the Realtor.com report. It says on average, homes sell 21 days after going on the market, which is 36 days faster than the national average, and have a median listing price of $238,950, up about 6% over last year.
Millennials, according to the group's research, are the dominant buying segment in 68144. They account for 43% of new mortgages and earn about $10,000 more each year than the national average for their age group.
Others in the top-10 list are ZIP codes in Shawnee, Kansas; Rochester, New York; Livonia, Michigan; Melrose, Massachusetts; Arlington, Texas; Goffstown, New Hampshire; and Colorado Springs, Colorado.
As a group, those ZIP codes sell houses in 17 days on average, 40 days faster than the rest of the country and 20 days faster than their respective metro areas. Realtor.com users view homes in those markets three times more often than homes in the rest of the country.
The business news you need
With a weekly newsletter looking back at local history.