An eight-vendor food hall anchored by a local brewery soon will fill half the retail space in the newly opened Blackstone Corner apartments.
Poised to occupy the remainder of the street-level bays at the 3618 Farnam St. complex is a Coolgreens healthy food restaurant and a Power Life Yoga fitness center.
Above those retailers, on the upper floors of the six-level building designed with a Scandinavian vibe, are 112 residences featuring floor-to-ceiling windows and individual balconies.
All told, the Blackstone Corner's 136,000 square feet, along with the soon-to-open historic Kimpton Cottonwood Hotel across the street, stand as a sort of eastern gateway to the popular Blackstone business district that just seven years ago was a deteriorating, pass-through stretch of Farnam Street.
"It completely redefines that entrance," said Matt Dwyer of GreenSlate Development, which, along with Clarity Development, has led the multimillion-dollar revival of the Blackstone commercial area.
Photos: The Blackstone Corner
While the food hall and other retail spaces won't open before spring, the apartments now are available, and roughly 30 have been leased.
Residents enter the complex through a lofty lobby area with locally commissioned art hanging from the ceiling and on the walls. An outdoor deck area is dotted with grills and fire pits and is illuminated at night by overhead festival lighting.
Apartments range in size from studios of less than 500 square feet to two-bedroom units with two bathrooms. Rents run between $885 and $1,700. Each has a washer and dryer and access to a fitness room on each floor. Smaller units have platform beds with storage underneath.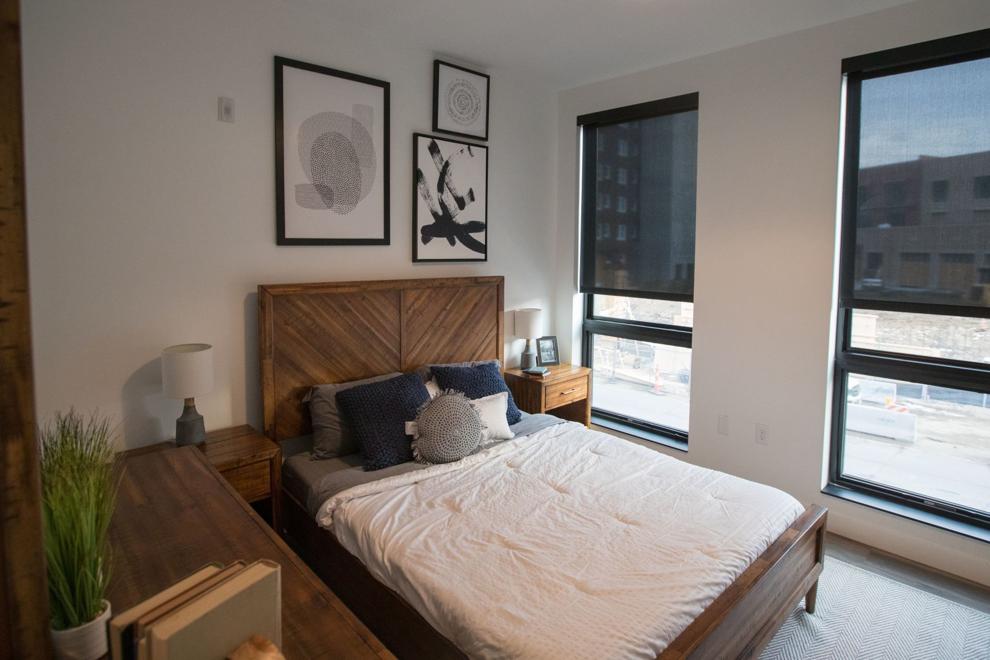 About 60 underground parking stalls are available for an additional fee. Remaining tenants are responsible for securing their own parking.
Melissa Obermier of GreenSlate property management said that with a 97% occupancy rate in the company's other neighborhood units, she expects good leasing activity.
The $22 million Blackstone Corner project, designed by Alley Poyner Macchietto Architecture, joins a district known already for trendy restaurants and bars. But owners say the new food hall, set to open around springtime, brings a new and different twist.
Often, a group of friends with a variety of tastes wants to meet for food and drinks but grapples over where to go, said GreenSlate's Clay Vanderheiden.
"This is an option where all can come and have individual choice," he said.
Infusion Brewery will anchor the food hall, providing locally brewed beers and other alcoholic beverages.
The seven other vendors will be selected through an application process, said GreenSlate's Jay Lund. He said that should produce a diverse mix that complements rather than "cannibalizes" other nearby retailers and restaurants.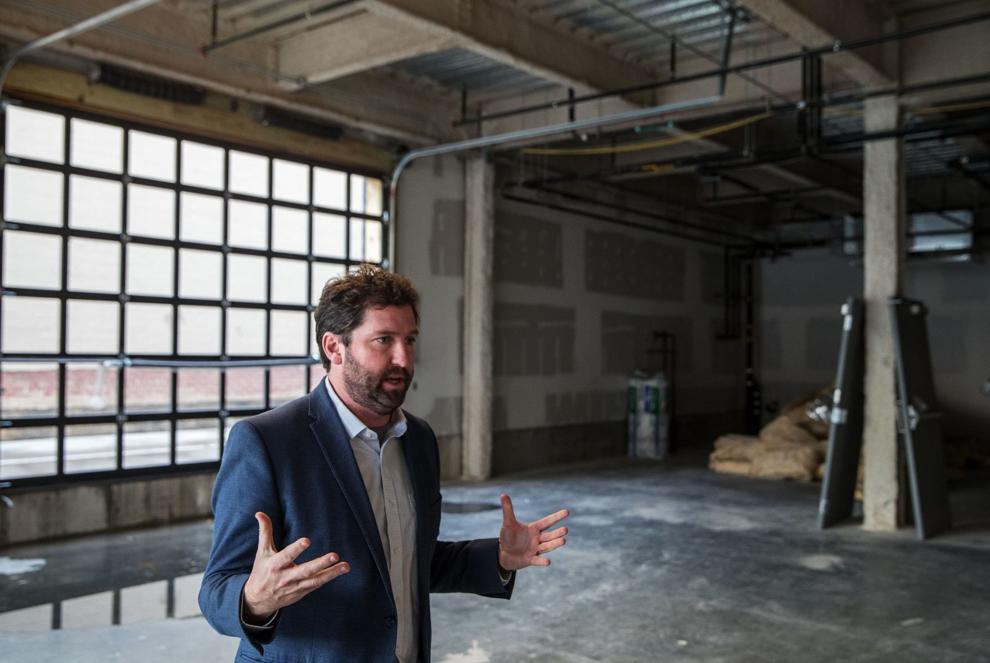 A few kiosk retailers also will have a place in the 6,000-square-foot food hall, Lund said. In all, the building's ground-floor retail bays span 12,000 square feet. The Oklahoma City-based Coolgreens and Des Moines-based Power Life Yoga likely will open next summer, he said.
The retailers also will have outdoor patio space for patrons, and a view of Farnam Street and the sprawling Cottonwood Hotel, which also will offer a few places to eat, including a still-to-be-identified steakhouse.
Lund believes there is "plenty of room" for the newcomer food and beverage providers.
He said that having control of the bulk of retail properties on the commercial strip allows the GreenSlate team to monitor the mix of businesses.
The Blackstone Corner apartments and food hall — which rose on ground where once stood a fraternity house and, before that, a mortuary — is expected to see customers from nearby workforce hubs including the University of Nebraska Medical Center, Kiewit Plaza offices and Mutual of Omaha campus.
Bill Baburek, who owns Infusion Brewery, also owns the Crescent Moon bar that's been operating on the corner across from the new apartments since 1996.
He said he's seen a lot of shifts in that quarter-century and expects an acceleration as the hotel and food hall ramp up. It's change he welcomes.
"From a Crescent Moon standpoint, we feel this is our chance to shine," Baburek said. "It's a pretty exciting time to be on the corner of 36th and Farnam."