When the downtown Capitol District's three-story office building finishes construction this spring, it will be the final structural piece that fully wraps the project's much-touted outdoor entertainment plaza.
That milestone — which caps major landscape changes at the site at 10th Street and Capitol Avenue — comes nine years after the $200 million-plus redevelopment was announced.
And while many of its retail and office bays have yet to be filled — four new tenants push the amount of leased space to about 60% — the journey so far is remarkable for reasons including all the new development that has since started on blocks around it.
Also notable is the range of financing tools tapped to get to this stage — from a new local entertainment district tax on food and drinks to backing from Chinese investors.
Perhaps no one more than Mike Moylan of Shamrock Development has felt the highs, lows and all in between.
"Our vision was to build a town square, a modern-day town square in downtown Omaha," Moylan said. "We're excited to see that all come together."
He is quick to point out the work ahead, including the ongoing task of landing a winning mix of merchants and office tenants that jibes with apartment residents, hotel guests and the broader downtown neighborhood.
A plus to progress so far is the diversity of retailers.
An Asian restaurant called Akarui is preparing a 4,000-square-foot bay on the prominent 12th Street and Capitol Avenue corner. Poised to start serving this spring, the eatery will feature poke, ramen, boba tea, and wine and beer selections.
One of three other newly announced merchants will hold a grand opening in early February. Fade Kings, a barbershop business founded in South Omaha by Jesse and Dave Galvan, is on the street retail level of the district's 218-unit apartment tower.
Also joining the mix is a cupcake shop founded by local Chris Janicek and a Brazilian steakhouse popular in part for servers who carve up grilled meats at tableside. The Dallas-based Texas de Brazil calls itself an authentic churrascaria.
Among existing retailers is Jewell jazz club, the Latin-flaired Epoca Cantina restaurant, Annie's Irish Pub, a pizzeria and a hamburger joint. Moylan said overall occupancy is just over 60%, and he's in lease negotiations with several other businesses.
Of course, the Capitol District bookend anchors that opened earlier are the high-rise apartment building and full-service 333-room Marriott Hotel.
Steve Hilton, the hotel general manager, said the last two years exceeded financial expectations. A good sign, he said: The hotel recently was ranked No. 7 of all U.S. Marriott properties in surveys asking guests if they'd return.
With nearly 47,000 square feet, the new office building — which also has street-level retail space — will have as its first tenant the Brazilian steakhouse. Moylan hopes the more-than-typical onsite parking for a downtown office building helps accelerate leasing.
The office and retail structure, which lines the Capitol District's southern border, follows construction of the Marriott that creates the eastern border, the apartments on the western border, and the garage structure and retail row on the north.
Those major pieces of the Capitol District project surround the football field-sized outdoor social plaza area that can fit 1,500 to 2,000 people.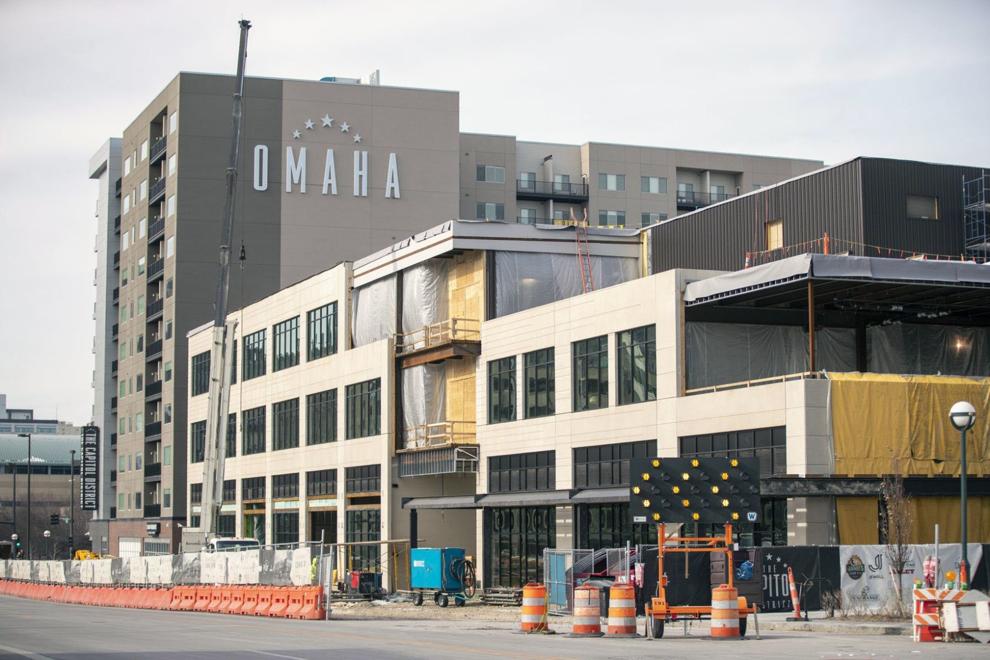 First envisioned in 2011, the overall project — bounded generally by Capitol Avenue, 10th, 12th and Davenport Streets — was spearheaded by Moylan's Shamrock Development and principal investor Paul Smith. Smith also is behind Millwork Commons, the effort to create a high-tech job hub in north downtown.
Shamrock was picked over two competing bidders to develop the city-owned tract that formerly served as surface parking. At the time, Shamrock already had a footprint at the 10th and Capitol area, having redeveloped the 1009 Capitol Building and 1000 Dodge Building into condos and bars.
The developer had started to market the neighborhood, which includes other venues such as DJ's Dugout, as the Capitol District.
Progress was slowed early on as the development team worked to find a hotelier willing to open a full-service facility, and to obtain financing. Disappointment struck when engineering and architectural firm HDR switched its plan to build a new corporate headquarters just south of the Capitol District, instead making its new home for about 1,000 workers at central Omaha's Aksarben Village. That's the site where the Omaha Performing Arts music venue is poised to rise.
Moylan said he's encouraged by future business to be sparked by the concert facility and other downtown events.
"The synergy between us and what's around us is really what makes it successful," he said.