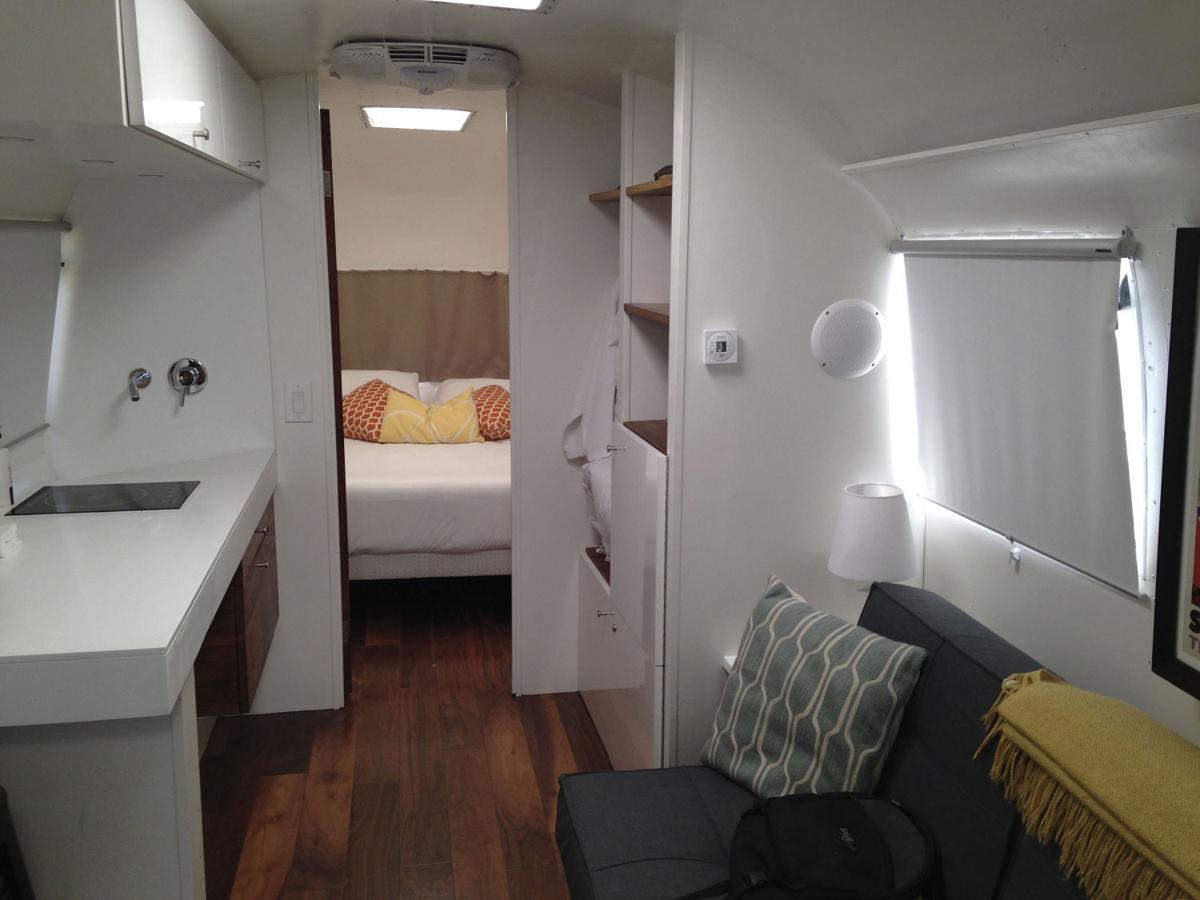 LOS ANGELES — Kate Pierson of the B-52s fell so hard for her first Airstream that she ended up owning enough of the travel trailers to open an all-Airstream hotel in the desert near Joshua Tree National Park in California.
Fans of the retro-chic silver bullets spend up to $200 a night to sleep in vintage trailers. With names such as "Lava," "Tiki" and "Planet Air," each is decorated with posters and memorabilia of the famed "Love Shack" rock group.
"It's a magical place," Pierson said recently. "Six Airstreams on a sand dune!"
But 100 miles west, at Los Angeles' largest Airstream dealership, a sign on the door says, "Yes, we're still making them."
Now owned by recreational vehicle giant Thor Industries, Airstream has been building its signature riveted aluminum travel trailers since 1931. The company says that 65 percent of all Airstreams ever built are still on the road. So fans of the iconic vacation capsules are surprised to learn that not all of the Airstreams on the road are vintage units.
"We get asked that question more than I would like," said Bob Wheeler, Airstream president and chief executive. "A lot of people don't even know we're still in business."
Apparently, people are finding out. Last year was the best in Airstream's history. Sales for 2014 were up 26 percent over 2013, while sales for the RV industry as a whole rose only 11 percent, according to the Recreational Vehicle Industry Association.
Thor Industries stock is trading around $63 — more than double its value five years ago.
Airstream's 16-foot Sport trailer starts at $42,000. A top-of-the-line, 28-foot Land Yacht starts at $146,000. In between are Flying Clouds, Classics and Internationals. There's also a line of 24-foot Touring Coaches, built on Mercedes-Benz Sprinter platforms, that cost $134,000 to $151,000.
At the company's Ohio factory, which has a 13-week backlog of orders, Airstreams are being built at a rate of 50 a week.
That's an encouraging trend for a company that has died, or nearly died, many times since entrepreneur Wally Byam opened his first factory in Culver City, California, and began producing the teardrop-shaped Torpedo Car Cruiser.
Slowed by the Depression, Byam was put out of business by World War II, when the nation's aluminum supply was reserved for airplanes.
After the war, the trailers started to catch on. Byam took over a former bazooka factory in Ohio and started selling his self-contained land yachts.
"Somewhere, woven into the American fabric, is this idea of 'the great American road trip,' " Wheeler said. "Airstream got connected to that in a way that has just endured."
Byam, who died in 1962, spawned imitators. Soon the highways were busy with competing trailers, as well as RVs such as the Winnebagos that are manufactured in Forest City, Iowa. But higher gas prices hit the industry hard.
Airstream was moribund when it was purchased in 1980 by Thor Industries, which returned the company to profitability within a year.
By the mid-1990s, though, sales had flattened again. Consumers who had grown up admiring the gleaming tubes were getting old. The average buyer was a retiree over 70.
The company got new life from an unlikely source. San Francisco architects Christopher C. Deam and Thom Faulders designed a 26-foot-by-26-foot interior for Deam's brother Eric's home. The design won an award, and Sunset magazine dubbed it "The Airstream Cottage."
"A light bulb went off," said Deam, who immediately contacted the company to sell them his idea of a new, modern Airstream interior design.
Airstream executives were unresponsive, so Deam built an Airstream interior on spec. When that too won an award, Airstream agreed to test the trailer at an upcoming rally.
The elderly Airstream aficionados didn't like the design, but "they all said, 'It's not for me, but my kids would love it,' " Deam said. "That convinced Airstream to do a prototype."
Deam's reimagined trailer replaced the traditional wood-paneled interiors with sleek laminate or aluminum panels: light, bright and easy to clean.
"It took off like a rocket and drew a whole new demographic," Wheeler said. "It changed our understanding of what the Airstream could be."
Within three years, sales doubled. The line of trailers inspired by Deam's designs now accounts for more than 50 percent of all Airstream business. Deam declined to put a dollar amount to his side of the business but said he was paid a fee and now receives royalties based on unit sales.
Thor, which would eventually own 11 RV companies, has continued to broaden its Airstream inventory and strengthen its market share. Wheeler estimated that the company employs 480 full-time workers, up from 150 in 2008.
Justin Humphreys, Airstream's vice president of sales, said consumers are attracted by the old-fashioned design and durability.
"People are tired of buying stuff that breaks," Humphreys said. "They want something that's going to stick around and keep working."
Despite glamorous owners such as Academy Award-winning actor Matthew McConaughey and actor Patrick Dempsey of "Grey's Anatomy," the average age of the average buyer is still pretty high.
But as baby boomers age into Airstream territory, Humphreys sees that as a positive.
"The No. 1 age for RV buyers is 65, and 10,000 people will turn that age every day for the next 19 years," he said. "So, we're expanding."