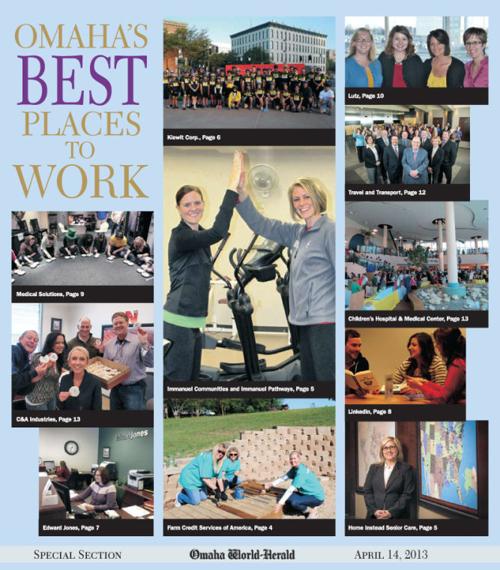 Companies that aspire to become great places to work need to do more than just talk about it once every so often, said Merle Riepe, a principal in the SilverStone Group.
Riepe, a psychologist who helps interpret the results of the annual Best Places to Work in Omaha competition, said that although there is no magic button that will make a company a great place to work, a transformation is still possible.
Find the complete section, with stories on the winning companies, in the Sunrise edition of the Sunday World-Herald.
Top finishers in this year's competition
1st: Farm Credit Services of America
2nd: Travel and Transport
5th (tie): Children's Hospital & Medical Center
5th (tie): Immanuel Communities and Immanuel Pathways
4th: Home Instead Senior Care
The key for companies: Know your workforce and your customer demographics.
Knowledge of the workforce can make it possible to have a high percentage of engaged workers, and a highly engaged workforce is common among winners of the annual Best Places to Work in Omaha competition. This year, the competition represents 11,741 employees at a variety of Omaha companies, Riepe said.
The competition is sponsored by the Greater Omaha Chamber of Commerce and Omaha law firm Baird Holm LLP. Quantum Workplace conducted the primarily online survey, which was interpreted for participants by the SilverStone Group.
Riepe said employee engagement begins during the hiring process, by selecting those who are best suited to the work at hand.
Beyond that, there are five factors that contribute to engagement.
One of those is "liking pay and benefits," which might at first seem as though it would be very important to employees. However, Riepe said that as long as employees are satisfied they are being paid fairly, at a rate similar to others doing a similar job, the amount they are paid contributes relatively little to engagement.
As for benefits, he said employees want to be satisfied that the benefits offered meet their needs and those of their families.
In the Best Places to Work in Omaha survey, liking pay and benefits accounts for just 10 percent of a company's score.
"A lot of it comes down to communication about what is offered," he said.
For example, companies that offer benefits that are unusual, such as pet insurance, need to make sure employees and potential employees know they are available.
He said employers can typically afford to offer employees the option to purchase insurance that covers ID theft, cancer, accidents and other perils because insurance companies don't usually charge employers to present such options to their workers.
Because of that, it makes sense for employers to put together benefit packages that appeal to their workers. If you run a pet shop, for example, your employees might see pet insurance as an important benefit.
About Omaha's Best Places to Work
A special section produced by the news division of the Omaha World-Herald.
Special sections editor: Shelley Larsen
Content editor: Howard K. Marcus
Section designer: Jan DeKnock
Copy editor: Melinda Keenan
Advertising coordinator: Terri Campbell
For special section advertising information, contact Dan Matuella at 402-444-1485.
"The individualization happens at all levels," Riepe said.
Here are the other employee engagement factors, along with what Riepe said are some of the elements that go into them.
» Liking the job you're doing — If you feel as though your job is aligned with your career goals, plays to your strengths and offers the opportunity to do work you feel is of value personally, you probably like your job.
» Liking the boss — If your supervisor provides recognition when you do well and offers constructive feedback and development when you don't do well, you probably would say that you like your boss.
» Liking your co-workers (work team) — Can you rely on your work team? Are they accountable? Can you trust them? Are they there for you when you need them? If the answer is yes, you probably like your co-workers.
» Liking the organization — Riepe said that while this factor is the most important employee engagement factor, it is also the one over which employees have the least control.
"Ultimately, it comes down to future leadership," he said. "Are the people in charge able to lead us to future success?"
Though this is a big-picture factor, the smallest of actions can make a big difference. For example, if a manager sits down with an entry-level employee and talks with him or her about future opportunities within the company, just having the talk can increase the employee's engagement.
The winning companies will be honored Thursday during the Best Places to Work in Omaha luncheon, held in conjunction with the annual Labor Law Forum sponsored by Baird Holm LLP.
---
Large companies (201-plus employees)
Office: Headquarters in Omaha; 42 retail lending offices in Iowa, Nebraska, South Dakota and Wyoming
Primary business: Customer-owned financial cooperative
Offices: Headquarters in Omaha; offices in 41 states
Primary business: Corporate travel solutions and meeting/event planning services
Employees: More than 400 in Omaha
Offices: corporate headquarters in Omaha, with offices in Lincoln, Des Moines and Kansas City, Mo.
Primary business: staffing and recruiting
Employees: 1,800 in Omaha; 30,000 across North America and Australia
Office: Corporate headquarters in Omaha
Primary business: Construction, mining and engineering
Offices: 8200 Dodge St.; Children's Specialty Pediatric Center is at 84th Street and West Dodge Road.
Primary business: Children's health care
Offices: Headquarters in Omaha, with properties throughout the metro area
Primary business: Senior living/home health care
Medium companies (25 to 200 employees)
Offices: National headquarters in St. Louis; 50 branch offices in Omaha
Employees: About 120 in and around Omaha
Primary business: Investing services
Office: Headquarters in Omaha
Employees: About 100 in Omaha office; hundreds of nurses nationwide
Primary business: Medical staffing
Offices: Headquarters in Mountain View, Calif.; offices in five U.S. cities and 20 other countries.
Employees: 3,458 full-time worldwide; 120 are in Omaha
Primary business: Largest professional network on the Internet; diversified business model with revenues from talent and marketing solutions, and from premium subscription businesses
Office: Headquarters in Omaha
Primary business: In-home nonmedical care
Primary business: Accounting and consulting