Former congressman Brad Ashford says the most critical step in the development of Omaha's new medical clinic for veterans wasn't when the VA secretary endorsed it.
It wasn't when Congress passed the authorizing bill.
It was when Walter Scott Jr. stamped it with his seal of approval.
Scott served as chairman of Heritage Services, a board made up of many of Omaha's heaviest-hitting philanthropists. Scott's blessing included a commitment that he and Heritage would raise $30 million in private dollars for the $86 million facility.
Scott's support also came with his typical insistence that Heritage oversee nearly every aspect of the project to ensure it came in on time and on budget.
The result was a public-private partnership like few, if any, ever undertaken by the U.S. government — one that made a reality out of a facility that had languished on a waiting list for more than a decade. It will begin serving the region's veterans tomorrow.
"There would not be a new VA without Walter Scott," Ashford said. "End of conversation."
As the co-founder of Heritage Services and its leader for all 30-plus years of its existence, Walter Scott has had an outsized hand in more than $1 billion in major facility projects in his hometown. From CHI Health Center Omaha, TD Ameritrade Park and the Holland Center to museums and university facilities, brick by brick Heritage has done much to reshape Omaha during this century.
But this past week, the only chairman Heritage Services has ever known left the board. At age 89, Scott has been pulling back from a number of board commitments to devote more time to family and to his family's charitable foundation.
Many Omahans barely know of the billionaire businessman beyond seeing his name on the face of building projects he's supported — the University of Nebraska at Omaha named its entire Aksarben campus after him. He's a private, pompless man whose low public profile belies the considerable influence his leadership, fundraising ability and hundreds of millions in personal contributions have had on Omaha civic affairs.
Arguably, no other Omaha figure in the last half a century has had more influence on the city's course.
"I have off-the-charts, giant respect for Walter and what he has done," said Susie Buffett, the daughter of Warren Buffett and also among Omaha's biggest philanthropists. "He has changed the face of Omaha."
So what will the recent changes mean to Heritage and to the city that the retired Kiewit construction executive has literally helped build?
Other Heritage board members say they expect the organization to continue to be a major player on the city's biggest public projects under its new chairman, 68-year-old Mike McCarthy.
They say McCarthy, a private equity firm owner whose business career has been based on finding productive ways to invest capital, will take a thoughtful approach in deciding where in the future Heritage will invest its considerable resources.
And while Scott will be playing a less direct role in shaping Omaha's future, it's not likely there will be any curtailment in the personal charitable giving of the man whose family wealth Forbes recently pegged at $5 billion. In fact, there's evidence that as Scott turns more attention to his family foundation, it could be stepping up its role here — including long after he is gone.
Scott recently told The World-Herald that he intends for nearly all of his personal assets to ultimately land with the foundation. If estimates of his family's wealth are accurate, that could one day make the Walter Scott Family Foundation one of the largest charitable foundations in the country.
"My children were taken care of long ago — what they make of their lives is now their own responsibility," Scott said. "Ultimately, nearly everything will go to the foundation, with the hopes it will benefit my hometown for many generations to come."
* * *
In 1989, Walter Scott was vacationing in the Galapagos Islands with friends Robert Daugherty and Willis Strauss, the men exploring the Pacific archipelago whose abundant wildlife more than a century earlier had inspired Charles Darwin's theory of evolution.
Something else was about to evolve on that isle.
Scott was the chairman and CEO of Omaha's Kiewit construction company, having followed in the shoes of Peter Kiewit to help the firm grow into one of the nation's largest, with massive building projects all over the globe.
Scott had also been gradually stepping up his charitable involvement in the city. Long a patron of the Omaha zoo and leader of its board, he helped it grow into one of the world's best.
Daugherty and Strauss likewise were titans in both business and philanthropy in Omaha — Strauss as the retired chairman of natural gas company Internorth, Daugherty as the founder of irrigation equipment manufacturer Valmont Industries.
During this time of leisure in the South Pacific, the men discussed the shared financial struggles of Omaha's Joslyn Art Museum, on whose board Scott served, and the Western Heritage Museum, the history museum that had been established in the city's historic Union Pacific passenger terminal.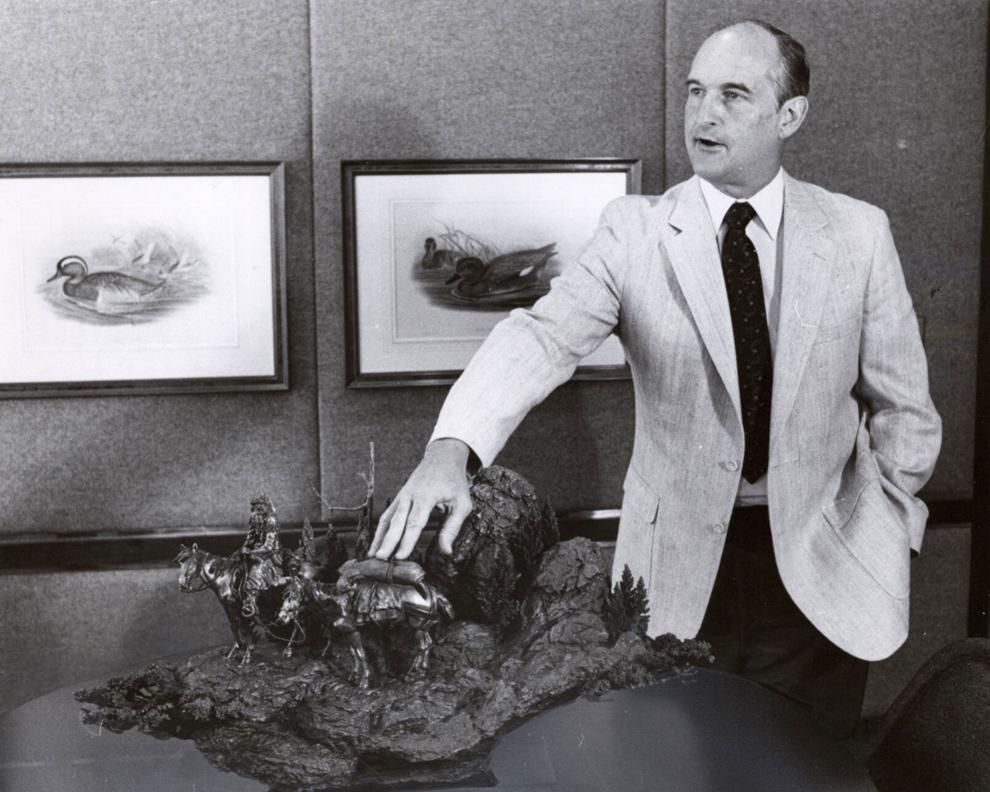 The result of the conversation was the incorporation of what the men named the Heritage Joslyn Foundation, with Scott as its leader. The plan was for the new organization to run a joint fundraising drive toward upgrading facilities at both cultural institutions.
Tapping Omaha's other top philanthropists, the $75 million campaign was a tremendous success. The museums gained additional exhibition space that allowed them to bring in national touring exhibits. Attendance boomed.
Seeing a good thing, Scott and the others decided to keep their new creation going. They eventually changed its name to Heritage Services, reflecting the enduring role they hoped it would play in Omaha.
Its 12-member board came to be composed of Omaha's most prominent and powerful philanthropists, enabling them to leverage their political clout, business acumen and dollars to do still bigger things in Omaha. Most of the board members were themselves chairmen of some of the city's biggest charities and cultural institutions.
Over time, the Heritage board would become a kind of unofficial board of directors for the city. Heritage support for any civic project virtually guaranteed it would become a reality. There may not be another organization quite like it anywhere in the country.
And from the start, Scott has been Heritage's unquestioned leader. While some outsiders might view money as the prime asset Scott brings to the table, those who have served with him on the organization's board say it's his leadership.
"He doesn't come in and hammer the table," said Mike Yanney, an Omaha financier who served with Scott for decades on the Heritage board. "He talks about the vision and gets everyone quite interested in it, and then he's able to see what needs to be done, focus on it and execute it. And Omaha and the whole state have benefited."
Over the years, most Heritage projects have been geared toward improving the quality of life in Omaha, and that's no accident. Scott and the other Heritage leaders are concerned about making Omaha an appealing place to live so it can attract the workforce it needs to compete, grow and thrive.
That had been underscored by an economic consultant in the late 1990s who concluded that if the Plains city known for its strong work ethic didn't learn to kick off its shoes and have more fun, it would struggle to compete for workers in the new millennium.
"We are always conscious of the need for Omaha to attract and retain young people," Scott said recently. "Who will be the community's future leaders, entrepreneurs and job creators? What can we do to make Omaha the most attractive city in its class? And what can we do to make it attractive to a diverse population able to see a bright future in Omaha for their children?"
That focus has made a visible impact.
Throughout the 1990s, for example, Omaha had been engaged in a lengthy public debate over building a new convention center and arena. That's a pricey venture for any city, one whose costs are frequently completely borne by taxpayers.
But when Scott and Heritage decided the arena was an amenity the city had to have, they pledged $75 million in private money. Those dollars helped sell city voters on the $281 million project.
Under the agreement Heritage inked with the city, the taxpayer-backed bonds would not be issued until Heritage certified it had raised the $75 million. Counting bond interest, the Heritage pledge saved Omaha taxpayers more than $100 million.
When the new arena opened on Omaha's riverfront in 2003, the city suddenly had a facility that could attract world-class acts like Taylor Swift and Garth Brooks. Creighton University basketball became a hot ticket. And unexpectedly, the facility also helped Omaha become the unofficial home of the U.S. Olympic Swim Trials. Next year, the city is set to host the nation's top swimmers for the fourth straight Olympiad.
Heritage later put $44 million into TD Ameritrade Park, helping Omaha lock up a long-term contract preserving the city's treasured title as host of the College World Series. In the early 2000s, Heritage revamped Omaha's performing arts facilities, too, raising $108 million to renovate the Orpheum and construct the Holland Center. In all, Heritage over three decades has pumped more than $700 million in private dollars into some $1.2 billion of civic projects.
Those projects have helped transform the city, said Paul Landow, the chief of staff to former Mayor Mike Fahey, who worked with Scott and Heritage on the ballpark and arts projects. He said he doesn't know if there's ever been a civic leader in Omaha quite like Scott.
"Very frankly, what he said went, not because he was bullying or ran roughshod over people, but because people so deeply respected him," Landow said. "Everyone moved forward together."
That's not to say that Scott isn't demanding.
Besides the quality of life focus, Heritage projects over time have come to develop another trait: Heritage insists on overseeing every aspect — from initial studies and planning to fundraising, building contracting and construction oversight — wanting to ensure the project comes in on time and on budget.
Such control is something Scott has likewise often insisted on with other non-Heritage projects he's supported financially, including dorms and academic buildings at UNO and major research and clinical facilities at the University of Nebraska Medical Center. At times, that's opened Scott up to questions and criticism.
Some say Heritage's process gives it too much control and influence over public facilities that are also funded by taxpayers.
For example, Scott had insisted as part of Heritage's support of the new arena and ballpark that they be operated as a nonprofit business by the newly created Metropolitan Entertainment and Convention Authority (MECA). The conservative, business-minded Scott did not trust government to efficiently operate and maintain the facilities.
Scott once gave a blunt, matter-of-fact response when asked about Heritage's control requirements, saying those seeking financial help who don't like the conditions "can go somewhere else."
Many, but not all, projects Scott has been involved with have also utilized Kiewit as the construction contractor. And Scott-tied projects frequently contract with Tetrad, a development company co-founded by Scott's son, David, to oversee construction.
Those who know Scott say he's completely unconcerned about the optics of that. He chooses to entrust proven performers he knows will do the job without wasting donor dollars.
"He could care less," said one associate. "He's more concerned about the end product getting done right."
In a written response to questions recently posed by The World-Herald, Scott pointed out he long ago cut financial ties to Kiewit — he retired from the employee-owned company in 1998. He said he has no financial stake in his son's company, either, and notes both firms have proven records and are in high demand to handle building projects all across the nation.
"We are hyperconscious of our responsibility to develop projects in an ethical manner and to be good stewards of donor money," Scott said.
He also said the contractors Heritage works with know they face exacting standards, and actually risk losing money if they don't deliver the project on time and on budget.
"If we had a project that came in late and over budget, that would happen about once," Scott has said.
Sue Morris, who as longtime president and chief executive of Heritage has had primary day-to-day oversight over its projects, says Heritage always looks to maximize donor investments by negotiating to pay as little as possible for construction and other services.
Morris said she tells Heritage contractors: "You're going to make some money, but you're not going to make a lot of money."
Scott, Morris and Heritage board member Howard Hawks recently headed up a donor group that's building a new $23.5 million baseball and softball complex at UNO, leading the planning, raising all the money and overseeing construction.
Dr. Jeffrey Gold, chancellor of UNO and UNMC, said recently that while the process is different than for traditional university projects, he focuses on the final result: a new asset, at no cost to the university, that will benefit students and the community for decades to come.
"If this is the way to get it done, I say thank you very much," Gold said. "Bring on the next one."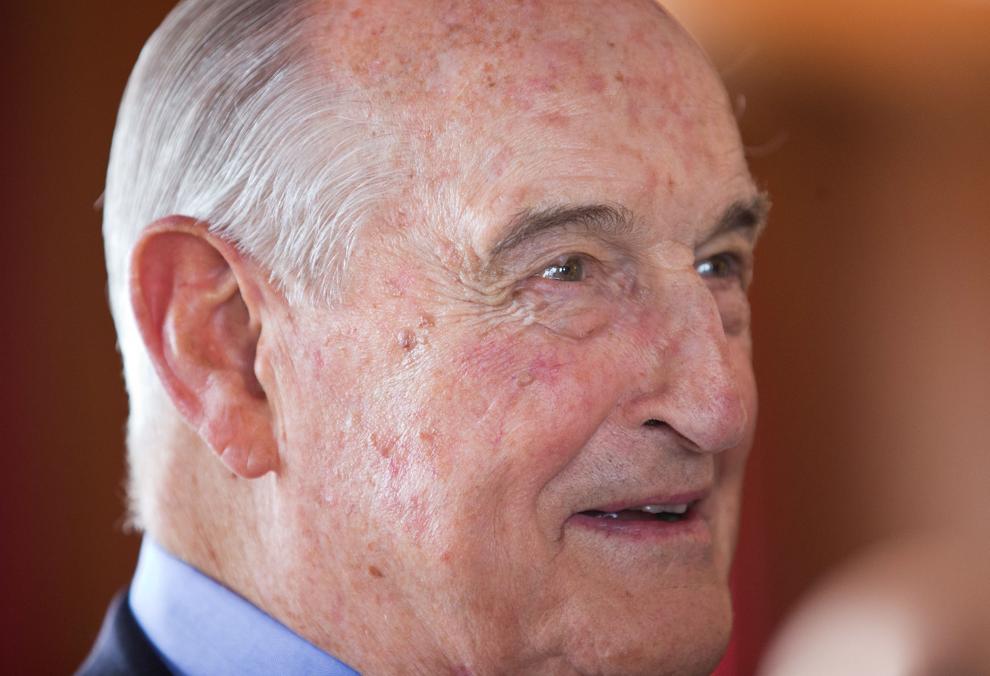 * * *
Not long after Brad Ashford entered the U.S. House of Representatives in January 2015, the Democrat found himself at a small gathering in Washington that included VA Secretary Robert McDonald. So when Ashford had a chance, he walked over and brought up an idea he'd been tossing around in his head.
"We are really good at public-private partnerships in Omaha," Ashford told him. "It's our forte."
Ashford asked if the VA secretary would entertain the idea of doing a public-private partnership in Omaha to build a new medical facility to serve veterans in eastern Nebraska and western Iowa.
At the time, VA administrators had long recognized the agency's Omaha hospital as one of the most outdated and inadequate in the entire VA system.
But even a scaled-back plan for a $136 million outpatient clinic couldn't get funded. That was in part due to the fact the VA's limited annual construction budget was being sucked up by other ongoing projects around the country, including a hospital in Denver that took 14 years to build and cost $1.4 billion more than it was supposed to.
McDonald was receptive to the idea. But he told Ashford that Congress would have to pass a special bill. The VA had never entered into such a partnership and had no legal authority to do so.
What transpired next offers a unique window into how Walter Scott and Heritage operate.
Ashford reached out to a Heritage Services board member he knew and soon found himself at a breakfast meeting at Omaha's downtown Hilton with Scott, Yanney and McCarthy.
Ashford said it took almost no time for Scott to say he was all in on the project. Ashford learned Scott was a veteran himself, having served a brief stint in the Air Force during the Korean War.
"I've always wanted to do something for veterans," Scott said repeatedly. He said he would raise the money necessary to match the federal dollars.
But given the Denver debacle, Scott also said the money was contingent on the federal government allowing Heritage to oversee the project. Scott didn't want to risk another mismanaged VA project and seeing the Omaha donor money go up in flames.
Scott also ended the meeting with these words: "Brad, you've got to get this done."
Coming from Scott, Ashford said he took it as an imperative. He and the rest of Nebraska's congressional delegation needed to get the bill passed.
In January 2016 as Ashford was still working the issue, President Barack Obama made plans to come to Omaha to speak. Ashford contacted Scott.
"I doubt you ever vote for Democrats," Ashford told him. "But would you be willing to meet with the president?"
Ashford thought it would be good for Obama to meet the Heritage leader. Scott said he'd be happy to take the meeting.
So just before Obama spoke in front of a full house of 11,000 people at UNO's Baxter Arena — incidentally, a Heritage-backed facility that had opened just months before — Scott and Obama held a brief meeting. Scott wasn't afraid at all to let Obama know what he wanted from him.
"Brad's our guy on this," Scott succinctly told the president. "I want to make sure you have his back."
"I've got his back," Obama assured.
With Ashford carrying the bill in the House and Republican Sen. Deb Fischer leading the push in the Senate, the Omaha VA measure moved through the process. Then through some last-minute maneuvering, it broke through the partisan gridlock and passed during the waning moments of the 114th Congress. Obama signed it in December 2016.
By then, Ashford was soon-to-be former congressman Ashford, having weeks earlier been washed out after a single two-year term by the same Republican electoral wave that ushered Donald Trump into the White House.
The bill opened the door to the public-private partnership but did not spell out all the terms. Heritage and the VA still needed to hash out a working agreement before the project could go forward. And that, too, proved to be an adventure.
The VA was reluctant to cede oversight of the project to Heritage. The agency has a huge construction division, Ashford said, and there was "a lot of turf stuff going on."
But Heritage officials held to their insistence that if the project was going to go forward with Omaha donor money, Heritage would be in charge.
"We're not doing it that way," Ashford recalled Morris telling VA officials during a December 2016 meeting in Washington.
"Sue Morris was a bulldog," Ashford said. She was diplomatic but firm in communicating Heritage's position.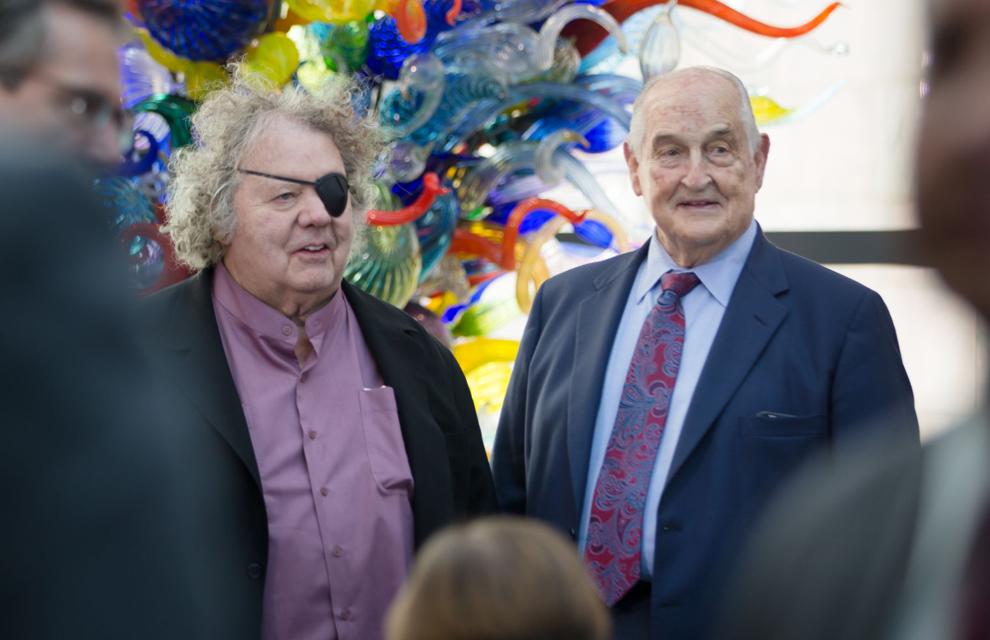 It took months, but in the end, Morris, Scott and Heritage prevailed. A new nonprofit called Veterans Ambulatory Care Center LLC was created, run by Heritage. The private dollars were raised, and construction began in spring 2018.
Late last month, Heritage officially turned over the keys to the new ambulatory care clinic to the VA.
In the end, it came in well below its original price tag. And a Government Accountability Office report found that the private sector design review method reduced the construction timeline by more than four months.
One of the unique features of the new building is a women's clinic. It was something Morris and Scott had asked for, a recognition of the growing role of women within the U.S. armed forces. It also includes five new outpatient operating suites, specialty clinics, a new radiology center and the capacity to serve an additional 400 veterans daily.
Ashford said he's not sure there's ever been a facility quite like it built anywhere in the federal government. And he's not sure any other city could have pulled it off.
"That bill was a miracle," he said. "It was a culmination of everything good about Omaha."
* * *
Meeting via Zoom in the midst of a pandemic, on Tuesday Walter Scott hosted his last meeting as chairman of Heritage Services.
Morris said it was an emotional meeting for her, as it was also her last as Heritage's president. She's bowing out with Scott. But she said Scott seemed to take his own exit in stride. COVID-19 or not, he had no interest in a big recognition dinner or any such feting.
Scott said he probably should have left the post about five years ago. But there were too many projects on the Heritage drawing board that he wanted to see through.
Among them was December's dedication of a rebuilt Siena Francis House shelter for Omaha's homeless, a project Scott called "a statement of Omaha's values."
"I think an important metric of any city is how it treats its most vulnerable," he said.
Scott listed the VA project as the best accomplished to date by Heritage. That's mainly because it required a U.S. government agency to do something it was unfamiliar with, a process he said brought the facility online "in years rather than decades."
Other cities are now looking at utilizing the same legislation and model. "But Omaha was first," he said.
Even as Scott leaves, Heritage lists a $100 million "emerging project" on its to-do list, a sizable and exciting mystery facility that Morris said will soon be revealed.
Scott said the goal-oriented Heritage board will continue to do good work. He said McCarthy, his successor as chairman, is an entrepreneurial leader who is thoughtful and knows "how dollars can do the most good in Omaha."
McCarthy, in turn, credits Scott for helping raise up a new generation of civic-minded Omahans who will seek to carry on what he started.
"There is a legacy of future leaders he has helped inspire and develop that will continue past his lifetime," McCarthy said.
At age 89, Scott said his health is "better than should be expected." His mother died of a heart attack at age 69. His father lived to 88.
The desire to spend more time with family has been a bigger factor than his health in his decision to wind down his involvement with Heritage and other boards, he said. His second wife, Suzanne, died in 2013. Walter Scott has four children, two stepchildren and many grandchildren.
One board Scott said he won't be leaving is the Omaha zoo's. He said he continues to have a passion for the Omaha institution he's been associated with for more than half a century, saying he plans to remain on the board "indefinitely."
And he's looking forward to stepping up the philanthropic work of his own charitable foundation — work that holds much future possibility for Omaha.
The Walter Scott Family Foundation lists over $1 billion in assets. Another family foundation, the Suzanne and Walter Scott Foundation, has over $300 million.
Given Scott's ultimate plan to put nearly all his personal assets into philanthropy, Scott has the potential to create one of the nation's largest charitable foundations.
Forbes currently lists the Scott family as the world's 401st richest, with assets of some $5 billion. Scott owes much of his wealth to his work at Kiewit, including as CEO steering it into lucrative new ventures in energy and telecommunications.
As an example of relative foundation size, the well-known Rockefeller Foundation in 2018 was the nation's 15th largest, with assets of $3.9 billion.
The Walter Scott Family Foundation has grown considerably in the last decade, from a staff of zero to 14. And while Scott is most known for the building projects he supports, his charitable work goes well beyond that.
He's a big supporter of college scholarships. He pays for the education of 130 high-achieving UNO students each year through the Scott Scholars program. He also supports scholarships through his college alma mater, Colorado State, as well as Creighton and the Horatio Alger Association.
More than a decade ago, Scott tasked Omaha educator Ken Bird to look into creating the Omaha equivalent of the "Kalamazoo Promise," a pledge made by anonymous donors to pay the college tuition costs of that Michigan city's public high school graduates.
In the end, they decided there was already much scholarship money available in Omaha. But seeing a particular need to help children growing up in difficult environments, Scott created and funds Avenue Scholars. It's a mentoring and scholarship program that seeks to help some of Omaha's most at-risk kids get through high school and into two- or four-year degree programs.
Scott rarely reveals the amount of his charitable contributions or even acknowledges giving to a project. But a World-Herald examination of foundation tax records shows his charitable grants since 2001 alone have exceeded $500 million.
"We will continue to be involved in education and good ideas for Omaha," said Calvin Sisson, president and CEO of the Suzanne and Walter Scott Foundation.
Scott said the board of his foundation held a retreat five years ago and made plans to continue its work long after he is gone. He said the foundation's board will respect his longtime interests but also be flexible to meet the community's future needs.
In the meantime, he said he hopes to "live long enough to see the fruits of my philanthropy." He said he's guided by the words of the man he succeeded as Kiewit's CEO.
"Peter Kiewit's admonition was it is more difficult to give away money intelligently than it is to make it in the first place," he said. "In the time I have left, I'm trying my best to invest in Omaha as intelligently as possible."
Scott said as he looks to Omaha's future, he remains bullish. He said he believes that the nation's midsized cities "are the future," and that Omaha is already a step or two ahead of its peers.
"But a city is always an unfinished project," he said, "so we keep looking for new opportunities to improve Omaha."
Correction: An earlier version of this story had an incorrect spelling of Jeffrey Gold's first name. 
---
How Omaha and Nebraska's Fortune 1000 list has changed since 2015