Developer Jerry Reimer helped transform one of Omaha's seediest residential pockets. His company infused new life into some 400 aging dwellings, built a big apartment complex and is converting another — all of those in or near the city's core.
So it might seem out of step for the Urban Village co-founder to shift his sights to a sprawling greenfield in suburban Papillion.
But, said Reimer: "I thought we could take the best of the urban setting and the best of the suburbs and come up with a new model."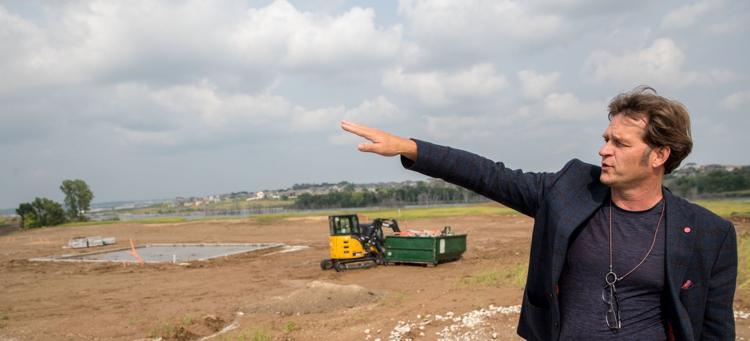 That model — a 50-acre nontraditional rental community planned within a stroll of upscale family neighborhoods and Werner Park stadium — is welcomed by Papillion leaders as a different living option in an area whose median house value tops almost all others in the Omaha metro area. According to real estate data tracker Zillow, only Gretna and Bennington have a higher midpoint home value than Papillion's nearly $242,000.
While Reimer's under-construction neighborhood abutting the existing Prairie Queen Recreation Area is not cheap (rents are to range from $900 to $2,700), Papillion officials laud it as part of a diverse and growing wave of apartments and town house projects that could lure residents who don't want homeownership maintenance hassles or who aren't yet ready financially for the area's mortgage demands.
They say the expanding selection of rental sites also provides a step-up option for residents of aging homes, including a smattering of older apartments, thereby freeing up more affordable space in other parts of Papillion.
"It's a newer dynamic in our housing stock," Mayor David Black said of a spurt of amenity-rich rental properties. He said the city in the past has been primarily comprised of single houses. Newer multifamily sites join a few others that opened in recent years, such as Shadow Lake Square Apartments near 72nd Street and Highway 370 and Tuscany Apartments at 67th and Giles Streets.
Housing overall continues to multiply in the Sarpy County city, about 20 minutes from downtown Omaha. Counting people living also in the 2-mile zoning jurisdiction, the mayor estimates Papillion's population at up to 35,000, and says it's not hard to see that more than doubling by 2050. Check out these signs of momentum:
In the past four years, Papillion records show that officials approved land development for 637 new apartment units. Another 1,158 await future plat approval. That's a total of about 1,800 units — compared with zero multifamily buildings platted during the previous five years.
(Platting approval happens early in development, as land is subdivided and prepared for construction. Residents typically don't start moving in for at least a couple of years.)
In terms of single-family housing, Papillion since 2013 has approved land development for about 2,700 for-sale homes in brand-new subdivisions. Another 1,711 lots are pending plat approval. For perspective, no new Papillion housing subdivisions were formed from 2010 to 2012.
Indeed, it was all the "Sold" signs in new subdivisions that led Corbin Graham of Austin, Texas, to choose Papillion for an apartment project near Werner Park. His Graham Development Co. started site work this month on a multiphase venture that, over time, could become 545 apartments across 25 acres.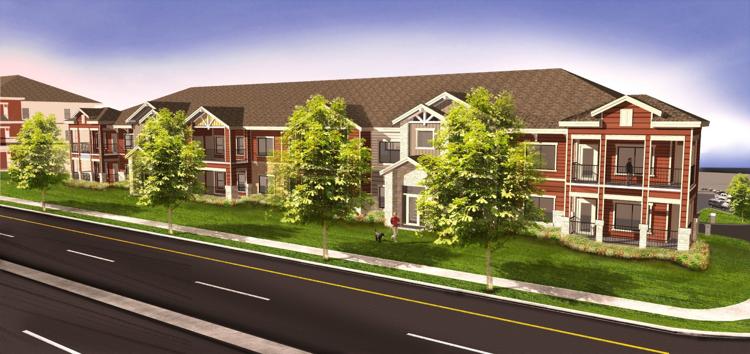 The first 300 apartments — called the Venue at Werner Park — carry a price tag of about $50 million and are to rise on 14 acres southeast of 120th Street and Ballpark Way. Some are to open this spring, with rents between $1,100 and $1,400.
Graham expects to attract residents who don't want the big house with the big lawn. Others might want to try out the area in a rental before deciding where to buy.
At the Venue, they'll have a clubhouse, fitness center, bike and kayak shop, and a resort-style pool overlooking the nearby Prairie Queen Lake.
"Multifamily is not just people who can't afford a house," Graham said. "It's a life choice. Apartments offer more flexibility."
Jerry Torczon is among the early and busiest developers in the area, having helped guide the Shadow Lake development site in the mid-2000s.
He said he's noticed more acceptance from city leaders of rental units, and believes the newcomers will enhance growth.
"You can't build a whole city around $400,000 houses," he said.
Even so, houses continue to rise. Multiple developers, including Celebrity Homes and Boyer Young, have staked out land to create neighborhoods. Permits issued to build single-family homes around Papillion surpassed the 300 mark last year and the year before. In the five years since 2014, single-family homebuilding permits rose 22 percent compared with the previous five-year period.
Soon, another phase of Shadow Lake will start, Torczon said, with up to 181 homes ranging from $375,000 to nearly $600,000.
Farther west, Torczon's BHI Development has turned other farmland into neighborhoods including North Shores, Ashbury Farm, Ashbury Creek and Granite Lake. Another is so new it's yet to be named.
Black described housing growth as explosive. But he said that while $800,000-to-$1 million homes have boosted average housing values, the $120,000 house still exists in older parts of town.
"The extremes shock people sometimes," Black said. "We're an 1870s railroad town that's just grown up and now happens to touch Omaha." (The mayor did say, however, those lower-priced houses "move fast and there's not a lot of them.")
Part of what's driving growth, he and others said, is the area's proximity to both Omaha and Lincoln. It also has more build-able land than neighbors such as La Vista and Bellevue.
A planned, multicity sewer system to serve Sarpy County should only accelerate future growth along 72nd Street south of Shadow Lake, Black said.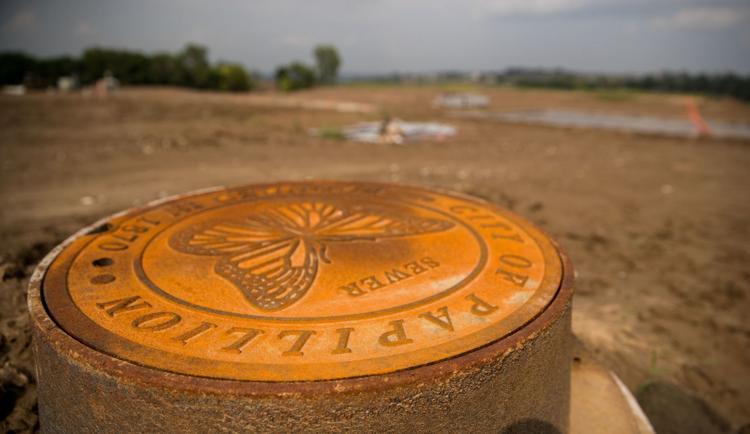 Torczon said he was attracted to the suburban area's "blank slates" for housing and related commercial services. It's easier to carve a network of walking and biking paths out of a swath of open farmland. And trails winding around new dam sites are a big selling point for homebuyers.
The city of Papillion and the Papio-Missouri River Natural Resources District have built two recreation areas with lakes — including Prairie Queen in 2015 — and plan two more, at 108th Street and Cornhusker Road and 114th Street and north of Cornhusker. Aimed at discouraging flooding, the dam site lakes have the added benefit of bringing nature, trails and other tourism-related attractions.
"They've done an excellent job in laying out those lakes and tying them all into trails," Torczon said. "Papillion is lucky enough they had no impediments to laying out a master plan."
To be sure, not all the cornfields around seven-year-old Werner Park have transformed as rapidly as some would have liked.
Much of the land outside the Omaha Storm Chasers' baseball stadium near Highway 370 and 126th Street remains void of restaurants, shops, bars and other entertainment envisioned at Sanitary and Improvement District No. 290. The SID filed for bankruptcy last year in an effort to reorganize finances.
The Venue apartments are being built within that SID, and will become a welcome property tax source for it. The mayor said he is not worried for the long run, saying additional rooftops eventually should lure retailers, entertainment venues and office buildings around the ballpark.
Of Reimer's project, Black said, not many fully comprehend its contribution, yet, to the growing area.
Dubbed Urban Waters, the rental neighborhood is bounded by 132nd Street, Lincoln and Cornhusker Roads and the Prairie Queen Lake. The largely private investment is to be built over a decade or so and could reach up to $150 million and 650 units, Reimer said.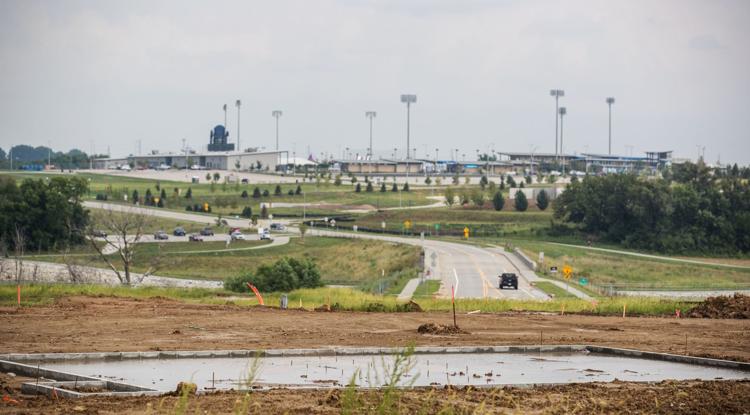 The first phase of 39 dwellings is of varying styles and bedroom sizes, and is scheduled to open in May.
"My goal is to hear people say, 'That's a cool neighborhood,' without ever realizing it's an apartment complex," Reimer said.
A favorite part for Mayor Black is that Urban Waters will serve as a western "bookend" for Lincoln Road. The boulevard goes from 72nd, through old Papillion, past a future community center and athletic fields, new housing subdivisions, a baseball stadium, trails and a lake, and eventually lands at 132nd Street and Reimer's project. Reimer plans to create a charming downtown-like setting at that bookend, in part with some Brownstone-style and small storefront structures where people live upstairs.
Reimer is developing the Urban Waters site separate from Urban Village, which has different partners and investors. But, he said, the idea is to create similarly cool urban-feeling housing — without parking lots but with carriage houses for cars and spaces for swimming, gardening, walking.
"There are reasons people move to the suburbs — I have to respect that," Reimer said. "We're trying to find a compromise, a sweet spot, in between."
Changing Omaha: More than 50 stories of local development projects in the works
An ongoing list of some our development stories from 2018-20, with the most-recent stories at the top.