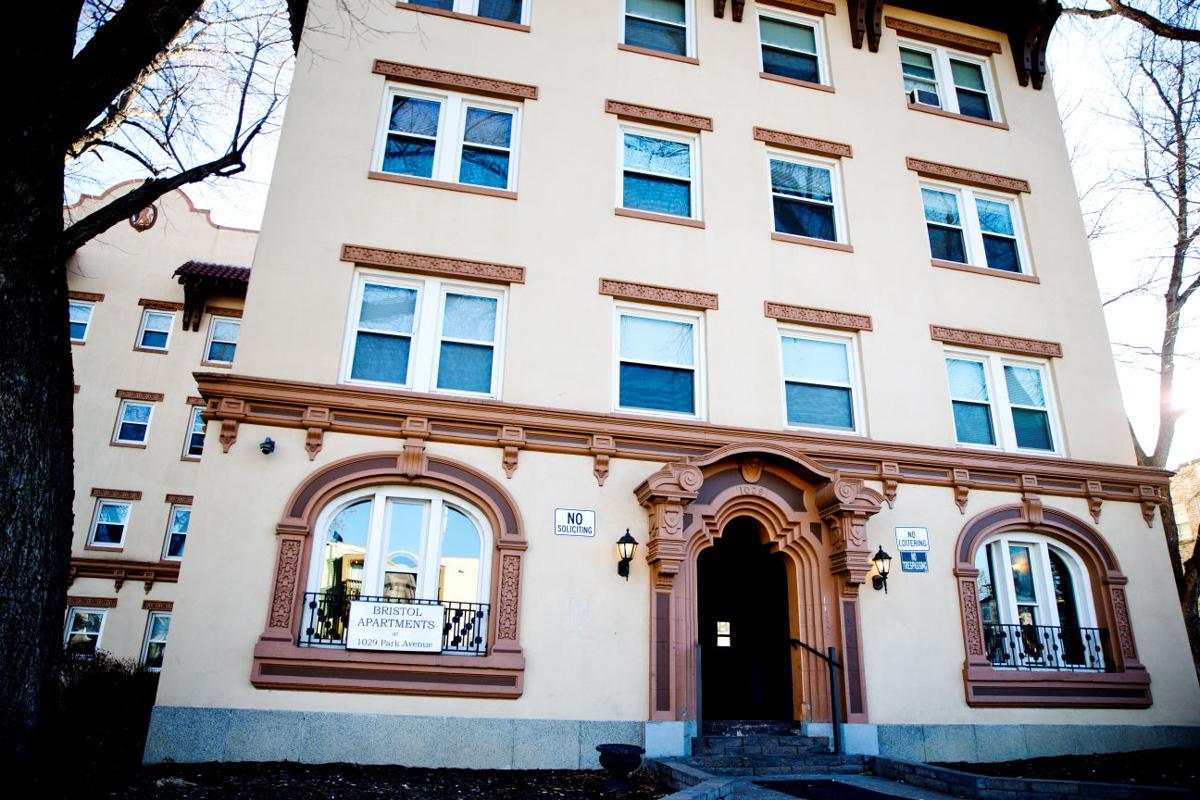 The former homeless guy whom friends call Brooklyn won't have to take his "sniping" skills on the road anytime soon.
Fellow apartment dweller Kristie Eisenauer, who raised her sons and spent most of her 50 years in the same midtown area, also is staying put.
And their newest neighbor — a north Omaha native who speaks Spanish, grew up in Italy and now works on Park Avenue — also has a seemingly secure spot on the corridor where rents have jumped along with the amount of private investment.
The three are among the diverse and cash-strapped group living at the Bristol, a nearly century-old complex at 1029 Park Ave. that recently changed ownership and is headed for historic status.
The 64-unit structure stands out among other neighboring buildings because new owner InCommon Community Development bought it with the specific intent to keep rents low for residents such as Brooklyn and Eisenauer, even after a planned revamp.
Purchased for $1.5 million, the 32,500-square-foot structure is the most outward reaction so far to InCommon's growing concern: displacement of existing area residents.
The nonprofit organization aims to fight poverty by strengthening neighborhoods. It is based at 1340 Park Ave. and provides services at its center to many of the Bristol tenants.
Recognizing that the Bristol's stucco Spanish Colonial style would be a target for private developers, InCommon Director Christian Gray started a while back making inroads with the previous California owner. The sale, made possible through the organization's supporters, closed in November.
InCommon now plans to apply, with help from Clarity Development, for state and federal funds to update rooms, almost all of which are studio units. It also is working with A/O architectural firm on a historical application and planned renovations.
Opened as the Hanscom Apartments in 1922, the structure was designed with terra-cotta tile window hoods and is shaped like a "Maltese cross."
A/O architects say that shape not only creates four "light wells" on interior corners, but dictates unusual triangular rooms on the interior.
Larry Virginelli, 66, said he's not as impressed with the Bristol's arched parapet walls as he is with the basic roof it has put over his head the last 14 years.
With half a foot gone from frostbite, the former wanderer who grew up in Seattle has found a routine on Park Avenue — brown bag lunches from the Holy Family food truck that stops by daily; shopping at "Mama Mary's" grocery down the street, mingling with friends from InCommon. He feels at home.
For Eisenauer, who has lived there a year, the Bristol is one of the few places she knows that accepts general assistance for rent. "I like this safe zone."
For Drew Pauly, who is on staff at InCommon, the Bristol allows him to live on the same block where he works.
And for William Carl Dorn, otherwise known as Brooklyn, it's a bare yet comfy bedroom to lay his 51-year-old body held together with help from pins in his hips and a plate in his leg.
He learned of the Bristol while at a shelter, and said Community Alliance staff members have been helping him to apply for a disability subsidy. If not for the Bristol and social workers, Dorn said, he'd probably be back on the road.
"I'm a traveler, that's what I do," said the New York native, disrupting his conversations periodically to wave or chat with passers-by.
He said he's "pretty settled down at the moment," thanks also to productive trash bin-digging in midtown and luck he's had finding "snipes" (cigarette leftovers with a few puffs left in them).
While the Bristol offers refuge to a lesser-income population on Park Avenue, InCommon's Gray said it's not an "open door for anyone in a desperate situation."
Indeed, at least one tenant complained to a World-Herald reporter that he was being evicted.
Gray confirmed that leases aren't being renewed to tenants with behaviors that InCommon sees as negative. Any displacement is not income-related, he said, and called the Bristol a business with tenants who pay rent to live in a place that's safe.
"It's not a free-for-all," he said.