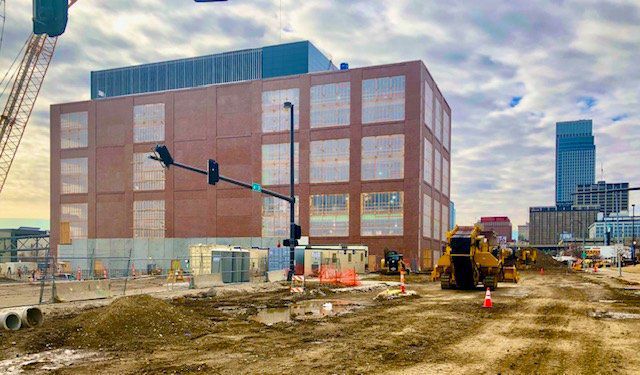 It's full speed ahead right now at many Omaha-area construction and redevelopment sites. Some might even be accelerated.
That's the word from multiple developers and construction leaders who said the novel coronavirus so far hasn't deterred their local building projects — at least not those already underway.
Unlike in some other local industries where people are in closer contact, Gov. Pete Ricketts this past week encouraged construction ventures to move forward. That's different from the city of Boston, where the mayor there ordered a two-week halt to all but emergency construction projects in response to the outbreak. Pennsylvania's governor also has ordered a shutdown of all businesses not considered life-sustaining.
Jean Petsch, director of the Nebraska building chapter for the Associated General Contractors of America, said late last week that she hadn't heard of any local job shutdowns, although her national office reported Friday that one out of four contractors nationwide who responded to an online survey March 17-19 said at least one of their projects had been delayed or halted at the request of an owner, government agency or official.
Petsch said the national AGC has been working to ensure the construction industry remains a strong job provider and economic contributor as other sectors have slowed.
To be sure, she and others said, contractors are beefing up sanitation and safety practices and encouraging people who feel ill to stay home. They say their workers typically are more spread out and not confined indoors.
For crews working on road and bridge projects in Nebraska, AGC's Katie Wilson said: "It's business as usual."
She said the bulge of highway and infrastructure projects starts in April, and contractors are preparing and calling in crews. The message: "Let's go."
For Omaha housing developer Jerry Reimer, who has projects in both urban and suburban areas, active construction sites help preserve worker income as well as the developer's investment.
Every month an unfinished project is on the sidelines without resident rent, he said, interest payments mount. "It would add enormous pressure and stress downward to our economy if that happens," he said.
Various construction-related sectors depend on one another, Reimer said. He recounted a recent situation at his Bungalows on the Lake at Prairie Queen construction site.
A Fremont company's truck driver pulled up to deliver a semi load of wall panels. In the passenger seat was a small child holding a teddy bear.
"I saw a guy who didn't have day care who brought his little girl to work so he could go to work and put food on the table," Reimer said. "That meant all those other people that came to work that day could work, too."
The Bungalow project's first 131-unit phase is projected to be done in July. Reimer said the coronavirus likely will have more impact on the Papillion project's next phase, which was to break ground in April.
"We'll push the pause button on that and see what happens," he said.
J. Development of Omaha has its Swivel apartment project teed up to launch near 72nd and Dodge Streets, and spokesman Ryan Spellman said so far it remains on track. With technology-savvy architect and engineer partners, Spellman said, the team has been able to stay connected through virtual meetings.
Construction work at the west Omaha Fountain Ridge Office Park hasn't skipped a beat, said R&R Realty Group's Mike Homa. Nor has work at the R&R Commerce Park in Sarpy County.
"We're still plugging away," Homa said. "Construction is going on, and on pace with what we'd expect."
Given the size of the projects, Homa said, workers typically complied already with the recommended social distancing.
At the downtown Omaha Landmark building, construction crews working on the new boutique hotel might actually get ahead, said Jason Fisher of the Lund Co. That's because so many of the structure's office tenants are working from home, he said, and construction crews have a clearer path to get things done.
Also downtown, Hines development company has no plans to slow the Mercantile mixed-use project underway on idle parts of the Conagra Brands campus, a spokesman said.
Likewise, the Metropolitan Entertainment and Convention Authority board said last week that there's been no disruption so far of the $300 million, multiyear renovation of the city's three downtown riverfront parks.
And Kiewit Corp. continues work on its global headquarters in north downtown as well as other local projects, said spokesman Tom Janssen.
"We are working at the direction of our clients and with our subcontractors, suppliers and our workforce to safely advance construction of our projects," he said.
At the Heartwood Preserve campus, southwest of 144th Street and West Dodge Road, steel is rising and progress continues unimpeded on the new Carson Group corporate headquarters, said chief executive Ron Carson.
Said Carson: "While the volatile market and COVID-19 pandemic are impacting our lives and our businesses in a very real way, we remain confident in our long-term success as a firm and the commitment to the Omaha community."
---
At a glance: 11 key developments around the Omaha metro area