Angie Quinn has some news.
The lower-profile Anderson sibling who, with brother Mickey, runs their late father's Omaha-based Baxter automobile group — among the largest in America — is stepping away from the family business that has been her life.
The 50-year-old essentially quit. Her last day is May 1. She and Mickey, co-owners of Baxter Auto Group, made the announcement in person and by video Wednesday to their 2,000 employees across three states. In an interview afterward, Mickey called his sister's surprising exit "a mic drop moment."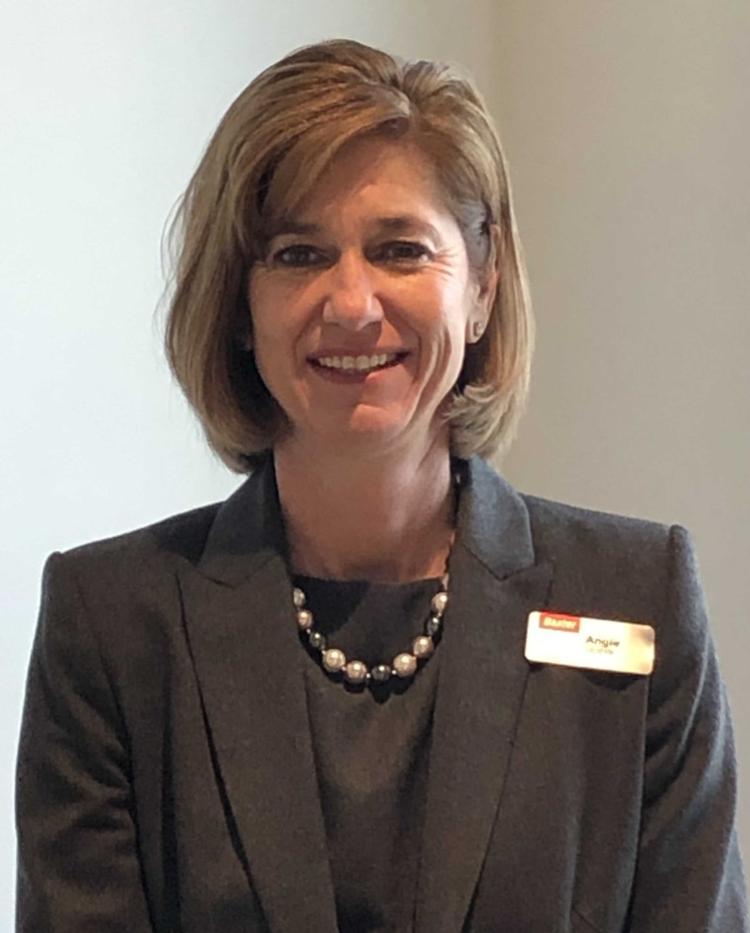 "It's less about the next chapter than the one that's really well done. Way to go," he said.
About that next chapter? Angie's not sure. She's taking time to explore.
Change is hard. Change in middle-life is harder. Change when you're at the top of the mountain, as Angie appeared to be from our interview inside the glass office of the Audi dealership at 173rd Street and West Dodge Road, can seem downright crazy.
The speculation when someone at the top like Angie makes a U-turn is either something is terribly wrong, or the opposite: a trade up. That would not be out of the question for Angie, a rare woman leader in the still male-dominated auto industry.
She was, after all, on various national and international manufacturer's boards. Perhaps you've heard of Mercedes-Benz? She also has chatted up inventor Elon Musk and has been among other powerful and inventive industry leaders.
On Wednesday, the co-owner of the state's largest automobile group sat inside one of their many buildings, relaxed and smiling. She was dressed in a trim gray suit with a silver Baxter name tag on her lapel that says "ANGIE."
Glad she can finally talk publicly about this decision, Angie spoke about having clarity in the fog of a future she doesn't yet know.
Nothing is wrong: She's not ill, her husband, Sean, is great, their two teenage sons are just fine, her mom is fine, her business partner and big brother Mickey is just fine, the business that the two of them stabilized after their father's death and a recession that threatened it is more than fine.
Baxter Auto Group survived back-to-back jolts in 2009: Chrysler, which accounted for 40% of Baxter's business, declared bankruptcy. Three of six Chrysler dealerships in Omaha and Lincoln were shuttered; the Baxter ones survived. Her father, Tal Anderson, died of leukemia at age 72 later that year.
Baxter also thrived. Baxter, the name of the car dealer that Tal Anderson had gone to work for in the late 1950s before buying him out in 1984, expanded. It bought Stan Olsen Auto Group in 2014. In 2015, Angie and Mickey announced that the family would invest $4 million in a 10-year naming rights deal to the University of Nebraska at Omaha at its then-under-construction $82 million arena at 67th and Center Streets.
Since then, Baxter has expanded its presence northwest of 168th Street and West Dodge Road. Two new Baxter dealerships are opening in Sarpy County this year.
Angie has worked for the family business since she was a Marian High School student working summers in the parts department. She studied finance at the University of San Diego, had worked in banking in California and returned to Omaha after graduation with a job at the old Commercial Federal.
Within a month, she was asking her dad to work for him. She sought more autonomy than the hierarchical bank could offer. She wanted, as she said in an interview, "more control of my destiny."
Dad said no. He told her she got the degree, give her new field a year.
Angie did and then went to work at Baxter. She answered phones and worked her way up. She sold one of her first cars to Marian High's popular longtime social studies teacher Tom Baker, and learned quickly that the first rule of sales is relationships.
She sent Christmas cards to people who bought cars from her. She took paperwork to their homes. One woman in the Holy Name area invited Angie in for iced tea, signed for the car and calls Angie to this day. She played me the woman's friendly voicemail — just a quick hi and cheery small talk. A connection that has lasted all these years.
She owned her first dealership at age 29, financing it herself with a bank loan.
Angie said she'd felt daunted by that "most ginormous" loan and figured she'd be saddled with debt the rest of her life. Instead, it paid for itself and then some.
She said she's enjoyed her career at Baxter, particularly the relationships she built with employees, business partners and customers. She and Mickey enjoy the kind of close sibling relationship that Mickey called "magic" for their business. They were equal partners and able to gently push back. When it came to making an acquisition, if one of them was on the fence or against it, they didn't do it. Both had to be for it.
Despite how close they are, Mickey said he was shocked when his sister told him last year she was ready to exit. He didn't understand and tried to talk her out of it.
They both agreed that the company was well-positioned with strong leaders in the pipeline and that Angie could leave without too much disruption.
Mickey said work can be nonstop and that his sister's decision to change course marks a time to celebrate all she has achieved. Plus, she gets to leave because she wants to. And given her role and the company's success, she's got the kind of cushion to explore without the frantic search for a new paycheck.
Angie acknowledged that she's lucky.
Mickey said he's glad to see her transition to a new phase in life. He said it marks a happy end to a chapter that had some tricky pages — like when their father died and when the industry struggled.
He said their commitment 11 years ago was to keep Baxter locally owned, viable and a good employer.
"We worked our way out of 2009. We had a lot of adversity, a lot of change to deal with, and I think that both of us hoped to get to a day where the companies are strong, diverse, healthy and thriving," he said. "All of us had the thought that when we get to that point, boy will that be a great day. And we're at that point."
Given her record of hard work, it's doubtful that Angie will take much time to relax. But she will get time to start writing that second chapter.
---
At a glance: 11 key developments around the Omaha metro area