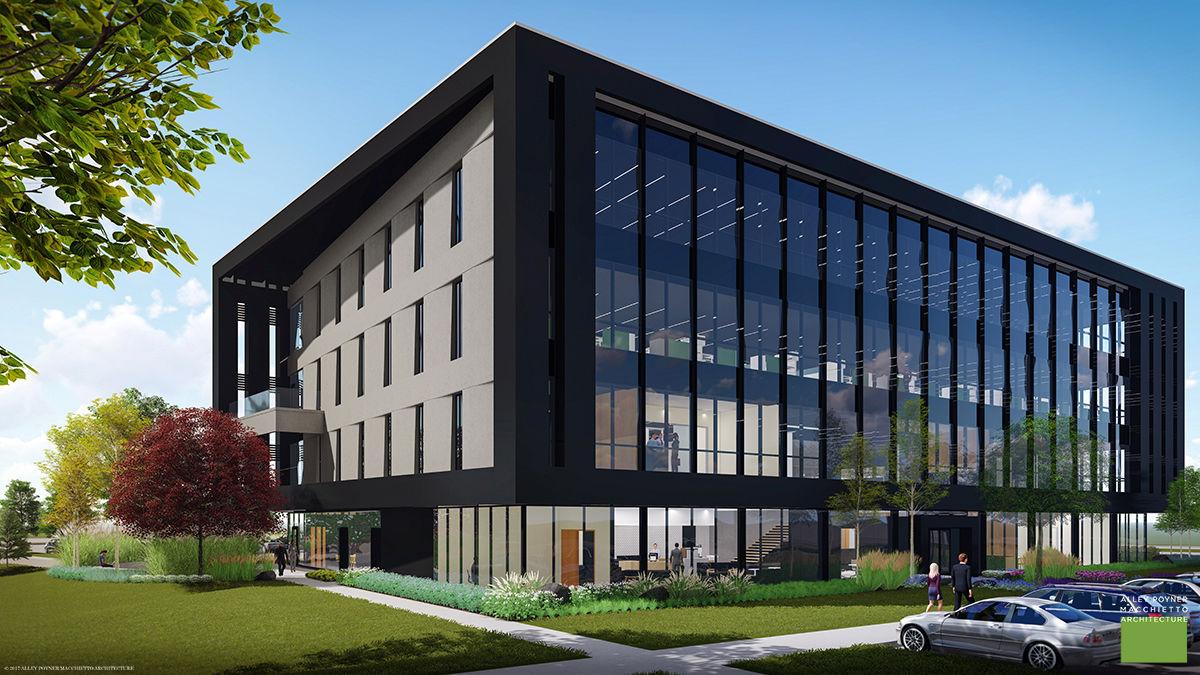 Since Omaha State Bank and Centennial Bank merged to form Core Bank in September 2013, bank President and Chief Executive John Sorrell hasn't had his management team under the same roof.
A multimillion-dollar project to change that got underway on Thursday morning with the turning of a few shovelfuls of dirt.
The groundbreaking ceremony kicked off Core Bank's planned construction of a 60,000-square-foot headquarters building that will comprise four stories atop a 6-acre greenfield lot just east of 180th and Burke Streets.
"Right now, to get together as a team, we have to rent a banquet hall. ... If you sit back and look at the spaces we're currently in, while it's easy on the balance sheet, we have some people literally officing in broom closets," Sorrell told a group of bank officials, shareholders and representatives from Kiewit and Alley Poyner Macchietto Architecture, which designed the new building.
Bank officials declined to say how much they're spending on the project.
Once the bank assumes three floors of the headquarters building in November 2018 — the fourth floor will be leased to a third party — Sorrell said he expects that around 75 employees will vacate about 25,000 square feet of leased space in offices elsewhere in Omaha.
The planned new branch on the first floor of the building will be tied to whiz-bang interactive teller machines that are capable of connecting customers to bank tellers via live video feeds, thereby extending business hours for customers who can't make it into the lobby during regular hours. It will also feature a specialty coffee bar.
The branch will be heavy on technology, said Sorrell and brand creative director Michelle Johnson, and will also serve as a prototype for when the bank updates its seven existing locations around the city in the coming years.
Core Bank is the tenth-largest bank in Omaha in terms of local deposits, with about $380 million as of June 30, 2016, the most recent date for which figures are available.
Bank officials said they anticipate continued growth from commercial and residential real estate lending lines of business in addition to its Small Business Administration loan program.
Total real estate loans on Core Bank's books at the end of the first quarter increased more than 13 percent to about $306 million from the same time last year, according to federal figures.
Last week, Core Bank announced that it would open a loan production office in the Kansas City area, where it will focus chiefly on making SBA loans before eventually expanding into retail banking operations in that market.
The family of Omaha businessman Walter Scott Jr., former chief executive of Peter Kiewit Sons' Inc., controls a majority stake in Core Bank. David Scott, Walter's son and founder and chairman of Tetrad Property Group, is chairman of the board for the bank.