Come Thursday, visitors to Omaha's Aksarben Village can choose from a slate of vendors offering tastes of Mexico, Italy, Kathmandu and more — all within a trendy new food hall called the Inner Rail.
Hosts will be on hand to guide guests toward, say, a dessert at Ela's Creamery or an adult beverage at the Backstretch bar that spans much of the glassy west wall.
If it's nice out, that accordion-like west wall will slide open sideways for customers to feel the breeze and the vibe of an outside corridor to be filled with music, conversation and more seating.
Because of a special city-approved entertainment district designation, patrons will be allowed to spill onto that common alleyway with cocktails in hand.
It's all part of an indoor-outdoor food and entertainment venue that Aksarben Village's lead developer believes will become the "epicenter" of the mixed-use redevelopment project launched some 15 years ago on grounds where Thoroughbreds once raced. (The horse track was inspiration for the Inner Rail name.)
"This is a social spot," said Jay Noddle, whose development company owns the food hall and several other pieces of the broader, 70-acre commercial, residential and office center. "We think it will wind up being a heartbeat of the Village."
With room inside for about 230 diners, the 10-vendor hall occupies about 8,000 square feet on the first level of the parking garage behind HDR headquarters at 67th and Frances Streets. Outside, an additional 300 or so people can fit in the corridor that runs between the food court and HDR building, which soon will have its own ground-floor retailers.
Investment in the Inner Rail project is in excess of $5 million, said Noddle.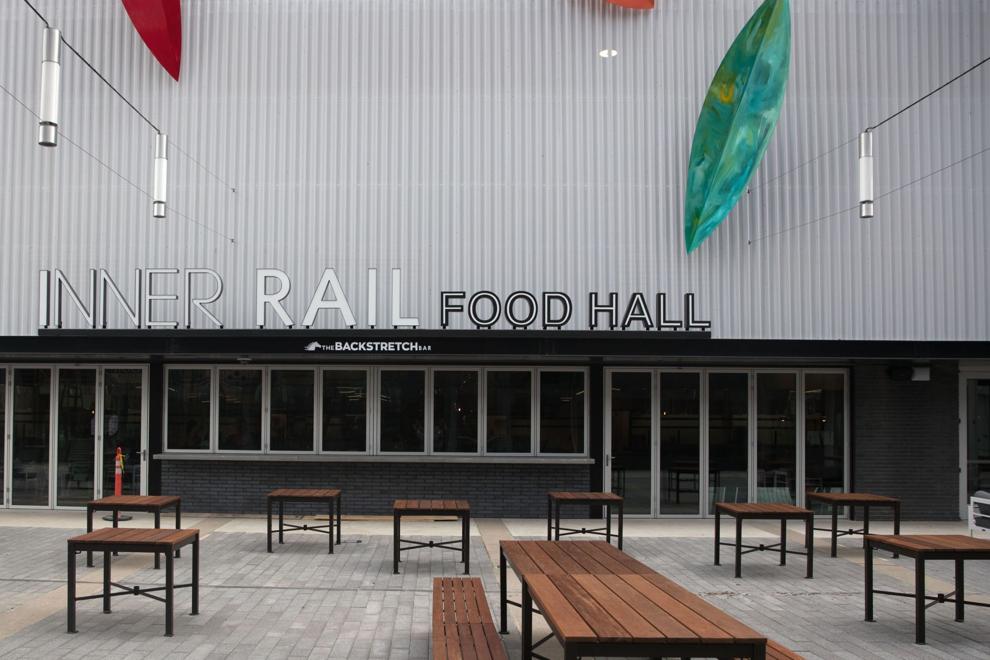 The New York-based A&M Hospitality Group was recruited to assemble and manage the food hall operation. Michael Wetherbee, a principal, describes the Inner Rail as unlike a typical mall food court in that it is designed as a destination for diners to hang out and socialize, not just to fuel up on food between shopping.
He said a hostess or manager will be on site mingling and answering menu or other questions. "It's hospitality driven."
The goal, he and others said, is to create an interactive entertainment hub where people flow in and out of businesses around the Inner Rail plaza, currently one of the city's few approved entertainment zones where patrons can walk around a designated common area with alcoholic drinks.
Among other fresh additions coming to that pocket of Aksarben Village:
Just north of the Inner Rail, a new public park with fire pits, yard games, festival lighting and a 38-foot sculpture also is set to open this week. Stretching east from 67th Street, that's the land envisioned for HDR's future expansion.
On the ground level of the HDR building, in a corner bay that opens to the Inner Rail corridor, Noddle plans a "signature" sit-down restaurant run by A&M. It likely would open late next year; the type of food hasn't been decided. For a neighboring bay, Noddle is seeking a live music venue.
Set to open in coming months in retail space of the HDR building that faces 67th Street are sandwich and salad shops, Zoup and Greenbelly. Lululemon, which sells athletic and leisure wear, will open as early as next weekend.
Later this fall, Torva Fit Club is opening in Aksarben Village. And H&H Automotive corporate offices are moving into about 20,000 square feet of the former Gordmans headquarters.
The first 80 of about 240 units at the new Broadmoor 63 complex south of Center near 63rd Street are to be ready for move-in yet this fall, said a Broadmoor spokeswoman.
Sign up for our Money headlines newsletter
Get the latest development, jobs and retail news, delivered straight to your inbox every day.
Nearing completion west of HDR is the five-story building developed by McNeil Co. and Magnum Development. It will be anchored by Right at Home, a franchise network providing in-home health services.
Construction is expected to start mid-2020, according to Noddle's latest timetable, on a five-story, 100,000-square-foot office building with street-level retail space along Frances Street, south of the parking garage that contains the Inner Rail food hall.
Noddle acknowledged that with the new entertainment district, Aksarben Village's existing restaurants and bars might see a dip in business at first.
But, he said, "Food and beverage people understand there's power in numbers."
He expects the new businesses to enhance a desired 24/7 bustle buoyed by area apartments, Aksarben Cinema and the Baxter Arena.
Philadelphia-based Eimer Design styled the Inner Rail food hall, where dining tables and counters are surrounded by vendors selling such eatables as momos and crêpes. Involved also in the project was Cushman & Wakefield's Colicchio Consulting Group.
Four of the vendors are new to the metro area, said Wetherbee.
Akhtar Nawab, another principal in the A&M group, is also the chef behind vendor Alta Calidad Taqueria, which will serve up Mexico-inspired dishes similar to Nawab's East Coast diner. A&M said it has other restaurant projects in New Orleans; Washington, D.C.; and Birmingham, Alabama.
From New York, A&M also recruited Anays Diaz and Marco Pastanella to manage daily functions at the Inner Rail. In Omaha just a few weeks, the couple (she's of Cuban descent and he's from Italy) said they've found the city more intriguing than expected.
Throughout the area and into the park are colorful leaf sculptures by local artist Therman Statom.
Noddle said he looks forward to the area's new infusion of cuisine and character. "The whole vibe and culture of the place — it's ethnic, diverse, it's what America is supposed to be about."
Changing Omaha: More than 50 stories of local development projects in the works
An ongoing list of some our development stories from 2018-20, with the most-recent stories at the top.