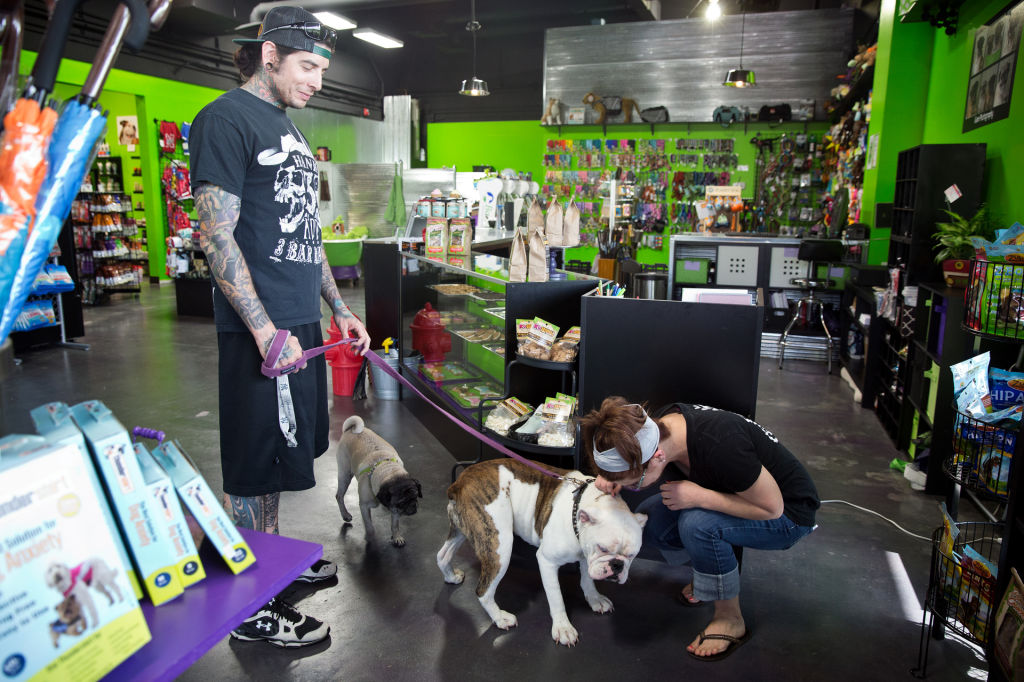 Jennifer Haines and Jessica Ellis, owners of The Green Spot at 72nd and Pacific Streets, have a pack of admirers: Lola, Hannalee, Briggs and Bella. But it wasn't always that way.
Before the pair opened The Green Spot, an organic, eco-friendly, holistic pet supply store, in January 2012, they endured a stack of rejections: Nine banks rejected their request for a small-business loan under $150,000 even as loan officers complimented their business plan.
They were turned away either because they were too young — Haines is now 26 and Ellis, 28 — or the amount they wanted to borrow was too small, Haines said. "A lot of banks said they didn't do loans less than $500,000," she said.
Haines and Ellis, who met while working for a pet rescue group, persevered and eventually were able to secure a loan for $140,000 from Centris Federal Credit Union. Each put in $17,000 of her own money that she'd doggedly saved.
In January 2012, they opened The Green Spot in a 1,300-square-foot storefront at 1110 S. 71st St. in the Shoppes at Aksarben. It was the "central" location they were looking for, but a bit of a squeeze. "We wanted 1,800 square feet," Haines said.
They found room, however, for the natural and organic dog and cat food, including raw pet food; raw, nutritional supplements; and other U.S.-made pet foods and treats that are the store's signature products.
Each year, Americans spend about $28 billion on pet food. The organic and natural pet food segment is small but growing faster than the overall market, accounting for about 10 percent of sales, said David Sprinkle, research director at MarketResearch.com.
Just like larger stores and chains, The Green Spot also offers a loyalty and frequent buyer program that rewards regular customers with discounts and promotions, Ellis said.
After eight months in business, they hired their first full-time employee, a groomer. At the one-year mark, they hired a second full-time worker.
After being open for 2½ years, The Green Spot is profitable, employs three full-time employees, and this month was named the Small Business of the Year for the 2nd Congressional District by the U.S. Small Business Administration.
"I nominated them because they're young entrepreneurs, two women, and I looked at how much they were doing for the community, in addition to their business," said Aretha Prodjinotho, director of Omaha's Nebraska Business Development Center, which offers free help to entrepreneurs and existing businesses.
Ellis founded Pug Partners, a pug rescue group.
"They had a great idea, a cool idea. ... I helped them build some financial projections," Prodjinotho said. "We're a neutral third party. They're leading with their passion. We help them think about their plans objectively."
The store recently grew from 1,300 square feet to 3,300 square feet, expanding into an adjacent space formerly occupied by Eileen's Colossal Cookies.
The additional space, painted lime green with black accents, has allowed the store to add to, and showcase, its selection of collars, harnesses, leashes and treats and toys for dogs and cats.
A new free Wi-Fi lounge area will allow customers to enjoy a cup of coffee while their dogs frolic in an enclosed play area. The store also has added two new self-serve bathing stations — elevated bathtubs — that let customers give Fido a shampoo and rinse without having to bend or stoop.
"It's really exciting to see our customers react to the new space," Ellis said.
The Green Spot has made itself more visible with the addition of a food truck for dogs, dubbed "Off the Chain!"
"We've done pet parties and block parties," Haines said. "We do the concert series at Aksarben Village every Saturday night. We sell doggy ice cream, locally made treats and a menu of other items."
Haines and Ellis also offer nutritional advice. "We evaluate the age and breed of the pet, and then we say these are things you want to avoid, these are things you want to add," Haines said.
That service, said Lenny Renken, a regular customer, has changed Lola's life.
Lola, Renken's English bulldog, "is allergic to everything," he said. About a year ago, he brought Lola in for a nutritional consultation.
Haines and Ellis advised Renken to start feeding her Orijen, a dry, grain-free dog food. Renken added a weekly bath and Lola's bumps and breakouts disappeared. "She's so much happier now."
Michael Foutch, economic development specialist with the Nebraska District Office of the Small Business Administration, said businesses like The Green Spot are critical to the state's economy. "It's easy to have a headline that says 'Call center brings in 100 jobs.' ... What you don't see every day is these entrepreneurs helping grow the economy one or two jobs at a time."