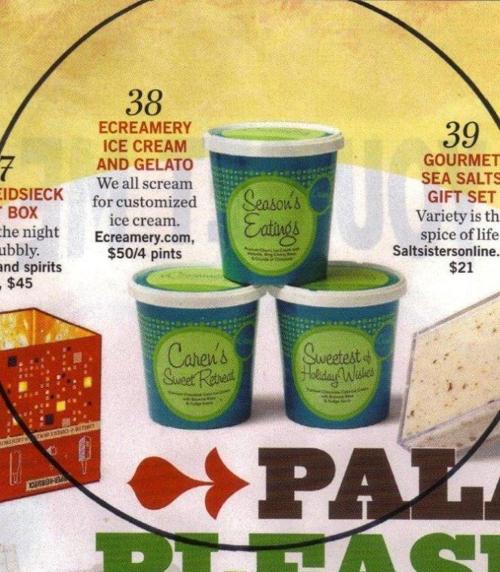 The holiday season is just getting started, but eCreamery owners Becky App and Abby Jordan have already been busy sending ice cream samples.
"Free ice cream samples do a lot," App said, when it comes to getting eCreamery's product mentioned in national publications.
The shop recently hired a publicist out of New York with ties to Omaha to promote their product, and the hire - and the samples - have paid off.
The Dundee shop's customizable ice cream that can be ordered online will be featured in several gift guides this season, including Women's Health, People Magazine's Country edition, Family Circle and Rachael Ray's holiday gift guide. The shop was also recently featured on "The Price is Right."
The shop does not ship internationally, but that didn't stop Japanese Vogue from including eCreamery in its December issue.
Celebrities are also hip to giving ice cream for the holidays. Vanessa Williams has her own flavor that she gives. Other celebrity customers include Ryan Seacrest and Tori Spelling, App said. An eCreamery pint was also spotted in a Kardashian's freezer earlier this year.
"We really call ice cream a super comfort food. So when it's cold outside, people are excited for a comfort food," she said.
ECreamery has a host of seasonal flavors, including Hanukkah and Holiday ice cream collections, featuring flavors such as "the Sweetest of Hanukkah Wishes" -- sea salt caramel with chocolate covered pretzels -- and "Season's Eatings" -- chocolate-covered cherry. The shop also recently expanded into customizable sorbet, with plans for more flavors this spring.
App said she doesn't expect the gift guides to make as big of a splash as the shop's September 2012 debut on ABC's "Shark Tank," but the store is staffed and its inventory is stocked for a deluge of orders. While an individual publication's gift guide might not reach the large audience that "Shark Tank" did, each one focuses on a different kind of customer.
"Every single media outlet we're going through is speaking to a very distinctive demographic," App said. "Ice cream really speaks well to everyone."