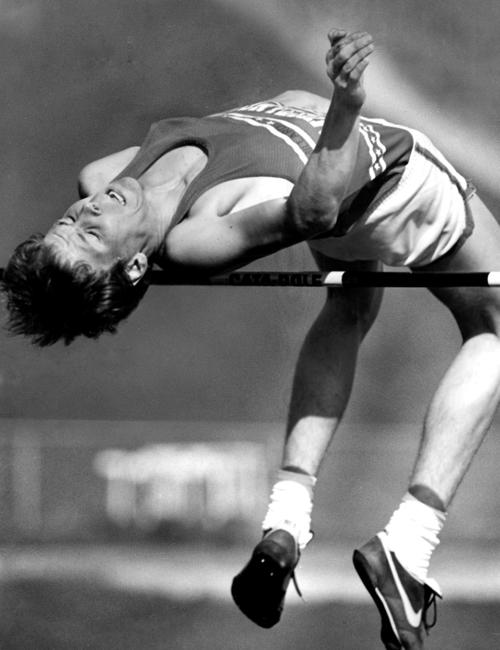 James Blackledge was walking from a math class to a speech class on the University of Nebraska-Lincoln campus when he saw a sign on a third-floor office: Actuarial Science.
Curious, he went inside, found department Chairman Warren Luckner and asked: "What is actuarial science?"
"It's a way to use mathematics to help people," Luckner told Blackledge, inviting him to sign up for "Mathematics of Life Insurance," introductory course No. 214, the next semester.
The chance meeting would set Blackledge on a 30-year path to where he is today: about to become the top executive at Mutual of Omaha. "If that hadn't happened, I don't believe I'd have this job," Blackledge said in a recent interview.
The class time conflicted with track practice — Blackledge had a partial athletic scholarship as a high jumper — so Luckner agreed to let the 6-foot-4, 180-pound Millard North High School graduate take the course as an independent study on Friday mornings.
Blackledge was hooked and became an actuary.
His studies led to a job at Mutual, where he was recently promoted to president and named the successor to CEO Dan Neary, who will retire from the executive position later this year. The timing of the transition is not set.
When it happens, Blackledge will head one of Omaha's five Fortune 500 companies, with 4,792 employees, 3,480 of them in Omaha, as well as becoming, arguably, the highest-jumping CEO in America (7-foot-2 was his record in college).
Blackledge, 48, joined Mutual as an actuary in 1989 and has been executive vice president, chief information officer and chief risk officer. He also has a master's degree in business administration from Creighton University.
"James is our future," said Neary, who will remain chairman of Mutual of Omaha.
Mutual's board of directors considered outside candidates for CEO as well as people within the company, Neary said. "But the talent that we have inside this company is the best I've ever worked with in the 40 years I've been with Mutual of Omaha."
Blackledge said he doesn't expect big changes when he becomes CEO. For example, Mutual won't convert into a stock company, owned by shareholders, but will retain its mutual status, which means it is owned by its policyholders.
"We're a mutual company to our core," he said.
While the company must make a profit to remain strong, he said, its main objective is to serve its members rather than, for example, paying dividends to shareholders. Stock companies have more ready access to added capital, he said, but Mutual has been able to build its capital internally.
Nor will the company sell off Midtown Crossing, the mixed-use development that it built in 2007-08 near its home office at 3301 Dodge St. Blackledge said the development is doing well, including condominium sales that have met their targets in recent years.
The company's main products are annuities, investments, Medicare supplement insurance, long-term care insurance, banking, life insurance, disability insurance and a range of specialized insurance plans.
Blackledge said the company is developing a new deferred income annuity, which lets policyholders defer payments after they retire. Other companies began selling them in 2011, so they are common enough that Mutual will be an "early follower" after others have had some experience with them, he said.
On a personal level, Blackledge said he would wait about a year before taking on new civic responsibilities. He has been active in the Make-A-Wish Foundation, but not because of personal experience. "When you have kids, you start to think about things like that."
He and his wife, Paula, have a son, Cooper, 7, and a daughter, Piper, 9, whose name came from Rupiper, her mother's maiden name. He was 38 and she was 37 when they wed in 2005. Ever the actuary, he looked at statistics on problem pregnancies, but then they just went ahead and started the family.
He said athletics are limited these days, although he completed the Lincoln marathon recently, checking it off his "bucket list."
He's one of few Nebraska high jumpers to clear 7 feet in high school, but he eventually hurt his ankle, a common injury among jumpers, who must plant one foot while running to lever their bodies over the bar. He had surgery, but his jumping wasn't the same after that.
He still laughs about one piece of coaching advice he got.
Bob Devaney was athletic director when Blackledge was on the track team. After a less-than-successful meet one day, Devaney came up and put is arm around him and said, "I think you could have done it if you had gotten your butt up a little bit more."
At work, challenges facing Blackledge these days also are a matter of keeping things up, but they're more financial than physical.
He will become CEO at a time when Mutual is financially strong but, like many financial companies, faced with the challenges of low interest rates, consumer demand for the latest technology and increasing government regulation.
Insurance companies invest much of their money in low-risk securities, which means they get low returns with today's low interest rates. To offset those sluggish returns, insurance companies need to sell more insurance while avoiding excessive risk.
Between 2004 and 2013, Mutual's surplus grew by 59 percent to $2.7 billion, and its assets grew by 74 percent to $32.2 billion. The company had $492 million in pre-tax earnings in 2013, up from $240.6 million in 2004. Earnings for 2014 have not been reported publicly.
For insurance companies, regulators set financial standards, including estimates of "risk-based capital" they would need to meet their obligations during economic stress or when they have lots of claims from policyholders. To be financially strong, companies must have more than enough to cover those risks. The ratio between total capital and risk-based capital is a measure of financial strength.
For each dollar of risk-based capital, Mutual had $4.89 in total capital at the end of 2013, or 489 percent of risk-based capital. Blackledge said that for Mutual, adding more capital does not provide much added protection against risk, and extra capital adds to the cost of insurance.
That ratio and other calculations determine the company's overall strength ratings. Mutual is rated A+ by A.M. Best, the second-highest of 16 ratings; A1 by Moody's, the fifth-highest of 21 ratings; and A+ by Standard & Poor's, also the fifth-highest of 21 ratings.
Insurance companies with higher ratings usually are those that pay dividends to policyholders. If they faced a crisis, they would stop paying dividends. Mutual doesn't sell that type of insurance, Blackledge said, and thus may not qualify for the highest ratings.
The challenge of government regulations, he said, is that while they are well-intentioned, they sometimes have unintended consequences. Mutual and other companies must hire more compliance officers to follow those rules.
The industry also is working to bring the latest technology to a business that still depends on face-to-face contact between consumers and agents.
"People don't write you a letter. They don't call you," but instead text or email, Blackledge said, and they expect answers quickly.
In some cases, he said, an insurance agent sitting with a customer can take an application on a tablet, send in the information and get almost immediate approval for a policy. An advantage for the agent: getting paid faster.
He said electronic systems still need fine-tuning so that they are both speedy and safe.
All in all, he said, "The idea is to solve the customers' problems," and for Mutual to continue its financial growth and long-term view. "That has been our mantra."
UNL actuary professor Luckner, now retired from the university but still active in the profession, didn't remember Blackledge's office visit until the former student recounted the story about the independent study course during a distinguished alumni panel discussion.
"He was the kind of person who is very conscientious, very dedicated and willing to put in the extra time," Luckner said. "He did very well, and I was happy to do it."
Luckner said actuaries may work in quiet offices at financial companies, but their work helps people achieve financial security. "I am very gratified that James picked up on that and has been very successful in his career."