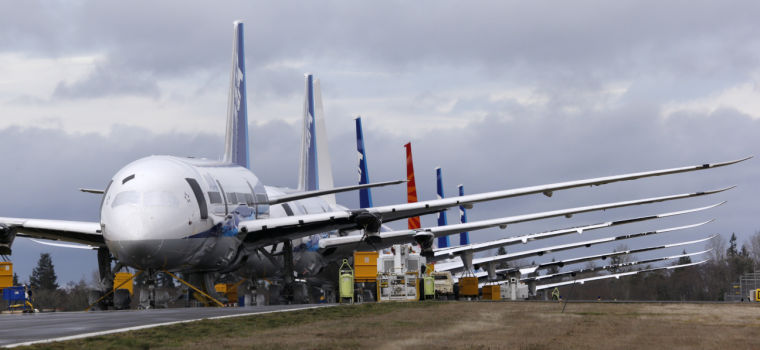 The nation's top transportation safety official said Thursday that the Federal Aviation Administration accepted test results from Boeing in 2007 that failed to properly assess the risks of smoke or fire leaking from the batteries on Boeing's new 787 jets.
Deborah Hersman, the chairwoman of the National Transportation Safety Board, said that Boeing had predicted that the batteries on its new 787 planes were likely to emit smoke less than once in every 10 million flight hours.
But once the planes were placed in service, she said, smoke came out of the batteries twice last month in fewer than 100,000 hours of commercial flights.
"The assumptions used to certify the batteries must be reconsidered," Hersman said.
Hersman said the fire on a 787 parked at an airport in Boston on Jan. 7 started with a short-circuit in one cell of the eight-cell battery and then spread to the rest. She said investigators have still not been able to tell what caused the short-circuit in that cell and led to a "thermal runaway," overheating up to 500 degrees, that then spread to the rest of the cells.
"This investigation has demonstrated that a short-circuit in a single cell can propagate to adjacent cells and result in a fire," she said.
While investigators have pinpointed a short-circuit in a single cell that spread, Hersman said the safety board was still looking at the battery's charging mechanism, potential manufacturing defects and the design of the battery itself.
Investigators so far have ruled out two possible reasons for the short-circuit — an outside impact to the battery and an external short-circuit.
"We have left a lot of issues on the table," she said. "We have not yet identified what the cause of the short-circuit is. We are looking at the design of the battery, at the manufacturing, and we are also looking at the cell charging. There are a lot of things we are still looking at."
The safety board said it would issue an interim report in the next 30 days.
The 787 is the first commercial airplane to use large lithium-ion batteries for major flight functions. All 50 of Boeing's 787s that were delivered to airlines have been grounded since mid-January.
The FAA's decision to certify the batteries has come under scrutiny. While the federal regulator is stretched thin and typically relies on testing data from Boeing, lithium batteries are an area where the agency has some expertise. It has had to deal for years with fires involving lithium-ion batteries shipped as cargo or carried by passengers in their computers or cellphones.
Boeing picked the new lithium-ion technology because it provided more power than traditional batteries of the same size. But battery experts have questioned their use because, under certain conditions, they can overheat and ignite.