No one was more surprised than Suzy Pfaff to see the for-rent ad circulating for a freshly painted, three-bedroom house near Standing Bear Lake.
That's because the house was hers — and she certainly was not trying to rent it out.
Pfaff soon would learn that an impostor had hijacked her home photos and other information, apparently from a different online real estate site where she had listed her home for sale. The thief, trying to pass off her house as his own, managed to swindle money from at least one home hunter, despite warning signs Pfaff planted in her yard. One said: "Not for Rent. Khoa Truong is a Scam. Don't send $."
Such trickery is not new to the real estate universe. But Pfaff and others familiar with the case said today's unprecedented mix of circumstances — a shortage of for-sale homes, rising rents and COVID-19 — can prompt even a skeptic to bite.
"It was almost like a perfect situation for this scammer," Pfaff said. "Because of COVID and all the uncertainty, he says he can't show the house. He's stuck out of town. ... It all made the scam seem more realistic."
Even a suspicious Carrie Ennis said the affordable rent and attractive interior photos she saw on social media tempted her into taking a drive to look at the home's exterior. The impostor promised to mail keys in exchange for a rent installment ($900) and a deposit ($800).
Too many red flags for Ennis, who ended up contacting Pfaff and offering to help expose the fraud. But she said she could relate to frustrated home seekers who might at least nibble.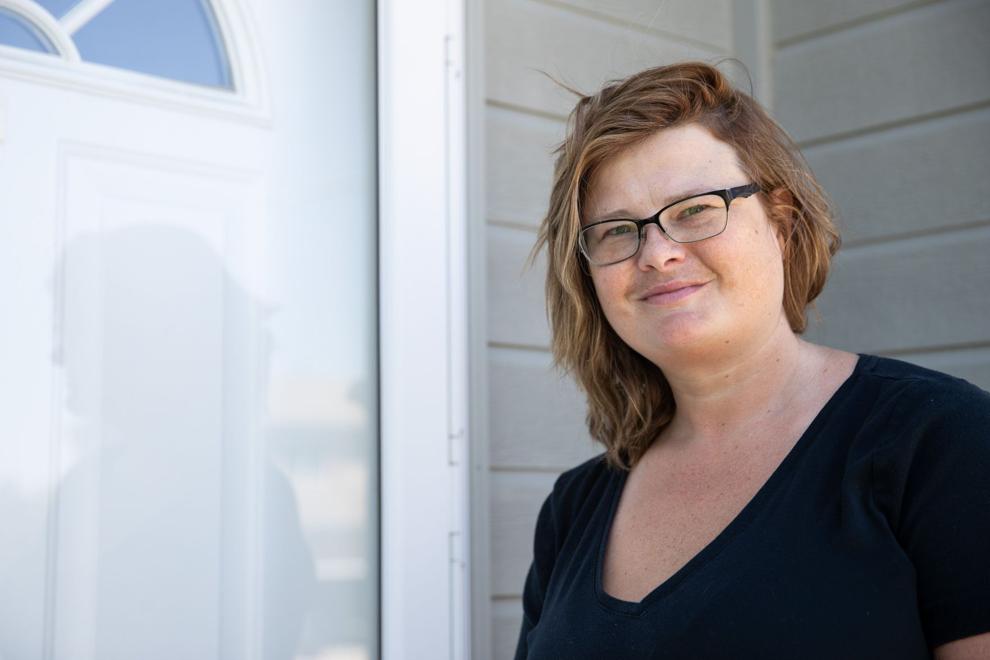 "We looked for months," Ennis said of her husband and toddler daughter. "Every time we'd find a house, somebody would scoop it out from under us."
Indeed, Omaha area real estate experts say that a scant selection of homes on the market and historically low interest rates are at times leading to fierce competition and bidding wars.
To be sure, the coronavirus slowed activity some, but home buying has picked up. The number of Douglas and Sarpy County houses signed to a contract last month outpaced April by 27%, according to the Omaha Area Board of Realtors.
Multiple offers are commonplace for well-kept homes priced under $250,000, said Susan Clark, president of the realtors board who also heads residential sales for PJ Morgan Real Estate. She said a challenge for agents is to keep clients motivated and in the game.
"Buyers get frustrated," Clark said. "It's hard to stay excited about the process when they keep losing the home they fall in love with."
Consider these market highlights:
» Sellers, on average, are getting full asking prices, according to data from the Great Plains Regional Multiple Listing Service. In April, new and existing Omaha area homes of all price ranges sold, on average, for 99.7% of the amount listed.
Buyers sweeten bids in other ways, too, agents say. They forfeit repairs. Some appeal to a seller's emotions with a letter about why they're the best fit.
It's gotten to the point, said Clark, where offering more than the asking price is almost expected.
"A year or so ago, asking a buyer to pay over asking was like, 'Oh, no,' " Clark said. "Now buyers understand that is what you're going to have to do to win it."
» Home prices continue to increase. The MLS data show that the median sales price of Omaha area properties, new and existing homes, was up 11% in April compared with a year earlier.
Andy Alloway, owner of Nebraska Realty, said local prices overall have ratcheted up about 6% to 7% each year for the past several years.
"We used to be a super affordable community; those days are gone," Alloway said. "We've grown up significantly, and along with that comes an appreciation in price."
He said many young people, consequently, turn to apartment living. Alloway says that underscores the need to boost or build housing in first-time homeowner price ranges.
» The supply of homes overall has diminished. At one point in 2015, there were 2,500 used homes for sale in the Omaha area; that compares with 1,100 a month ago. According to the realtors board, the number of both new and used Douglas and Sarpy homes coming onto the market in May dropped by about 20% compared with the previous May.
While COVID-19 hampered the inflow of new listings, industry experts say overall impact was not as big locally as in areas with stricter shelter-in-place orders.
A new report by the National Association of Realtors ranks Omaha-Council Bluffs as among the Top 10 U.S. markets when it comes to "favorable places for millennial homebuyers during the coronavirus pandemic."
NAR chief economist Lawrence Yun said the Top 10 have a smaller share of workers, on average, in industries most affected by the pandemic-induced economic lockdown. The study also looked at local wages, housing prices and percentage of millennial residents (because that population makes up the largest cohort of homebuyers nationally).
"With relatively better employment conditions and a strong presence of millennials in these markets, more new home construction will be required to fully satisfy the housing demand as the economy reopens," Yun said.
Meanwhile, new apartment buildings continue to rise in the Omaha area — competing for millennials, baby boomers and other home seekers.
A new report from TurboTenant Inc., a Colorado-based group that tracks rent trends, shows "amazing growth" in the number of inquiries to landlords, said Sarah Stinson, director of content. She said apartment queries in Omaha now have surpassed "pre-lockdown" levels.
Local rents have increased, too, says the Apartment List's latest national report. Median rent for a two-bedroom unit in May rose 1% compared with a year earlier. That was Omaha's fifth month of consecutive rent increases, the report said.
Ennis, the woman who tried to help Pfaff expose the scammer, settled with her family in a three-bedroom town house that rents for $1,200 a month.
She says it's just temporary until they build credit and save money to buy their own home.
Pfaff and her high school-age son also have moved, after selling the home near Standing Bear Lake for just under $200,000. She said the property sold "super fast" at an amount above asking price.
As for the scam, an investigation remains open with the Douglas County Sheriff's Office. Deputy Adam Marcotte said he has seen similar situations where culprits appear to be based in a different country, making the case difficult to crack.
Pfaff knows of at least one person who told her they sent money to the scammer. Others went as far as to poke around her property. She wanted to do her part by reporting the situation.
Said Pfaff: "If it seems too good to be true, well ... definitely proceed with extra caution."
---
At a glance: 11 key developments around the Omaha metro area