A decade and a great recession have passed since the Forty9Place town house project was first envisioned for the historic Dundee area.
Now, with the housing market on the upswing in midtown and Dundee, architect-turned-developer Tim Holland said he saw no better time to dust off plans for that row of upscale housing.
If all goes as planned, the $3.7 million redevelopment would bring nine for-sale attached town houses to a parking lot on 49th Street between Douglas and Farnam Streets.
They'd be stately yet contemporary, with features such as rooftop decks. They'd bring a different slice of housing to the area that of late has seen big boxy apartment complexes going up nearby.
"There is just a lot of positive energy — and not a lot of new home construction for sale or for purchase in midtown," Holland said.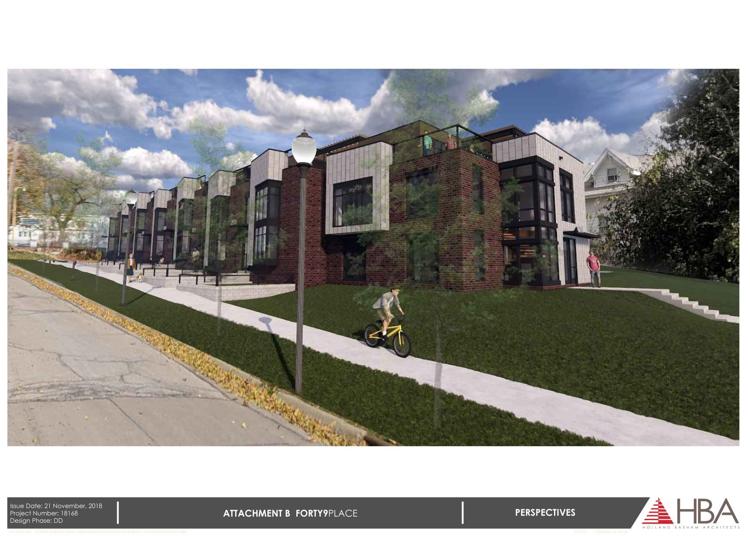 He has a good vantage point, as Holland both works and lives in the Dundee area. Over the past 10 to 15 years, Holland notes, midtown Omaha and Dundee have seen a resurgence of commercial projects and apartments — much of that in and around Mutual of Omaha's Midtown Crossing — that's due in part to demand from the growing job base at the University of Nebraska Medical Center.
Among the area's new developments is the Dundee Flats four-story building at 49th and Dodge. It will have 65 market-rate apartments and is expected to open around April. Developer Sage Capital said ground-floor commercial space most likely will open a few months later.
For the Forty9Place town houses, Holland has tapped HBA and Ronco Construction to help. Holland said his project differs from most other urban town houses that have a staircase off the ground floor entrance leading up to the main living room. At the Forty9Place, there will be a full living room area on the ground floor. Holland expects that to be a popular layout with baby boomers and, he said, it's doable because the project site is deep.
Another feature that promotes "aging in place," he said, is a built-in shaft that will allow for future construction of an elevator.
Architecturally, Holland sees the Forty9Place as a sort of transition between single houses in Dundee and higher-density apartment complexes rising along the Dodge corridor. He said future residents would benefit from the future Rapid Bus Transit stop planned nearby.
Jed Moulton, the city's urban design manager, said city planners are supportive of Holland's proposal. He said the high-end town houses are a good use of the coveted infill space.
As planned, the houses are to start rising in May on the old parking lot that Holland Basham Architects bought in 1996 along with the Beth El Synagogue building to the west. The synagogue became HBA's home.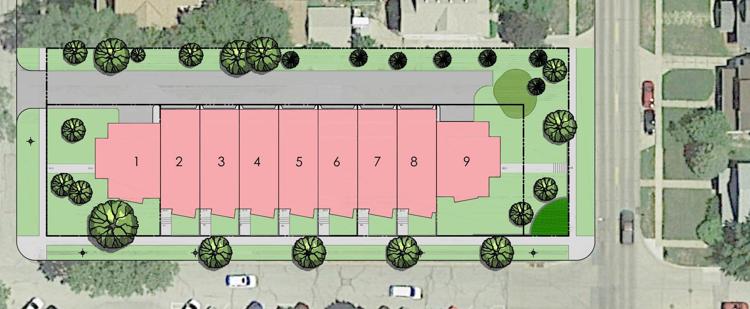 Holland, who remains a principal in the architectural firm, bought the parking lot from his partners and has been meeting with city officials about creating the owner-occupied housing. A meeting to discuss the project with neighbors is scheduled for Thursday at HBA.
Zoning still must be adjusted, but it had been changed already, in 2009, for a similar nine-unit town house proposal that was pushed to the back burner in the recession.
Holland, under Design Development LLC, will seek city approval of tax-increment financing. He said significant site work is required in part because four homes that had been demolished on the parking lot site years ago collapsed into their basement areas.
The town houses are to be pre-marketed and are expected to be done in mid-2020. Holland anticipates buyers who want the Dundee lifestyle with fewer maintenance hassles than a traditional house. Each unit will have its own yard for landscaping. A homeowner association probably would be formed to coordinate snow shoveling and mowing.
Prices have yet to be set for the town houses. Each will have three bedrooms, 2½ bathrooms, a partial basement and span up to 2,300 square feet.
Each will come with an attached two-car, rear-facing garage that allows for bay windows facing 49th Street. Each will have a partial third floor with a roof deck.
Dundee-style globe fixtures and lighting are to be added around the perimeter. A new corner flower garden is to be created at 49th and Farnam Streets.
Brick, metal and other materials are to be used.
"We're trying to be traditional in our approach to fit into the community — but contemporary to fit into today's values," Holland said.
Changing Omaha: More than 50 stories of local development projects in the works
An ongoing list of some our development stories from 2018-20, with the most-recent stories at the top. 
The business news you need
With a weekly newsletter looking back at local history.