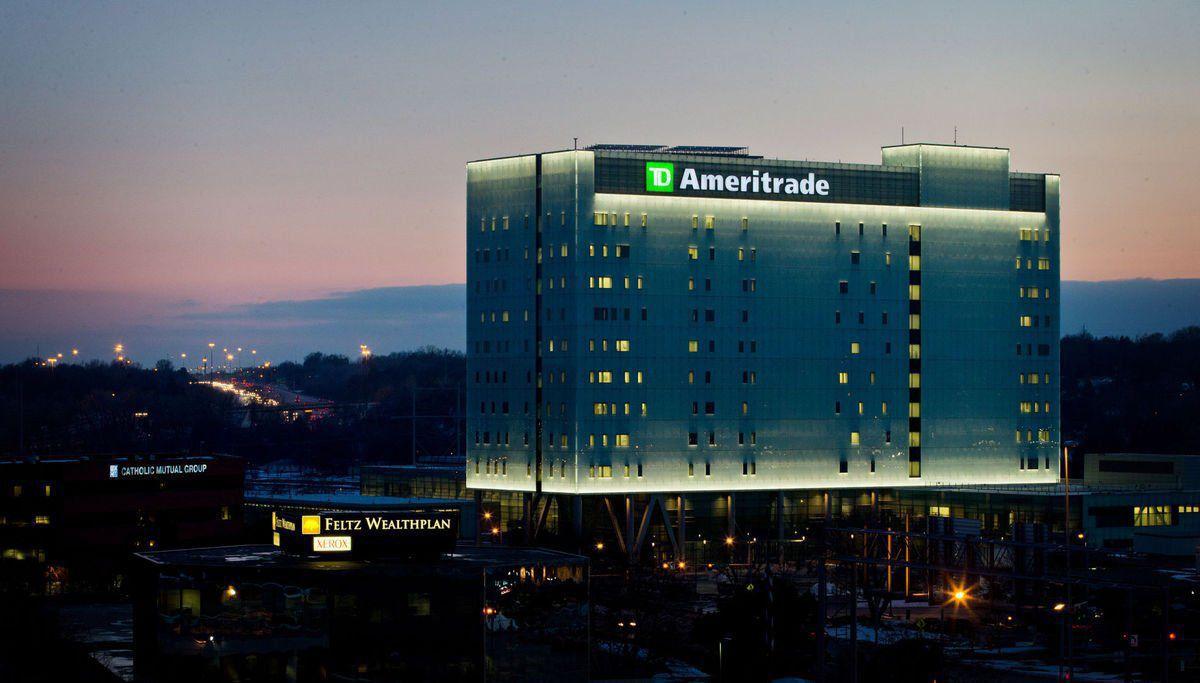 Officially, there was only silence Thursday from TD Ameritrade's towering green-tinted headquarters amid published reports that the online brokerage firm was set to be sold.
But there was much buzz and concern among the company's roughly 2,300 local employees on what such a merger could mean to them and the city that TD Ameritrade has called home since founder Joe Ricketts brokered his first trade.
The firm's employees arrived at work Thursday morning to a Fox Business Network report that the company was being sold to San Francisco-based Charles Schwab for $26 billion. Other press reports indicated that the two firms are still in talks on a megadeal.
Employees received a company email acknowledging the reports but indicating that there was nothing to announce.
"This came completely out of nowhere," said one longtime TD Ameritrade worker, who described an uneasy mood around the office.
If it does happen, the sale of TD Ameritrade to Schwab would almost certainly lead to consolidation of jobs and functions between the companies and the loss of a Fortune 1000 headquarters in Omaha.
Still, workers, analysts and others could only speculate on what exactly a sale would mean to TD Ameritrade's operations in the city, its employees here or the 7,000 others nationwide.
The fact that no announcement followed the news reports suggests that it may not yet be a done deal.
And analysts say any such merger could face hurdles with regulators because of the industry concentration that would be created by such a brokerage behemoth. The combined company would control 24 million client accounts and hold $5 trillion in customer assets, including Schwab's $3.7 trillion and TD Ameritrade's $1.3 trillion.
Besides TD Ameritrade's client assets, analysts say there's no question that one of the biggest attractions to Schwab would be the efficiency gained by combining operations.
"I wouldn't underestimate the opportunities for expense savings," said James Shanahan, an analyst at Edward Jones. He said similar mergers in the industry have led to cost reductions equal to half the expenses of the acquired company.
But Shanahan said it doesn't have to be a hopeless situation for Omaha. He wouldn't rule out the possibility that a merged Schwab-TD Ameritrade would keep significant operations in Omaha — or even decide to add to them over time.
The reason: the cost of operations is much lower in Omaha than in Schwab's base in San Francisco. The Bay Area is home to some of the nation's most expensive real estate and has much higher taxes, too. And that makes the cost of labor much higher there.
Shanahan noted that when Wachovia bought A.G. Edwards in 2007, the company ended up adding jobs in Edwards' former home in St. Louis. That growth in the city continued after Wachovia was bought soon after by Wells Fargo.
"It's happened before," Shanahan said. "It's not far-fetched to think Schwab would build up the operations there, especially given the substantial cost advantages."
Joe Ricketts, the father of Nebraska Gov. Pete Ricketts, has long taken pride in the company the family built in Omaha, which for years ranked as the nation's highest-volume online broker.
Starting as a small discount brokerage in 1975, Ricketts' firm really took off in 1995, when he acquired another company that had pioneered the first online trade a year earlier. The Internet exploded, and Ricketts took the company public in 1997, becoming a billionaire within two years.
Ricketts retired as CEO almost two decades ago and left TD Ameritrade's board in 2011. But son Todd Ricketts, chairman of the family-owned Chicago Cubs baseball team, still sits on the 12-member board. And the Ricketts family continues to be a major TD Ameritrade stockholder.
According to disclosure filings with the U.S. Securities and Exchange Commission, Joe Ricketts owns more than 5% of TD Ameritrade stock — holdings that were worth $1.75 billion at the close of the market on Thursday. His wife, Marlene, holds shares worth another $671 million.
The company reported that as a board member, Todd Ricketts holds shares worth $22 million. Gov. Ricketts' financial disclosure statement also indicates that he owns TD Ameritrade stock but does not list an amount.
TD Ameritrade has survived a number of previous rounds of mergers in the highly competitive online trading business. Only two years ago, it completed its own acquisition of Scottrade.
If the company doesn't survive the next merger round, that can likely be traced to a recent industry war over trading fees.
Last month, Schwab announced that it was eliminating sales commissions on U.S. stocks and exchange-traded funds. Within hours, TD Ameritrade announced that it was likewise doing away with its $7-per-trade commission, and other competitors soon followed suit.
The "race to zero" on commissions actually started in 2013, when a Silicon Valley startup launched with no fees. But as an online sales leader, TD Ameritrade has been more reliant on such commissions than Schwab. For TD Ameritrade, the loss of that revenue amounted to almost $1 billion annually.
"It was much more painful for Ameritrade," Shanahan said.
Wall Street took notice, and TD Ameritrade stock plummeted by almost 30% within days of the commission announcement. That no doubt helped fuel merger talks. CEO Tim Hockey acknowledged last month that the elimination of such fees would lead to speculation about mergers.
Sign up for World-Herald news alerts
Be the first to know when news happens. Get the latest breaking headlines sent straight to your inbox.
On the news reports Thursday, TD Ameritrade's stock price was up by almost 17% by the end of the day.
Just six years ago, TD Ameritrade moved into its new $250 million headquarters building, highly visible just off Interstate 680 and West Dodge Road.
There was a mix of emotions Thursday for those who work there. Employees spoke on the condition of anonymity, one saying they had been instructed by the company not to talk to the press.
"The mood was somber," one said. "There are so many unanswered questions."
Workers knew that the company had taken a serious hit in the "race to zero." But company leaders had recently been rolling out the plan for how TD Ameritrade would adapt and grow, making the news reports a shocker.
One worker expressed a gloomy outlook, saying he thought that Schwab only wants TD Ameritrade's customers and trading platform, with little or no interest in its workforce.
Another who has been through previous mergers — albeit as the buyer, not the potential target — was concerned but still hopeful. There was talk among some workers of the advantages a merged company could gain by consolidating operations in Omaha.
"They will look at both sides of this, and it's going to be a long play," the veteran employee said. "It was not all doom and gloom. But people are uneasy."
---
The Omaha area's largest employers