Six years after it was announced, an office park that eventually is to sprawl 60 acres and draw $300 million in investment has started to sprout on the western edge of Omaha.
The initial building at the 192nd Street and West Dodge Road site will be called the Waterford and span 180,000 square feet.
It will feature a gazebo over a waterfall, an amphitheater, glassy exterior walls. A rooftop patio.
What it doesn't have yet: business tenants with workers poised to move in.
The upscale Fountain Ridge office park, being developed by R&R Realty Group, offers insight into today's local office market: There's enough talent-hungry employers wanting hipper and bigger digs that some developers, like R&R, are risking construction costs even before they've secured tenants.
"There's just such a war on talent right now," said Mike Homa, president of the Des Moines-based R&R's Nebraska division. "New and very modern space with lots of light and amenities … will be a big differentiator for those employers."
The Waterford is but a chunk of the hefty amount of new office space under construction across the metro area — more than 1.8 million square feet, according to real estate officials.
For perspective, there was less than a third of that underway at the end of 2017, and two years before that, less than 300,000 square feet was rising, according to trends tracked by Colliers International.
Sign up for our Money headlines newsletter
Get the latest development, jobs and retail news, delivered straight to your inbox every day.
Reinforcing the busy office-building scenario is the banner year for the City of Omaha to issue building permits for office, bank and professional facilities. The total value of the 2019 permits was estimated to be nearly $115 million, compared with about $53 million the year before.
"The amount of new construction absolutely is the notable factor in our market," said Tim Kerrigan of Investors Realty. "And it's heavily concentrated on the West Dodge corridor."
Indeed, the bulk of new offices are popping up in suburbia, where many employers have said their workforce mostly lives.
Among buildings underway:
Corporate headquarters for Valmont Industries and Carson Group are both rising at the emerging Heartwood Preserve campus southwest of 144th Street and West Dodge Road.
Not far to the east, the nearly completed California Pointe multiple-tenant office building took the last undeveloped spot in the Bank of the West Business Park that opened 15 years ago northwest of 132nd Street and West Dodge.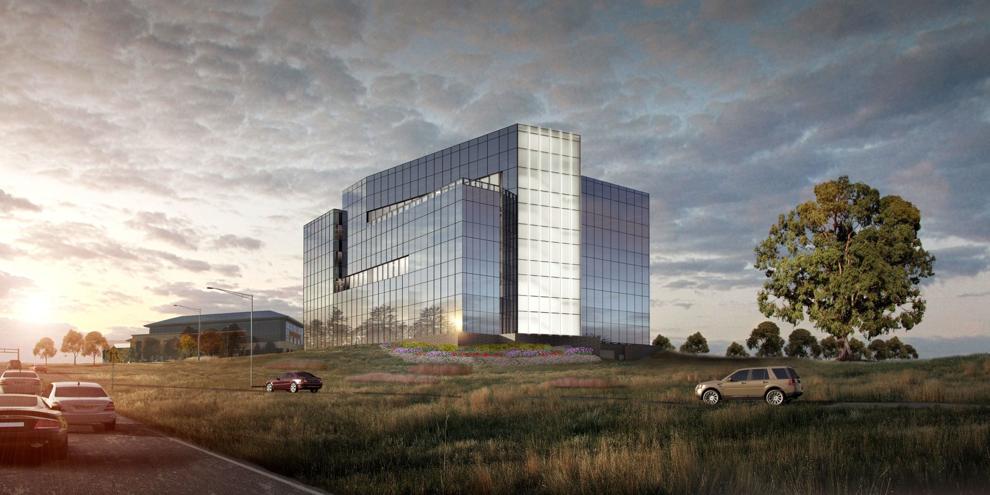 Meanwhile, in the downtown urban core, Kiewit Corp. is erecting its corporate headquarters. Noddle Cos. is hoping to soon break ground on a nearby office structure. The Capitol District's office building is almost done.
A key driver of construction, real estate experts agree, is the shortage of already built and available office space that suits big employers looking to spiff up their image or to expand.
Colliers' most recent market report shows that amenity-rich office space is rather scarce. The year-end occupancy rate for so-called Class A office space in the area was nearly 95%. For all classes of office space, the occupancy rate was about 94%, indicating a fuller market than the same time last year and the year before, too.
"We're competing for talent with Kansas City, Chicago and everywhere else that has tons of options," said Alex Epstein of OMNE Partners. "All in all there was a need for a (real estate) refresh in Omaha, to play catch-up with other markets."
Pushing construction as well, said Epstein, are low interest rates, confidence in the economy and rising rents that help recoup costs.
Steve Sheppard of CBRE Real Estate in Omaha said businesses he works with increasingly want a showcase workplace that impresses employee candidates and business clients.
"The employee experience — we hear that more and more," he said. "Real estate is an extension of your company culture."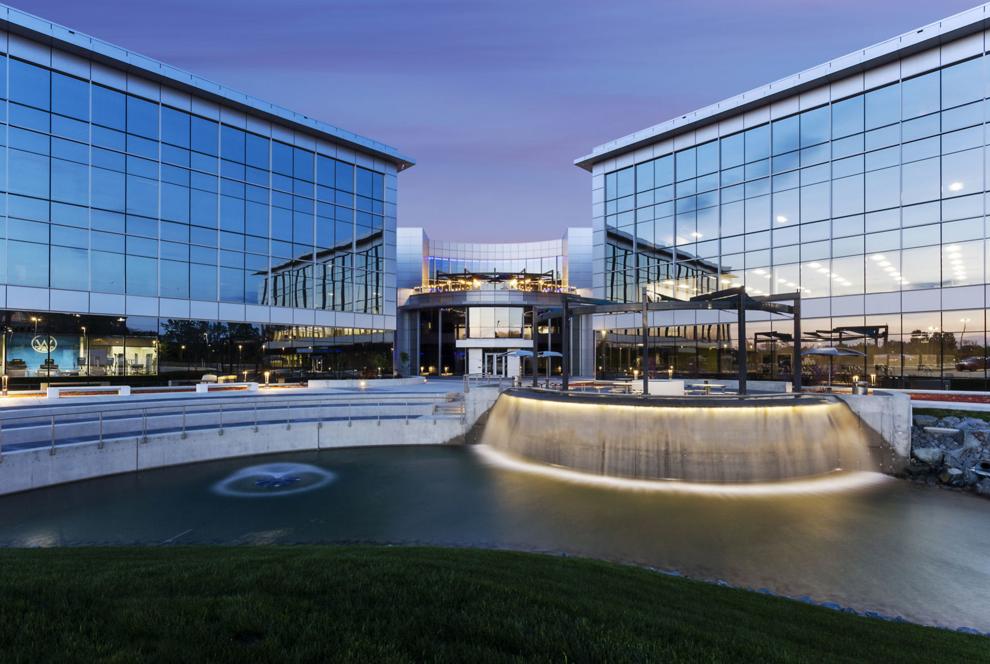 Sheppard is marketing the downtown Capitol District building and said he's counting on neighborhood ambiance to help fill up the 72,000-square-foot office building that went up without any office tenants lined up. Planned across the street is a new $109 million concert hall. Also in the area is the multimillion-dollar overhaul of The RiverFront parks.
To be sure, said CBRE's Dale Scott, building an office structure without pre-leased anchor clients is risky and not the standard. He said location is key.
Scott points to two west Omaha office structures he's helping to lease for developer Ron Cizek. Construction of both West Dodge Hills I and II (southwest of 181st and West Dodge) launched without any tenants. The newest, to be done this summer, now is nearly 85% rented. The other is open and 93% full.
Said Scott: "Companies want an environment they can recruit to, and that means area restaurants, fitness centers, rooftop decks."
At the five-story California Pointe, anchor tenants Bridges Trust investment company and Frontier Bank soon will have access to frills including car washing stations in the underground parking garage.
Frontier founder David Rogers said the bank's new headquarters will provide banking services and a place where Omaha workers can unite under one roof "with breathing room for future expansion."
"We were also very interested in a new home that offered the bank increased presence and market awareness in Omaha," Rogers said of the company launched in 2004.
An upshot of all the construction and upgrading: empty offices that businesses leave behind.
Sheppard estimates that more than 600,000 square feet will be vacated in the next 18 months as larger companies relocate.
And that figure doesn't take into account the 650,000 square feet of Old Mill area office space still up in the air due to the planned sale this year of TD Ameritrade to Charles Schwab. The future corporate base will move to Texas, but there's still no announced decision on what will become of the Omaha workforce or property, Schwab spokeswoman Mayura Hooper told The World-Herald.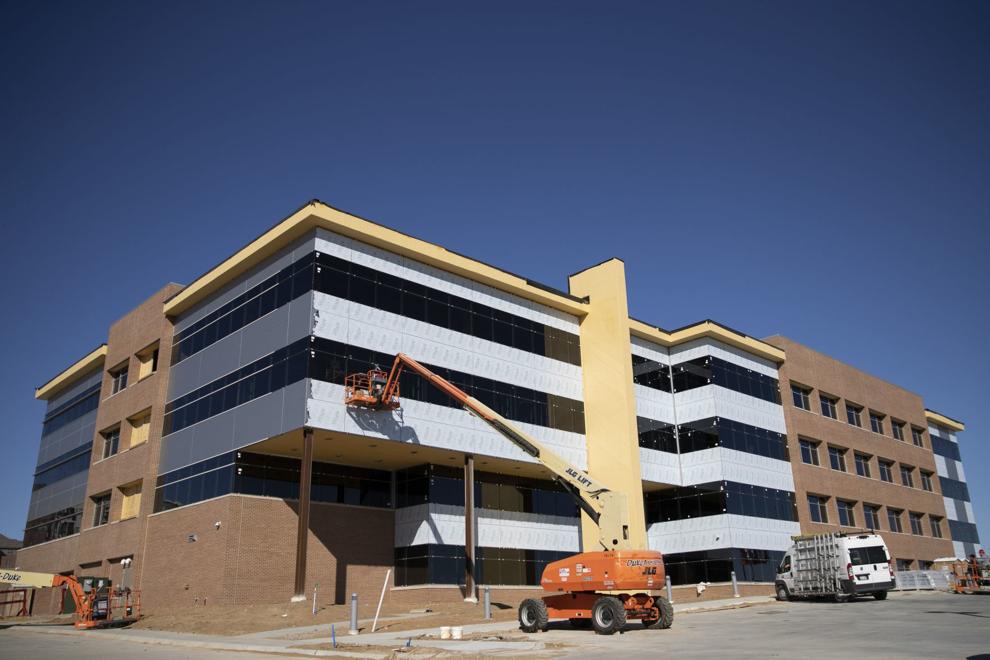 Area real estate brokers who connect office users with space aren't too concerned about property sitting idle or languishing.
Sheppard and Kerrigan said their respective teams are tracking more than 50 companies seeking a combined 1 million square feet of office space. Most are local employers with expansion needs, Kerrigan said. Half the demand, he added, is "pretty darn serious."
Older and used office property often is upgraded, repurposed or rented to younger businesses seeking more affordable rent.
"They adapt, reinvent themselves," said Scott.
At Fountain Ridge, the Waterford is rising on a suburban field visible from the busy West Dodge corridor, where it is projected to open in the summer of 2021.
R&R Realty decided to focus, at first, on 40 acres east of 192nd Street. Its goal is to build five more office structures there, totaling 600,000 square feet, that will feature lots of indoor and outdoor meeting spots.
On the west side of 192nd, R&R owns another 20 acres where it plans up to 200,000 square feet of medical-related offices.
The project, six years in the making, was slowed by layers of coordination with another key developer in the area and several government entities involved in major roadways and infrastructure.
Homa is upbeat about securing tenants, noting Omaha's heightened awareness on talent recruitment. He said R&R is so optimistic about the business climate that it scrapped an earlier plan to construct the Waterford in phases, opting instead to build all 180,000 square feet.
"This position we're all in, trying to attract and recruit talent, is here to stay," Homa said. "We think now's a great time to bring a property like this to market."
---
At a glance: 11 key developments around the Omaha metro area