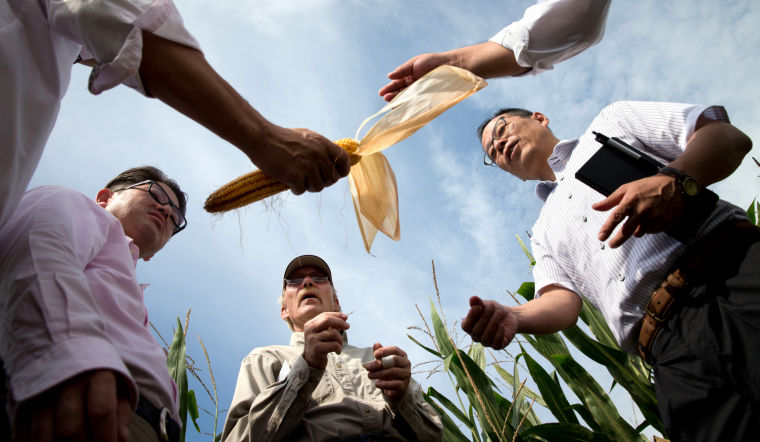 A beef cut virtually ignored by most of the world as an unappetizing curiosity is part of what motivated Japanese meat buyer Yuji Hiraoka to travel 6,000 miles from home to traipse through Nebraska airports, hotel lobbies, feedyards and cattle ranches.
Part of his quest: finding the perfect beef tongue.
"It is a very popular dish in Japan," said Hiraoka, director of the meat, bakery and delicatessen divisions of Fresta Co., a 60-store supermarket chain in Hiroshima. "The most popular preparation is thinly sliced, barbecued over a grill and served with a soy-based sauce."
Mostly ignored in U.S. supermarkets, beef tongue occupies a central place in Japanese cooking. Raw beef tongues look vaguely alien, covered with small raised bumps indicative of, well, tongue, with a large swath of connective tissue.
An afterthought here, they go for about $1.50 a pound. In Japan, it is almost as expensive as prime steaks in the United States, about $7 a pound.
The beef tongue cut has a long history and is found in most old cookbooks. Some recipes recommend boiling for hours; culinary whiz Jacques Pepin, former chef to French President Charles de Gaulle, warns in one of his books against uncured tongue, which he wrote requires a "simple" but crucial five-day process involving a brine of juniper berries.
But such preparations weren't why Hiraoka and about a half-dozen Japanese buyers traveled to Nebraska last month on an inspection junket. Historically, beef tongue in Japan has been a restaurant treat, most often a participatory dish, with diners grilling their own cuts on tableside braziers.
There is also a vibrant "Slow Food" movement in Japan, an effort seen in many nations around the world as a rebellion against processed, manufactured and instant sustenance. Beef tongue is part of that movement, said Nancy Singleton Hachisu, an American author living in Japan who is one of the nation's top food bloggers.
"Tongue is most typically associated with eating out because of the smoke involved in table-top grilling," said Singleton Hachisu, author of the 2012 book "Japanese Farm Food," from Andrews McMeel Publishing. "Our family however prefers to eat it at home because we can get good quality meat from our local butcher and we grow our own organic vegetables."
In Japan, and much of Asia, beef cuts are traditionally served sliced very thin and shared among many people; an inch-thick ribeye steak is typically divided among four or five people, said Mark Jagels, a Davenport farmer who is the incoming chairman of the U.S. Meat Export Federation.
But with beef tongue in Japan, it is all diners for themselves. Scrums can and do break out over the dish, Jagels said.
"We were at a press function during our trip there in July," Jagels said. "The chef was demonstrating a dish for a large crowd and just got swarmed by the food bloggers in attendance."
Food bloggers are a key part of the Japanese culinary scene; Jagels said the top ones have more than 20,000 followers and are courted by manufacturers and retailers for the ability to influence buying trends in a nation that takes its home cooking very seriously.
"They can start or stop a trend in its tracks," Jagels said. "I would say they are as influential or more so than newspaper or magazine editors in the United States."
And as for the wholesale buyers, are they ever picky, said Pat Knobbe, whose 6,000-head feedlot in West Point, Neb., hosted the visiting Japanese delegation last month.
"Lot of questions," Knobbe said. "Rations, breeds, animal weight. They examined the corn."
Knobbe, who visited Japan in July with the Nebraska crew that included incoming meat export boss Jagels, said beef tongue is so popular there because even at $7 a pound, it is a bargain. Prime steaks can go for up to $40 a pound, he said. Japan, a small island nation, produces very little beef, and the prime imports are costly, he said.
There is a lot of uncertainty about prices in U.S. beef markets; the herd of 89 million is the lowest since 1952. U.S. supermarket beef is averaging $5 a pound, as prices rise in response to steady demand and lessening supply.
Cattlemen have said they don't expect increased sales to Japan to raise prices or cause shortages here because a significant share of the Japanese demand is for products not favored in the United States, such as tongue and heart.
Knobbe said the positive for the beef industry is that demand for U.S. beef tongue by Japanese diners appears to be fairly consistent.
"Beef tongue is about all we ate on our visit," Knobbe said of his July trip to Japan. "It is one reason they know Nebraska beef; when we said we were from Nebraska, they knew immediately what we were talking about and it wasn't Cornhusker football."
In Japan, selling family meal ingredients is an effort aimed primarily at women, said Hiraoka, the supermarket buyer; he said 83 percent of his chain's customers are women. Nebraska beef increasingly is an option for them. This year, a partial ban based on a years-old mad cow scare with no connection to Nebraska was lifted, making cuts from 95 percent of the state's animals eligible for export.
It is big business — Japan is Nebraska's fourth-largest export partner, buying about $500million of goods, according to U.S. Census figures. Overall, Nebraska beef exports to the wide world were worth about $1 billion last year, the Census Department said.
For now, said supermarket supremo Hiraoka, his company is trying to add some heft to beef sales, which might be welcome news to Nebraska ranchers not accustomed to having their output razored paper thin and quickly grilled.