In its heyday, the Omaha hotel northeast of 72nd and Grover Streets handled Ak-Sar-Ben racing fans, Berkshire Hathaway shareholder meetings and other gatherings of pageantry and influence.
Most recently, it's been known best as the CoCo Key water resort.
But now under new ownership, the 15-acre complex will be wiped clean by next year. Rising in its place will be a much different scene: a mixed-use site filled largely by luxury apartments along with commercial and entertainment venues.
"It's an untapped treasure," said buyer Dan Marak of Nashville-based MH Hospitality. "It's got the right demographics for redevelopment. It will be a unique block and corner."
Marak, who has built or bought more than a dozen other hotel properties in the Omaha area, said he will call this latest venture Maverick Landing — in support of the nearby University of Nebraska at Omaha athletic fields and sports facilities.
Though still refining plans that have yet to go through government procedural steps, Marak envisions high-end apartments covering about 10 acres on the eastern side. That portion will be sold to a housing developer, he said.
The remaining land facing South 72nd Street would stay under MH ownership, he said, and become restaurants with drive-thrus, banks, offices, some lodging and possibly a signature pub featuring Nashville acts.
He anticipates up to $60 million in investment to usher in stark change to the intersection, which for decades has been dominated on three corners by hotel activity. Marak said his plan doesn't include a water park.
Mike Potthoff of Colliers International commercial real estate said growth along the 72nd Street corridor and in surrounding neighborhoods, as well as access to nearby Interstate 80, should make the site attractive to retailers. Plus, he said, it's a familiar spot.
"Think about how many families celebrated weddings, special events, had summer and winter getaways there," he said. "Now they'll be able to come grab a cheeseburger, a cup of coffee, do business on that site. Some will even call it their permanent home, with the apartments."
In addition, Marak noted, the area is in a federal opportunity zone and a pocket eligible for tax-increment financing. Both designations open the door for financial breaks to developers.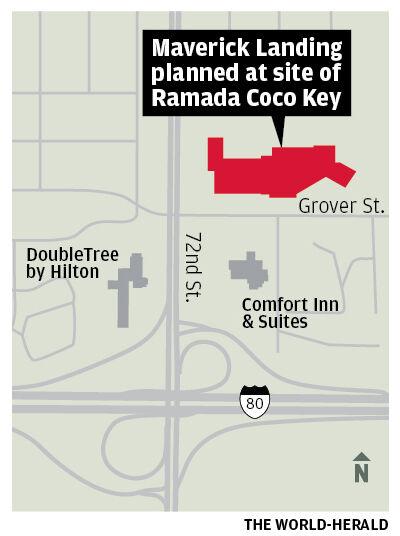 Marak himself just built a 138-unit dual-brand Tru and Home2 Suites by Hilton hotel complex north of the CoCo Key property.
Farther north, a different developer recently opened the 162-unit Centerline Apartments on a 3-acre tract of previously undeveloped land. Across the street from that complex, on the site of the old Shark Club and Quality Inn, yet another developer is planning to build a 4-acre apartment project.
Also nearby is longtime restaurant Spezia. All are a short walk to Aksarben Village, the College of St. Mary and UNO's Baxter Arena and baseball and softball complexes.
The CoCo Key property itself has gone through a number of changes, including different hotel flags, restaurants and configurations since opening in 1965.
From Holiday Inn to Red Lion to Ramada, it not only changed identities over the years but expanded to include the convention center and the water park.
Under Marak's plan, the hotel and water park will remain operational until demolition, which he said will likely be toward the end of the year.
He said the property today is "ridiculously dysfunctional" as a hotel.
"You have to walk 12 acres from the laundry machines to the rooms," he said, adding that larger hotels today would be built vertically, not in such a low-rise fashion.
Indeed, the embattled property had been mired in unpaid property taxes, contractor bills, debt and lawsuits between former owners. According to Douglas County records, Marak bought the complex a few weeks ago from Great Western Bank for $6.3 million (it had been in receivership).
Marketing material back then said the 18-acre property, with a combined 500 hotel rooms, was ideal for redevelopment or a new hotel flag and management. (A few of those acres were occupied at the time by the Baymont Inn, which Marak purchased earlier and replaced with the dual-brand hotel and a free-standing Scooters coffee shop.)
Now that he controls the larger site, Marak said, he is planning to consolidate his hospitality staff in part of the new office space to be built.
Marak's growing portfolio extends to four other states. He said he has developed more than $250 million in property during his 20-year lodging career.
The new lodging piece that he envisions as part of the 72nd Street-facing commercial row would be a different style than his dual-brand hotels next door to the north.
Marak said his latest project comes as the hospitality and tourism industry is on an uptick.
He said the dual-brand hotels are on pace to gross more than $500,000 this month. He anticipates a good summer and said he remains bullish on the Omaha market after having booked over 1 million rooms since 2013 among all of his Omaha properties.
"We have sold more hotel rooms in this market than the population of Omaha since 2013," he said.
Deborah Ward, interim executive director of Visit Omaha, said that back in the day, the 72nd and Grover Streets hotel property was a great place for visitors coming for the Ak-Sar-Ben horse races.
Now that college sports have replaced the ponies, and newer facilities took much of the convention business, Ward said, "it'll be nice to see some new energy brought to that corner."
---