But that was just the beginning of the March Madness wrought by COVID-19. Within a matter of days, the Omaha-based company saw COVID-19 concerns lead to the cancellation of 95% of its future bookings.
Even a year later, Arrow's business remains half what it was before the pandemic. And as vaccine shots ramp up and things get brighter by the day, Arrow CEO Luke Busskohl still can't be completely sure that the light he sees at the end of the tunnel isn't just another empty bus coming the other way.
"It's been a difficult road for the motor coach industry, to say the least," he said.
Indeed, a year after the arrival of COVID-19 sparked the steepest and deepest job losses Nebraska has seen since the Great Depression, the economic fallout stubbornly lingers.
The state has yet to recover a third of the almost 100,000 jobs it lost last spring, with those working in entertainment, food services, accommodations and travel most profoundly affected.
David Brown, CEO of the Greater Omaha Chamber of Commerce, recalled that when businesses first started facing headwinds, shutting down and moving to remote operations a year ago, the thinking at the time was that things would be back to normal in a month or two.
Now more than a year later, the pandemic still runs the show.
But as bumpy as the road has been, it's also clear that Nebraska has ridden out the economic crisis far better than most states.
By percentage, Nebraska's nonfarm employment is down about 2.9% from pre-pandemic levels, the sixth-lowest job loss among the states. Job losses are twice as high nationally. And Nebraska's current unemployment rate is tied for the third-lowest among the states, trailing only South Dakota and Utah.
"I think overall, if you look at the big picture, Nebraska has weathered this pandemic about as well as we could have," Gov. Pete Ricketts said in a recent interview.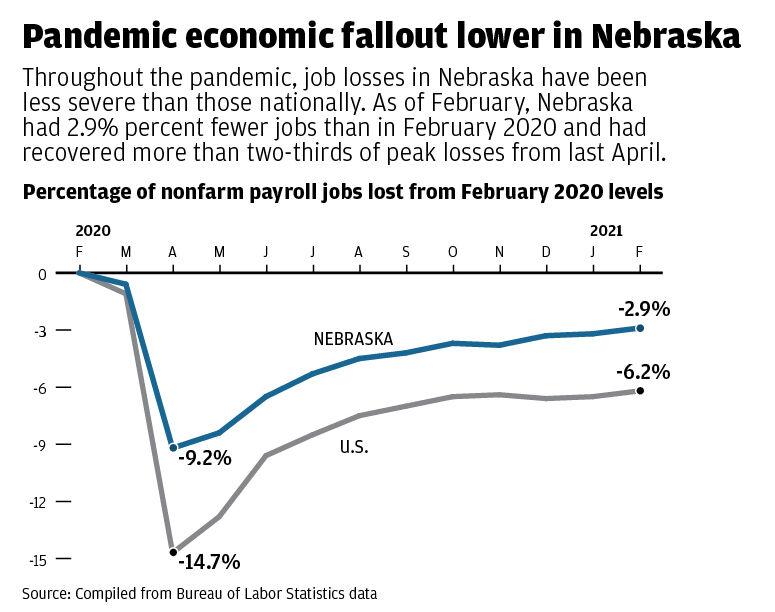 Among the nation's 109 metro areas with populations of 500,000 or more, the job losses Omaha suffered last spring were the 10th-lowest. And while its job recovery has been somewhat slower than many places, Omaha still finished last year with the 21st-lowest pandemic job losses.
"It's pretty fascinating to see how well we have done," Brown said. "It's still not as strong as you'd like in the restaurant, hotel and entertainment space. But in most other segments, we are doing remarkably well."
So why has the state's economy proven so resilient during the sharpest economic downturn the nation has ever faced?
Much of it relates to the makeup of Nebraska's economy.
It's diverse, with no segment so dominant that it can bring down the entire thing. And it's more heavily weighted to agriculture, financial services and insurance, industries that were not as severely affected by the pandemic.
Nebraska businesses also took full advantage of the assistance programs coming out of Washington, including the Paycheck Protection Program, which provided cash to small businesses. Total payments coming into Nebraska under the first round of the PPP totaled more than $3.4 billion.
It also appears the direct payments to taxpayers pushed by Presidents Donald Trump and Joe Biden have helped prop up the state's consumer economy. Coming in sums of $1,200, $600 and now $1,400, those dollars alone have represented roughly $5 billion in new personal income coming into the state.
Economists say some of that money was saved or used to pay down debt. But much was clearly spent, too. Despite the lost paychecks and economic disruptions, state sales tax data show that consumer spending in Nebraska was actually up more than 5% in 2020.
Strong farm income last year, buoyed by government payments and higher grain prices, also likely fueled consumer spending.
"People have opened up their wallets," Creighton University economist Ernie Goss said.
Strong consumer spending is also one of the reasons the state's budget remains on solid footing, showing projected surpluses at a time when many states have faced financial crunches.
Goss and some other economists also noted that states like Nebraska that did not impose "stay-at-home" or "shelter-in-place" orders tended to see fewer lost jobs.
When it came to social distancing to control virus spread, Ricketts said he tried to strike a balance, relying on more targeted measures, voluntary compliance and public information campaigns rather than blanket restrictions that he felt would unnecessarily hurt some businesses.
Still, it will be some time before Nebraska's economy returns to pre-pandemic levels. Even with most lost jobs already recovered, Nebraska remains down about 30,000 jobs from where it was in February 2020. That's more jobs than Nebraska lost during the entire Great Recession of 2007-09.
Employment within food services and accommodations is still down almost 13% from pre-pandemic levels. That's almost 11,000 jobs. Jobs within arts, entertainment and recreation remain down 16%.
Economists say there likely won't be a full recovery until more people again have the confidence to sit down in a restaurant, attend a concert or board an airplane.
That's where vaccinations are now making a difference.
While La Casa Pizzaria in Omaha has done pretty healthy takeout business during the pandemic, General Manager Nicole Jesse has recently seen a noticeable uptick in dine-in customers.
"A lot of the people we are seeing now are some of our older customers," Jesse said. "They are coming in and telling us, 'We got vaccinated.' "
Ricketts said he's optimistic that as vaccination numbers continue to rise, the economy will, too.
"Ultimately, the way you work your way out of this pandemic is getting everyone vaccinated," he said.
The Nebraska economy was humming along quite nicely entering March last year. The biggest obstacle was not unemployment but a shortage of skilled workers needed to fuel job growth.
But as the virus suddenly landed and began to quickly spread across the country, on March 16, Ricketts became one of the first governors to adopt a public health recommendation limiting indoor gatherings to 10 people. It had the overnight effect of shutting down many bars and restaurants, and closures of salons and other businesses where people closely interact soon followed.
Omaha's tourism industry would also soon take big hits with the cancellation of Berkshire Hathaway's annual meeting and the College World Series, as well as the postponement of the U.S. Olympic Swim Trials. All had been expected to bring thousands of tourists to the state.
Tens of thousands of Nebraskans were thrown out of work. During the first week in April, more than 26,000 Nebraskans filed for unemployment. That's 50 times the number who filed the week before the pandemic struck.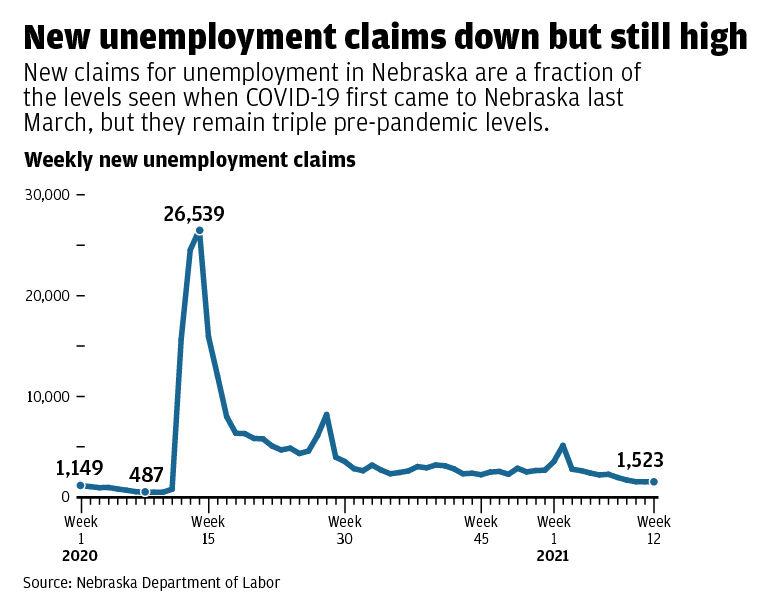 By April, Nebraska was down 95,000 nonfarm jobs from where it had been in February, a reduction of more than 9%. Nationally, almost 15% of all jobs were lost.
In some industries, the toll was staggering.
In Nebraska, more than 32,000 workers in the hospitality industry, made up mostly of food service and hotel workers, lost their jobs. That's a whopping 40%. And 8,000 Nebraskans working in the arts, entertainment and recreation jobs — more than half — were thrown out of work, too.
Another measure of the pandemic's impact on restaurants: Collections of Omaha's restaurant tax were down 16% last year. But that decline is actually less than what might have been expected, proving that many restaurants found ways to navigate the past year by emphasizing takeout, outdoor dining and social distancing within dining rooms.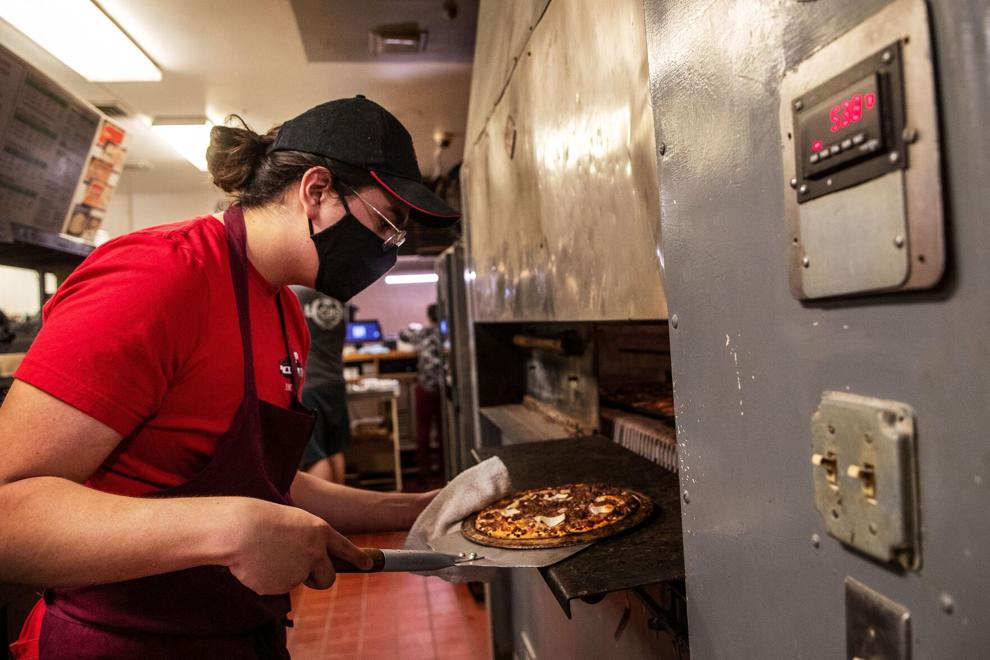 Zoe Olson, executive director of the Nebraska Restaurant Association, said impacts on individual restaurants have ranged widely. Fast-food restaurants are doing great, with sales for many even up over the previous year. Sales at many traditional sit-down restaurants are down 30% to 40%, with some yet to reopen their dining rooms.
Takeout has been a game-changer, Olson said. She thanked Nebraskans who have made "Takeout Tuesday," "Date Night Friday" and "I Don't Want to Cook Monday" part of their routine. One study early in the pandemic ranked Nebraska second in the nation in the volume of food takeout and delivery.
"We couldn't have done this without our communities' support," she said. "I always say, 'As goes the state's restaurant industry, goes the state's economy.' "
Olson said an executive order from Ricketts that allowed restaurants to sell takeout alcoholic beverages also helped, as the profit margin on drinks is higher than that for food.
She said that when she first approached Ricketts with the proposal last year, he flatly turned her down. But he later reconsidered. She said the governor now calls it the most popular executive order he's ever issued.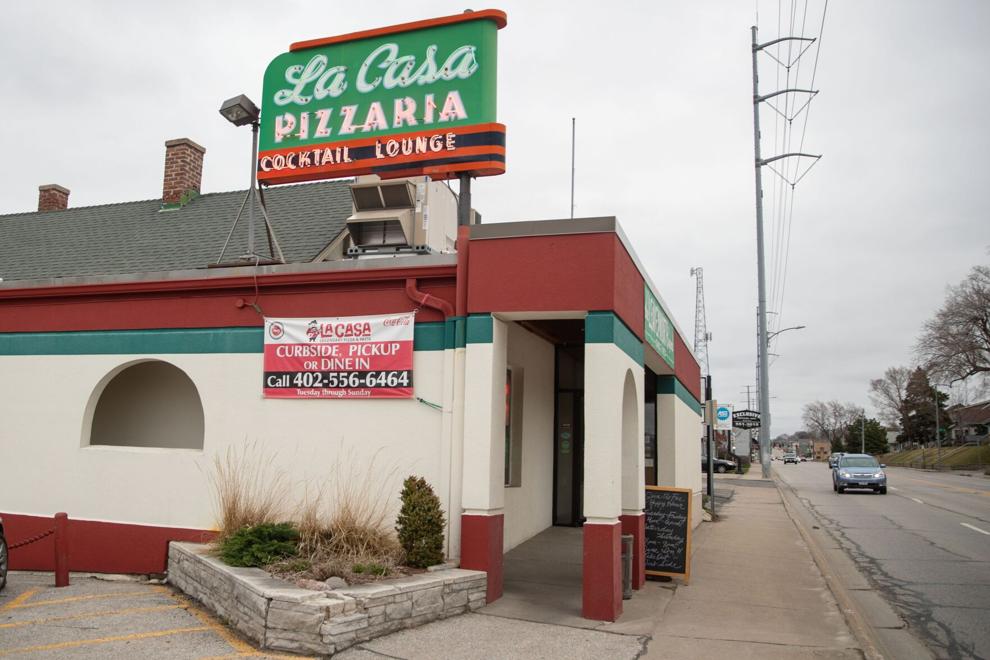 La Casa's Jesse said that while the pizza restaurant had long emphasized takeout, she quickly realized that she would have to revise the system completely in the face of the pandemic. The previous pickup window was located in a small, enclosed space.
She also reshuffled duties among her employees to keep on the payroll the full-time wait staff members who counted on their paychecks for their livelihood.
Even as dining room traffic has gradually picked up, Jesse isn't sure that she will ever get back to the same number of tables she had previously. She senses customers' increased discomfort with sitting too closely to others.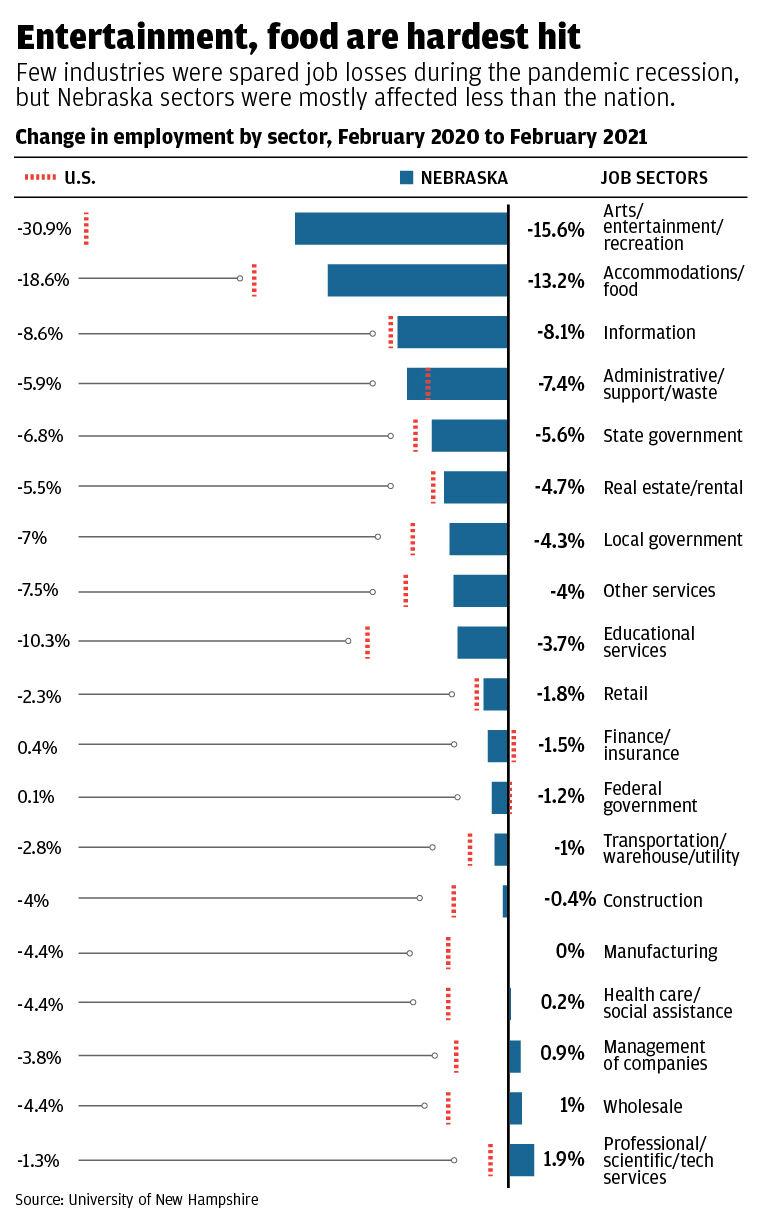 While restaurants and other hospitality businesses were hit early and hard, COVID-19's economic impacts would eventually filter down into almost every industry in Nebraska, from retail and real estate to manufacturing, construction and state and local government.
But as has often been the case during past downturns, it could have been a lot worse.
Michael Ettlinger, a researcher at the University of New Hampshire who has studied COVID-19 economic impacts among the states, said the states hit hardest initially had one of two things in common: they were states like New York and New Jersey where virus cases were the highest or states like Nevada and Hawaii that were most reliant on tourism.
"They got clobbered," he said.
Over time, other factors came into play: the extent of state and local measures to control virus spread, public compliance with those orders, population density, the mix of industry, how businesses responded and even the weather.
"It's going to take a while to sort out what made a difference state by state," he said.
Local economists say Nebraska has been buoyed by a workforce that's doubly weighted to insurance underwriting and claims processing and even heavier in food production, industries that have been among the least affected.
Businesses in financial services and other white-collar professions were able to seamlessly shift to remote work from home.
"I think everyone was surprised by how effective and productive remote workers have been," the Omaha chamber's Brown said.
Ettlinger said it's difficult to tell the impact of stay-at-home orders on job losses among the states. Even some states that imposed them didn't enforce them, making them effectively advisory.
But a report co-authored by Creighton's Goss last April did find a correlation between job losses and states with stay-at-home orders.
Recent data from the Bureau of Labor Statistics show that four of the seven states that didn't issue such orders — Utah, South Dakota, Arkansas and Nebraska — currently rank in the top six states for lowest pandemic job losses.
Nebraska's touch on such restrictions has certainly been lighter than in many states.
Then even as COVID-19 infections in the state surged to their highest levels in October and November, Ricketts declined to reinstate the measures. He made reimposition of the 10-person limit dependent on whether COVID-19 hospitalizations reached a specified level — a figure the state approached but never exceeded.
Ricketts said that when he compares Nebraska's virus trends with those of other states — including the state's well-below-average death rate — it appears to show that when Nebraskans needed to change their ways to curb virus spread, they did.
"I would say in general the state's done a very good job, and we can look to our people for that," he said. "I think that the state has done a very good job of striking the balance between slowing the spread of the virus and allowing people to live a more normal life."
"Normal" is what many businesses in Nebraska are still waiting for.
The state continues to recover lost jobs. Data released by the federal government on Friday showed that on a seasonally adjusted basis, Nebraska added a net 3,000 jobs in February. UNL's Thompson said it will likely be near the end of this year or early in 2022 when the state recovers all the jobs it has shed.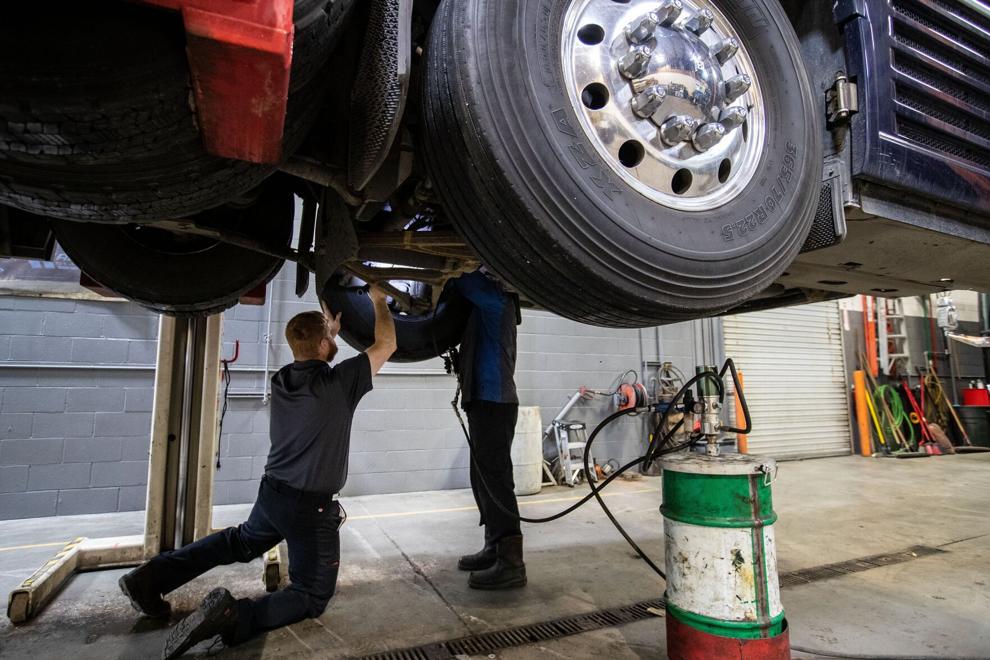 Arrow Stage Lines' Busskohl has pretty much seen the gamut of what the COVID-19 downturn has had to offer.
Like many in the travel industry, he faced an existential crisis when the virus first struck, forced to furlough most of his 650 workers and seek a PPP loan to keep the doors open.
He's seen the resilience of Nebraska, as the company's operations here are better off than in the six other states it does business.
And now he's seeing the recovery, with business seeming to pick up with each passing week.
One of Arrow's primary niches is transporting professional and college sports teams. And with more sports resuming all the time, that business has been growing.
College baseball is back, which bodes well for the CWS in Omaha in June. And colleges are now playing volleyball after the season was postponed last fall.
He's particularly looking forward to the upcoming NCAA volleyball tournament, set for Omaha next month.
Busskohl said he's also once again hearing from bus tour operators, who are beginning to schedule summer excursions. Most people who sign up for bus tours are older, and most of them have now been vaccinated.
The more Busskohl hears about vaccinations ramping up, the more optimistic he becomes that his idled buses will be roaring back to life.
"I think this is going to get going on all cylinders again," he said.
---
The countries producing the most vaccines, and more trends in this week's data