A new and unusual downtown hotel is set to open next spring as the "Farnam" — a name intended to stoke a spirit of adventure yet classic Omaha.
The namesake of both the 120-room hotel and the street on which it sits, Henry Farnam, was instrumental in construction of the transcontinental railway that connected the east and west.
Omaha's trajectory forever changed when this area became the railway's eastern terminus, and the hotel owners saw the Farnam identity as fitting for the vibe they were after.
"It emphasizes and celebrates Omaha's history, entrepreneurial spirit and creativeness," said Angie Fisher, a principal in the Avaden investment group along with husband Jason Fisher of Omaha's Cushman & Wakefield/the Lund Co. 
The Farnam stands out as the state's first Marriott Autograph Collection brand as well as the Omaha area's first hotel to be built into an existing (and still operating) office tower.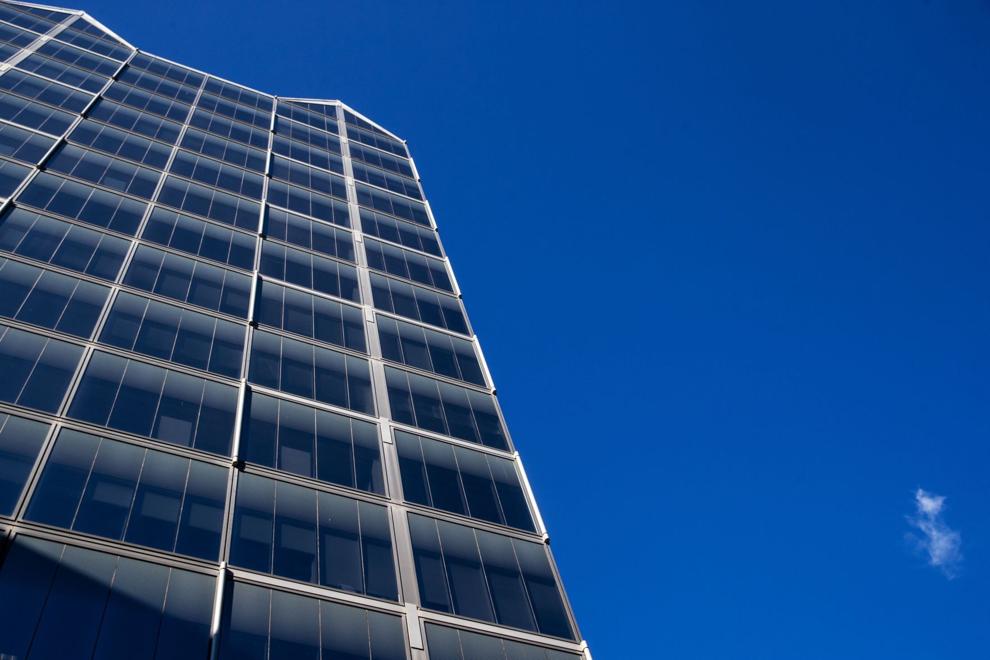 In this case, four floors of the 15-story glassy Landmark Center, which opened three decades ago at 1299 Farnam St., are being transformed into the 120 guest rooms that include 32 suites. Avaden bought the Landmark property in early 2017 for about $19 million.
As part of a $50 million renovation, two new dining and drinking destinations — the Dynamite and the Catalyst — also are set to open in the Landmark in March. They'll be open to the public.
The hotel will feature a second-floor event space that seats about 200 and overlooks the Gene Leahy Mall being rebuilt just to the north as part of a huge downtown park overhaul.
Landmark office tenants such as Bailey Lauerman advertising agency will coexist with the hotel and dining places — a mix that appeals to Bailey's chief executive Greg Andersen.
"We are a business that's in a creative industry," said Andersen, who returned to his native state after working many years in Los Angeles and New York. "As a commercial tenant, we want the building, the lobby, the restaurants to be vibrant, to have energy."
Andersen said his business and clients will benefit from the on-site lodging and entertainment spots. He's eager for his team to use revamped spaces as an extended workplace, setting up laptops or collaborating in places that can stimulate thought.
With the Omaha metro growing to nearly a 1 million population, he and others said that having an upscale hotel in the thick of growing arts facilities and other redevelopment helps live up to big city standards.
Alley Poyner Macchietto Architecture is helping with the Landmark transformation. Among other highlights:
» An 18-foot-wide fireplace will be visible from the outside and inside the Farnam Street-facing Dynamite restaurant. The broad menu is to feature a wood-fired grill and oven for steak, seafood and more.
» The Catalyst is to be cozier and offer cocktails, small plates of food and an outdoor patio that includes heated cabanas.
» Certain details will nod to Omaha history, including hotel corridor carpeting reflecting an aerial view of the Missouri River. 
» All art is by local artists, including a 3-D wall piece created with charred beams from the M's Pub Old Market fire.
While the opening comes later than planned, Fisher said he feels the timing is better. He's optimistic despite the pandemic-related downturn in tourism and other areas.
"Travelers will come back," Fisher said, "And we'll be at the epicenter when they do."