Mick Mulhall sometimes wonders what people who knew him as a trouble-making kid would think of him now.
He's never lost that side of his personality — far from it, he says. But his life changed his sophomore year of college, when he realized that the path he was on, toward a lucrative career in the private equity field, wasn't him.
He was more about selling trees in the family's gardening business, which he started doing at age 13 to escape an in-school suspension.
"That summer of college, I decided I wanted to dedicate my career to this,'' he said. "I liked landscaping. I was happier being closer to the natural world.''
Now at 30, the president of Mulhall's Garden + Home finds nothing more fulfilling than talking about plants and conservation and the beauty of nature with people who love those things as much as he does.
Encouraging that conversation, he said, is behind a massive makeover at Mulhall's — the largest in the business' 64-year-history. Mulhall declined to share the price tag but said the changes are aimed at helping the environment.
"It's not how to just make this a more efficient store but a hub for the community," Mulhall said. "People who care about plants and plant things and pollinators and gardening and getting outside.''
The team at Mulhall's, which he is happy to say has a trouble-making side just like him, is reconfiguring much of the 23-acre site at 120th Street and West Maple Road. The project, which will take place in phases, has already begun and will take years.
A plaza for gardeners to gather and hang out will take over part of the present parking lot; warehouses will be moved off-site to provide space for more programming and enhanced work areas for staff. A new pavilion entrance with a floor-to-ceiling plant wall will give customers a place to decompress before entering the greenhouse.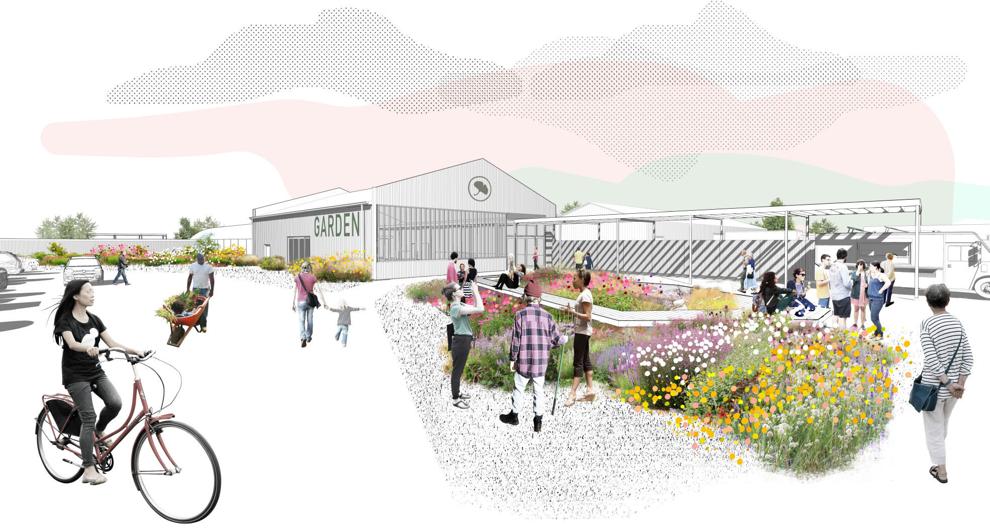 In conjunction with the building renovations, new plantings like goldenrod, prairie dropseed and swamp white oak will inspire customers and provide habitat for pollinators, birds and other local biodiversity. The goal is to create an environment where visitors can enjoy a bit of the natural world in the city.
The changes will help recruit and support a staff dedicated to the mission of protecting the natural world and making the community more beautiful, Mulhall said. There will be a big focus on fellow green industry professionals, who make up a growing segment of Mulhall's customers.
The project is in partnership with DeOld Andersen Architecture, Olsson Inc., Morrissey Engineering and McLeay Building Co. — local firms that Mulhall says understand and share his team's passion for making the Omaha area a more beautiful place to live and work.
Mulhall said he may be going against current trends in investing so much money in a brick-and-mortar operation. But he said he's never experienced a time in which people have been so interested in such things as planting home gardens and promoting pollinators.
Just ask the staff who answer the phones at Mulhall's, he said, where calls about growing tomatoes in a new vegetable garden and caring for houseplants have skyrocketed.
"We're not trying to make something happen. We're not trying to change something,'' Mulhall said. "It genuinely feels like we are doing this in support of something that is already growing.''
Customers will continue to find the pretty flowers and garden products they've always enjoyed, he said, but they'll get perhaps a little nudge in thinking about the best ways to have a beautiful landscape and still protect the environment.
Mulhall still treasures his college days at Notre Dame and Iowa State. He had a chance to steep himself in the history of landscaping and the works of naturalists such as Henry David Thoreau, Ralph Waldo Emerson and Aldo Leopold.
Their writings are still a big part of his life, and he never regrets that pivot to the family business. He's one of the lucky ones, he says, who wakes up every morning eager to go to work.
"I'm here a lot. I like being here,'' he said. "I like driving around the growing field and walking around the greenhouse.''
He wants customers to feel the same way about visiting Mulhall's 10 and 20 years into the future, too.
"We're taking a step back to think about how we can best support meaningful connections with the natural world — the kind of connections that inspire conservation and help make Omaha a more beautiful, sustainable and healthy city,'' he said.
Photos: What to plant if you want to attract pollinators