Omaha's Crossroads Mall was dying long before crews began demolishing the shopping center in December to make way for the future.
A local developer bought the deteriorating property a decade ago, raising hopes that the city's first major mall west of 42nd Street soon would return to prominence at what remains one of the metro area's busiest and most high-profile intersections.
But plan after plan for the sprawling retail site fizzled, with city officials rejecting financing requests from developer Frank Krejci and his team. More stores closed. The mall continued to decline.
Now a $553 million redevelopment vision by Krejci and a new partner has progressed further than any other. And on Tuesday, the City Council will decide on what could be a game-changer: almost $80 million in tax-increment financing, which would be the largest TIF award in Omaha's history.
The new Crossroads campus that Omahans have been waiting for comes with the biggest single request ever for local tax increment financing: nearly $80 million.
The proposal has pushed TIF — a popular and sometimes controversial tool to rejuvenate "blighted" areas — into the local spotlight.
Under the incentive program, the developer of a city-approved project takes out a loan to help cover eligible redevelopment expenses. The loan is paid back, generally over a 15-year period, by using the increased property taxes that are generated on the new development. Normally, property tax payments go to support schools, city and county government and other local tax-reliant bodies.
During the TIF period, the property owner continues to pay a portion of property taxes to local governments based on the valuation that existed before any improvements. After the TIF loan is repaid, property taxes collected on the higher-value, improved property then start flowing to those local governments.
Used in Omaha since 1980, the development incentive, in part, has helped turn a defunct race track into Aksarben Village, the once-famous Stockyards into a business park and an old hospital into the state's biggest single apartment building.
Today, almost 250 different Omaha economic development ventures are benefiting from the incentive. In all, more than 400 projects in the city have been financed in part through TIF.
On average, a TIF loan represents about 12% of a project's total estimated investment.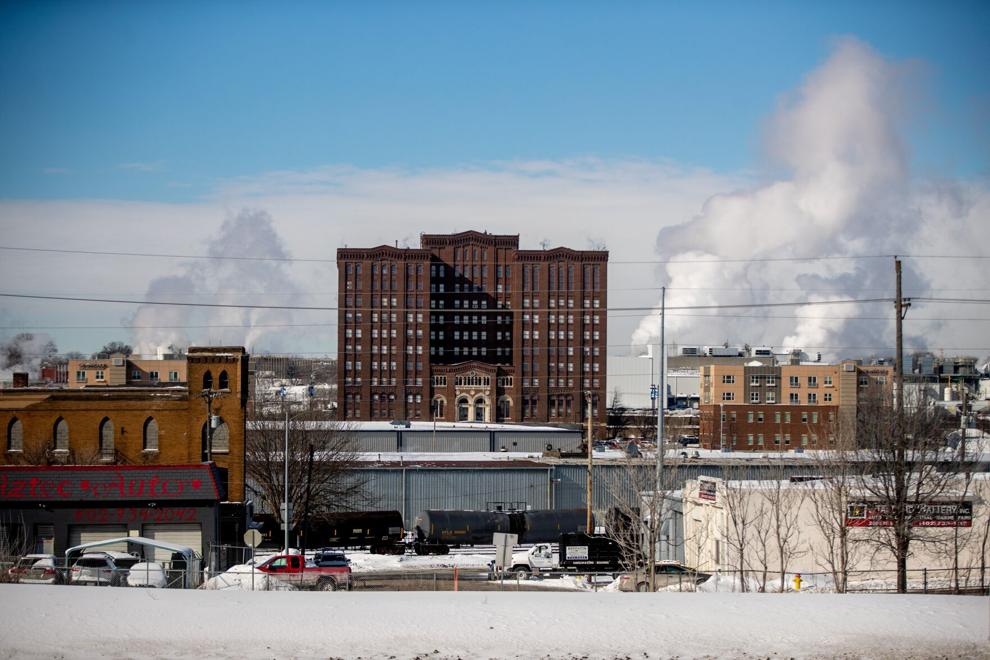 In 2019, about $1.9 billion in Omaha property — almost 5% of the city's real estate tax base — was designated for TIF purposes. That means that about $43 million in local property taxes was earmarked that year to pay some of the costs incurred by developers.
If the projects could have been built without TIF help, that tax revenue would have gone to local governments. If so, the money could have been used to fill potholes or hire teachers — or reduce property tax rates.
Critics question whether the incentive is used too generously and say TIF should be focused on areas most in need of economic revival.
But TIF proponents say the projects — and the extra tax revenue from them — wouldn't have occurred at all without the incentive. And, they say, the tool helps to offset extra costs of taking on redevelopment projects in older or difficult-to-develop parts of the city. 
"Bottom line, that project would not go forward without TIF," said Bridget Hadley, the city's economic development manager who oversees the TIF program.
The tax incentive doesn't last forever. Every year, some older TIF loans are repaid. In 2019, for example, 10 projects reached that point, which redirected about $200 million in property tax base to support local government.
And well before the loans are paid off, proponents say, such projects tend to spur additional development in the surrounding area.
Take the conversion of the TipTop Building in north downtown in the mid-2000s, for instance. It was touted as the first major rehab project in that area, which has since become home to other trendy apartments, office buildings and entertainment venues. After that project's TIF loan was paid off in 2018, the redevelopment went fully on the tax rolls at more than $19 million. Before the TIF loan, the property was valued at less than $300,000.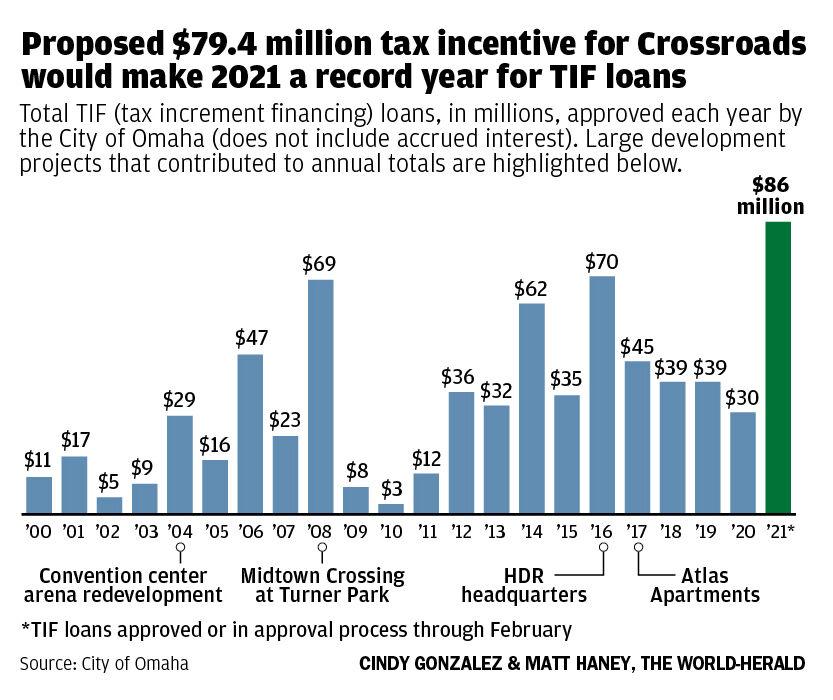 Brian Smith, an Omaha resident who opposes TIF for the Crossroads project, has raised concerns to city officials about diverting millions of dollars in potential tax revenue from schools to help a private developer.
People like Smith also question why the city has deemed certain areas blighted and substandard.
"It's a little difficult to accept 72nd and Dodge — the most prime real estate in the city — is a blighted area," Smith said.
TIF projects in Omaha are vetted by a nine-person committee to review whether they fit with the city's master plan and meet all legal requirements.
Steve Shultz, a professor and real estate expert at the University of Nebraska at Omaha, is among those who aren't hostile to TIF but who see potential for abuse. 
The city releases annual TIF reports but has never fully studied the tool's effect on schools and other governmental agencies, something that Shultz and others would like to see.
Shultz recommended making TIF competitive — choosing only the projects that produce the most public benefit.
A model exists, he said, in the way the Nebraska Investment Finance Authority awards low-income housing tax credits.
Some candidates running in the city election say they would rather see the tax incentive used for infill housing in North or South Omaha, or an expansion of a facility serving the homeless.
Mark Gudgel, a North High School teacher and candidate for mayor, said he would like to see TIF used to build affordable housing in underserved neighborhoods.
"We want to offer all the right carrots to our developers to build middle- and mixed-income housing," he said.​
RJ Neary, another mayoral candidate who is also a real estate executive, said that revitalization efforts in older parts of town are typically more risky and expensive than in suburban green fields and that TIF can be an effective vehicle to strengthen the urban core. 
But among recent projects poised to get an assist from TIF are apartments in Elkhorn, hotels and housing near the bustling University of Nebraska Medical Center campus and a home décor store near Nebraska Furniture Mart.
Hadley, the city's TIF manager, said the incentive is not designed to serve only one purpose or population.
"These are projects that meet a variety of goals that improve the economy," she said, "and if you're going to improve the economy, you're going to have to have these kinds of projects."
By far, the Crossroads TIF request from Century Development and Lockwood Development is the largest amount in city history, more than double the $37 million awarded to help build the Midtown Crossing retail and residential campus.
Steve Jensen, a former city planning director, said critics often take the position that developers are rich and don't need incentives.
"But the reality is that developers also have choices," he said. "If they don't have that incentive, a reasonable return on their investment, they're going to choose to make their investment someplace else."
Lockwood Development's Jude Beller said the Crossroads makeover requires tearing down old real estate, relocating utilities, building sewers, creating public plazas and almost a mile of onsite streets. He said city officials have made clear that they want a high-quality centerpiece at the traditional heart of the city.
"To develop 40 acres with all those dynamics you have to juggle — it's hard to do," Beller said. "You really need a partnership, private and public working together."
School districts receive the largest share of property taxes and have the most at stake when TIF loans are granted, but they aren't making waves about TIF. An Omaha Public Schools spokesman declined to make an administrator available for an interview.
Mike Lucas, superintendent of the Westside Community Schools, which includes the Crossroads project, said he's neutral.
"I'm not opposed to TIF, as economic development is important for all communities regardless of size," he said. "It can be tricky for school districts because of the loss of funding and how Nebraska's school funding formula already causes a massive over-reliance on local property taxes."
Westside and other local governments would eventually see their property tax revenue rise sharply if the new Crossroads is completed. 
The project is expected to be valued at almost $420 million, up from the preliminary $13.4 million 2021 valuation.
"To use something like TIF to build an additional $420 million of valuation — I think that's a pretty good use of that tool," said City Councilman Brinker Harding, a senior vice president of commercial real estate company Colliers International.
While most of the mall is being torn down, Target and the parking garage will remain. Later, offices, retailers, housing, a hotel and entertainment venues will sprout on the campus.
During the 15-year TIF period, a projected total of $121 million in property taxes on the new development will have been diverted to pay principal and interest on the $79.4 million loan. But after the loan is paid, local government entities would stand to gain an estimated $9.5 million a year in property tax revenue.
Jerry Slusky is an Omaha real estate attorney who has watched TIF grow for decades. He supports its use to bolster the eastern part of the city but believes that lately, it has been "too easily granted." 
"It has been a tremendous benefit for the community," he said. "In some cases, it's become too lenient, and they should be more stringent in making sure the project absolutely needs it. It's as simple as that."
Former Omaha Mayor P.J. Morgan, a Douglas County Board member and real estate executive, said TIF has been a great tool to help revitalize pockets of the city. His team used the incentive to help overhaul part of Little Bohemia near 13th and William Streets, and he lauded progress on the Crossroads.
But Morgan said the tax incentive should be watched carefully to ensure that developers actually invest into a project what they promise. 
Without TIF, Hadley said, schools and local government would ultimately miss out on millions of dollars of tax revenue that flow from improved developments.
"A rising tide lifts all boats," she said. "(TIF helps) to uplift the tax base, and that helps the economy and all the taxing jurisdictions."
---
11 key developments around the Omaha metro area