Omaha's north downtown area has gained about 600 workers now that Kiewit Corp. is settling into its newly built $76 million worldwide headquarters.
Construction of the Fortune 500 company's seven-story corporate offices and parking garage at 15th and Mike Fahey Streets wrapped up a few months ahead of schedule, said the Kiewit Building Group's Bob Kula.
He said the workforce since January has been enjoying floor-to-ceiling window views of Creighton University, the ballpark of the College World Series, the downtown skyline and the budding Builder's District of which Kiewit is a part.
"The goal was to create a space that met the needs of a fast-paced, mobile workforce, and that people would enjoy when working in the office," Kula said. "We believe we succeeded."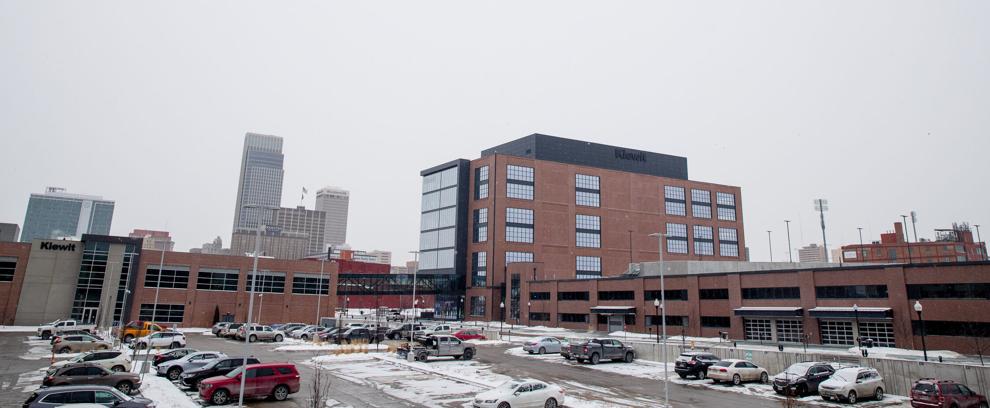 With Kiewit's migration now complete to the glassy 190,000-square-foot office structure, the company's former corporate digs farther west at midtown's 36th and Farnam Streets is getting its own makeover estimated at about $10 million.
That 15-story high-rise, to be renamed Blackstone Plaza, has a few businesses that remained as tenants after Kiewit sold the property and ended its six-decade run there. Among those still on the premises is Warren Buffett and the billionaire's Berkshire Hathaway corporate office.
An assortment of companies is expected to help fill the vacated floors. While the new Blackstone Plaza ownership group has seen a lot of interest, it has yet to announce any new tenants, said managing partner and Omaha real estate executive John Lund.
Meanwhile, all windows are being replaced. The exterior will switch to a charcoal gray color. The ground floor is turning to retailers and stores inviting to employees of the building as well as patrons of the trendy Blackstone District neighborhood.
Lund said so much will change that, soon, many might not recognize the site.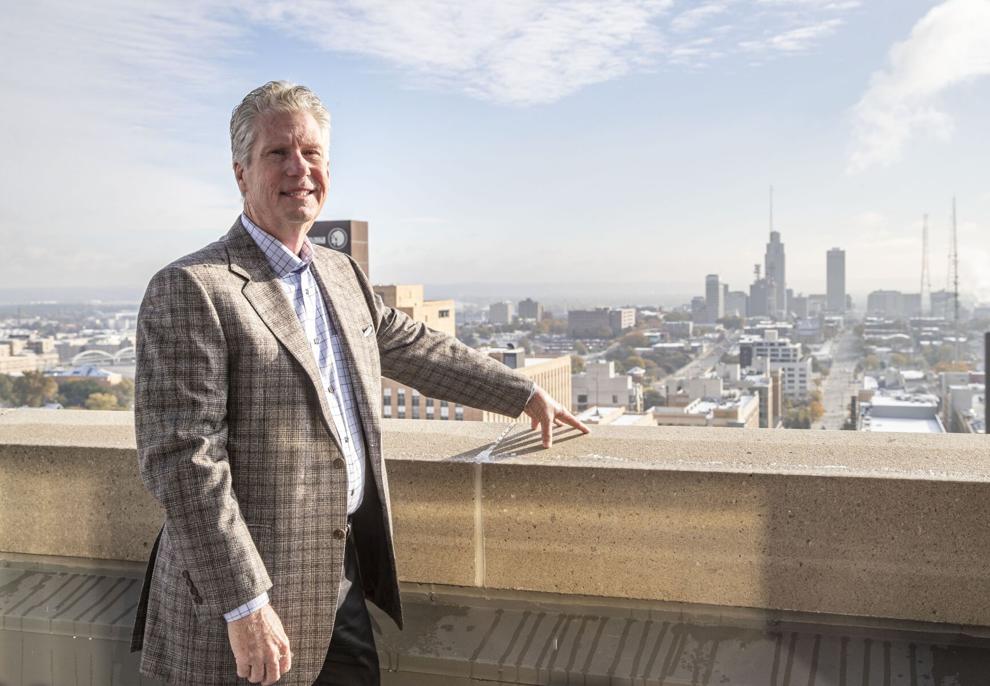 "People are going to drive up the street and say, 'When did they build that building?'"
Indeed, the Kiewit move to north downtown not only sets up a change in the local office market, but also sets the stage for more to come in the Builder's District.
The emerging Builder's District is loosely bound by Cuming Street to the north, Mike Fahey Street to the south, Creighton University to the west and Kiewit's training facility (which opened in 2017) to the east. Ultimately, the district is expected to stretch a dozen city blocks and usher in more than $300 million in investment.
Real estate developer Jay Noddle, who worked on the Kiewit campus projects, says his company plans to start construction — perhaps late this year — on yet another office building to the south of Kiewit grounds.
Noddle Cos. is first trying to secure an anchor tenant for that proposed five-story, 100,000-square-foot structure. The developer then plans to build two housing projects in the district, one that offers rental apartments and the other for-sale condominiums. A rooftop swimming pool would be a "differentiator," Noddle said.
"The Builder's District is like our next canvas in Omaha," said Noddle, who led redevelopment of areas including Aksarben Village and River's Edge in Council Bluffs.
To help create the district and new Kiewit home, the City of Omaha earmarked up to $20 million in redevelopment bonds for property acquisition and $5 million for public improvements. The city also is committed to building and operating a city parking structure if demand exists later, said Kevin Andersen, economic development aide to Mayor Jean Stothert.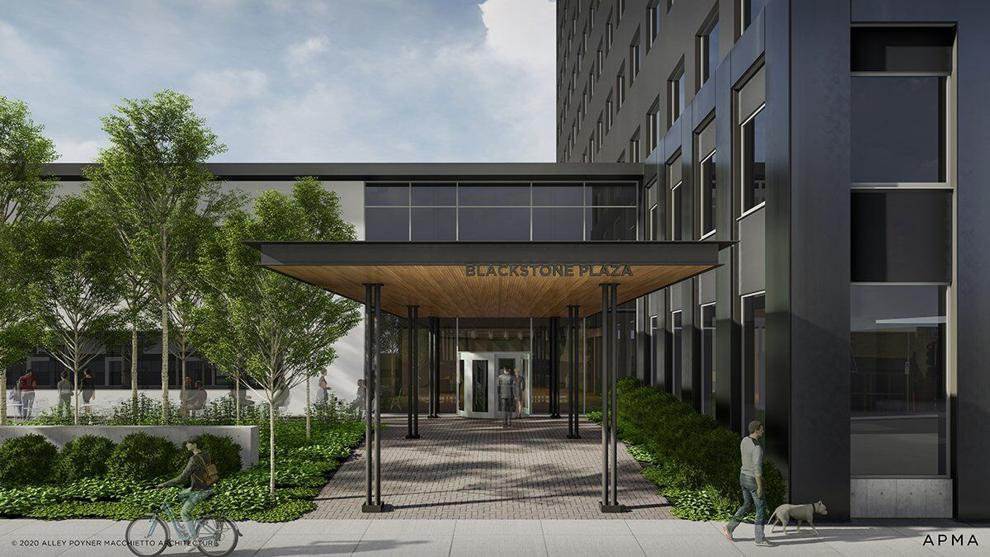 Here's more detail on the former and new Kiewit sites:
At Blackstone Plaza, crews are busy stripping vacant office space to shells that will be designed to suit incoming tenant needs.
"We're selling location — walkability to the Blackstone District, the new Kimpton Cottonwood Hotel, Midtown Crossing," Lund said.
He said amenities are key. The renovated property will have plenty of covered parking, a fitness center, an onsite barber, mechanics, gas pumps and the top-floor Cloud Room.
"It will have a newness and energy but still be iconic with history," Lund said.
A few interesting tidbits about Kiewit's downtown move: The relocation prompted the digitization of about 1.27 million files and documents to reduce reliance on paper. It donated nearly 500 used desks and other office equipment to charitable organizations.
Today a skyway connects the new corporate offices to the low-rise Kiewit University that trains employees from across North America. There's a large cafeteria, a coffee and pastry shop, a fitness center and work lounge areas on each floor. Kula said the headquarters has growth capacity to hold nearly 900 full-timers.
Currently in Colorado's Lone Tree area, Kiewit is building a 400,000-square-foot regional office complex to accommodate more than 1,700 employees. Asked how that investment might impact Omaha, Kula pointed to Kiewit's 75-year history in Colorado and a desire to consolidate offices and a growing number of design engineers in that region.
He said Kiewit employs about 1,700 people in Nebraska in more than 435,000 square feet of space that includes a west Omaha technology and business center and the recently built downtown facilities.
Said Kula: "These new buildings in Omaha and Lone Tree are representative of the investments we're making in our employees and the markets we serve."