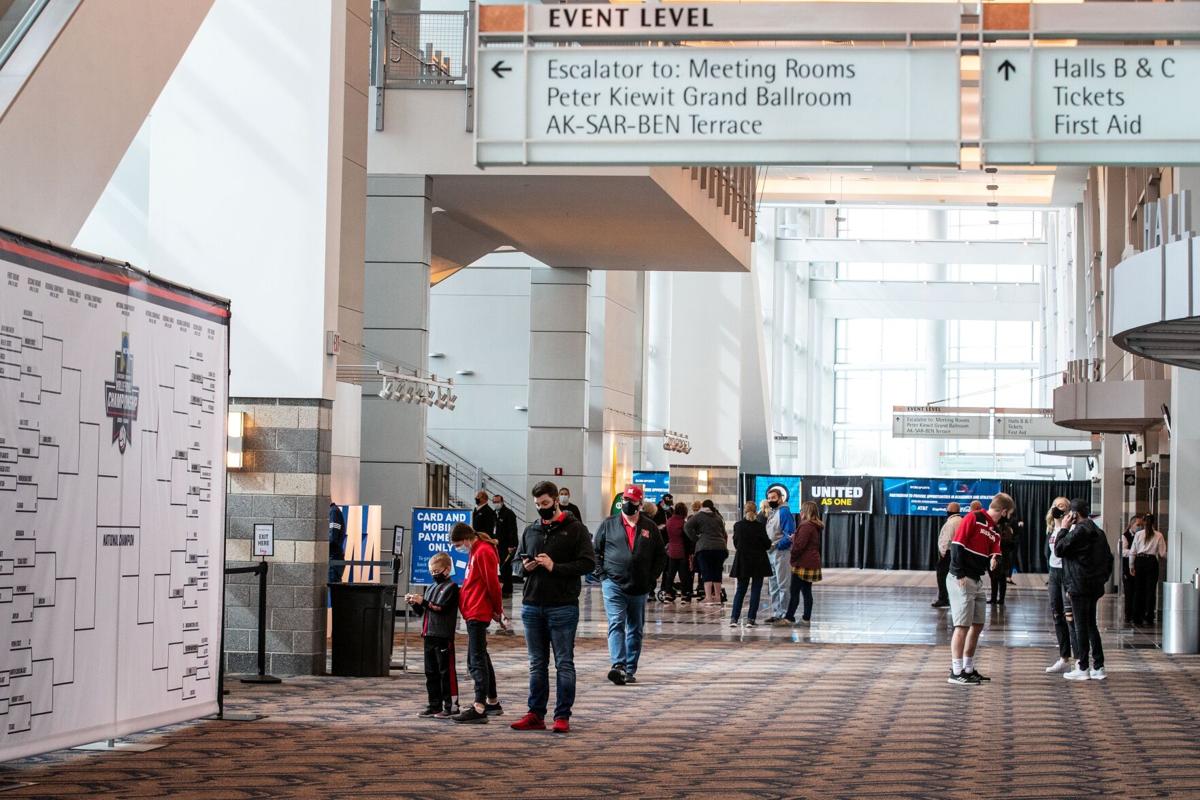 Unbeknownst to the casual passerby, a full-fledged NCAA tournament is taking place in downtown Omaha.
It's not drawing big crowds: That's not allowed. Fans from around the country aren't tailgating in parking lots.
But look closer, and you'll see evidence.
A Starbucks coffee bar inside the Marriott Hotel across the street from the CHI Health Center is a good place to start. Manager P.J. Thomas says business has spiked since 48 teams from across the country descended on downtown hotels.
"We're much busier than we've been the last four or five months," Thomas said. "It's definitely a huge jump."
But walk around the streets outside the CHI Health Center arena and you'll see just a few people, unless you happen to spy a team heading to a match.
That's all according to plan. The teams are here, sans fans other than family and a few others. Mostly it's volleyball and then back to the hotel.
And testing. Lots of testing.
A COVID test is part of the routine for players and coaches — it's a given every day, according to Nebraska coach John Cook.
As one Huskers spokesperson put it: "They test, they eat, they practice, they play, they lift weights, they relax."
There's a team meeting room in the hotel where the Huskers gather and watch movies or other NCAA games. They enjoy an outing if weather allows and they don't have a game that day.
The Nebraska players, for instance, visited Henry Doorly Zoo & Aquarium, an activity that's on an NCAA-approved list of COVID-safe excursions. Pittsburgh coach Dan Fisher said after his team's second-round win Thursday that his players planned to do the same.
Ohio State put together an event called Buckeye Olympics, where they played various games like pingpong to pass the time.
Some squads, like Purdue, aren't spending all of their time together.
"It's kind of weird," said Caitlyn Newton, a senior outside hitter. "We all have our own hotel rooms. We spend a lot of time by ourselves."
The postseason experience certainly hasn't been ideal, given the limitations of the pandemic, Florida coach Mary Wise said. She got back to her hotel after Thursday's match and didn't know when her team would be allowed to practice next.
But Wise thinks players are making the most of their time in Omaha, and she's grateful for the behind-the-scenes staffers who're helping them do it.
"You come to Omaha you know you're going to meet the nicest, kindest people," Wise said. "And now we've got all these really nice and kind people trying to pull this off. I think it puts off an incredible vibe and Omaha should be very proud."
For Omahans who are used to witnessing the hubbub of the College World Series and early rounds of the NCAA men's basketball tournament, this is nothing like that.
Still, restaurants around the CHI Health Center seem to be benefiting somewhat.
About half of DJ's Dugout, a sports bar, was occupied during a recent lunch hour, with many watching volleyball matches play out on the big screens.
"In a normal year, we would be full,'' said Sean Glen, a manager. "The restaurant would be at capacity and lines out the door."
He said he's still grateful for the waves of business, as volleyball parents stop in for lunch or dinner before heading across the street to watch their daughters play.
Back at the Marriott Starbucks, Thomas said he had 240 tickets for food and drink Wednesday compared to about 40 or 50 the day before. He watched as his staff served a group of players from Wisconsin, who are among five Big Ten teams staying at the Capitol District Marriott, including Nebraska.
"Coffee is a game day necessity," said Deahna Kraft, a defensive specialist and outside hitter for the Badgers.
At the Hilton, connected to the CHI Center by skywalk, players filled the chairs in the lobby on a recent day. General Manager Robert Sabin declined to say how many teams were staying there, but the hotel is making sure, with their CleanStay protocols, to safeguard all the teams as much as possible from the virus.
They opened their grab-and-go store near the entrance last week in anticipation of the tournament.
"Sales are better than we anticipated," he said "It's been very active in there."
Adrian Leiser, a volunteer coach for Weber State, was getting ready to make a run to the grocery store for water and snacks.
He had nothing but good things to say about the takeout the team has ordered at places like the Blackstone Meatball, Lighthouse Pizza and Voodoo Taco.
"The local food has been awesome here," he said.
Teams ordering takeout have been a boon for restaurants. Patrik Strate at the Blackstone Meatball was preparing a takeout dinner for 27, making sure to satisfy all the COVID-19 protocols. Classic beef marinara has been a favorite.
"It's been a nice little boost of revenue," Strate said. "Having something like a sporting event makes you feel more back to normal."
Others teams are relying on the catering at their hotel.
Marriott General Manager Steve Hilton said staff has created zones for each of the teams there, with a dedicated room where they can eat meals and dedicated spaces where you'll find 15 to 25 rooms blocked off for teams and their personnel. Cook, the Nebraska coach, approves.
"I have a really nice room. Great view of Omaha and the Missouri River, so I'm pretty happy."
The Marriott typically provides two meals a day, depending on each team's schedule.
"We're extremely busy," Hilton said. "We're glad to be at that level of business."
The Huskers have gotten takeout a few times, with NU sophomore Madi Kubik saying Clean Juice for breakfast Thursday is one of her favorites.
Former Texas State coach Karen Chisum, a tournament veteran, was enjoying lunch at DJ's Dugout with several parents. The first days of the event have been quieter than what she's been used to, she said.
The parents said they liked having the format in one place, giving them the same experience as the bigger teams although they rarely see the players out and about.
It's also irritating not to get to see those same teams in action, Chisum said. Although she said the Bobcats were excited to be in Omaha, she wishes the NCAA would have spread the games around to other venues.
"Every coach will tell you this," she said. "It's like a club tournament. The kids should have a better experience than what they are having."
Cook said teams walk in, throw their stuff down and play. Wisconsin coach Kelly Sheffield joked Thursday that the Badgers might have to get a campfire going next to their courtside tent, which is substituting as a game day locker room.
Purdue coach Dave Shondell said his players were allowed just 30 minutes to warm up Thursday on a convention center court they'd never seen before — then had to compete in a do-or-die second-round match.
"This has been unique," Shondell said. "The NCAA's doing a great job. No complaints at all about the NCAA. It's just COVID, and all of the testing, and the back and forth from the hotel, to the gym, back to the hotel, to the gym."
The challenge for teams, Shondell said, is to embrace the new set of circumstances. But perhaps things will normalize some as the tournament field shrinks and its matches move into the CHI Health Center arena next week.
For the city, this tournament is the kickoff to a busy summer, the Hilton's Sabin said. There's club volleyball and basketball tournaments ahead as well as the U.S. Swim Trials and the CWS.
It's been a different event from those, Marriott's Hilton said, but he says things will start to change in the next few days as more people are allowed into matches.
"It should grow," he said. "We expect to see more traffic arriving on the weekend."
---