Omaha pets no longer have to take a backseat when families are too busy to drive them to grooming appointments, play dates or veterinarians.
Leash Pet Transportation of Omaha will take your dog or cat to and from destinations for a fee. It's a business model that is growing, according to Marty Sampson of Leash.
"We have customers of every demographic," Sampson said. "There are millennials who find they are working 10 to 12 hours a day and need their dog picked up. There are multitasking families, and we have seniors in assisted living. We're solving problems for a number of different groups."
Sampson and his wife, Kate, started their service in late May 2020. The idea for the business began to germinate on a cold December day in 2018. Their 85-pound goldendoodle, Wally, was suffering a bit from cabin fever, and neither one of his owners had time to take him to doggie day care.
"I said, 'Wouldn't it be nice if someone could come and pick him up and take him there for us,' " Sampson said. "We kind of looked at each other and started doing some research. There are pet taxis in just about every town, but we couldn't find one here."
The Sampsons went to Startup Collaborative, a Greater Omaha Chamber of Commerce program for new entrepreneurs. They learned about networking and received feedback on their marketing plan.
"The Startup Collaborative was really important to us," Sampson said. "We learned there really isn't anyone else around providing this service and that our plan was viable."
Some drivers with ride-sharing services will transport pets, but the pet's owner must be with the animal as it is being transported.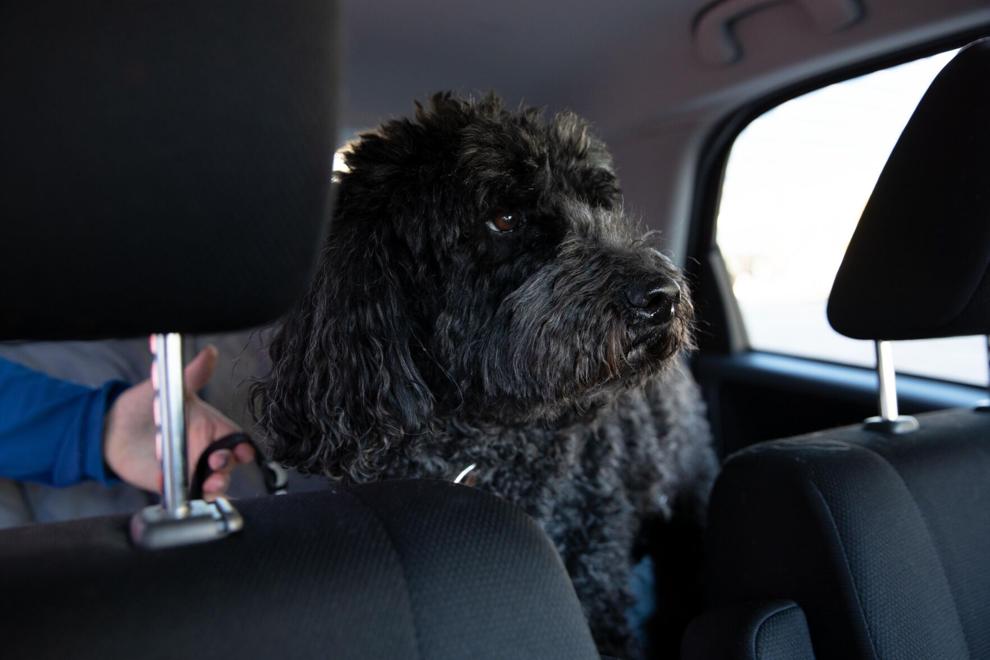 Leash customer Emily Fraser said the company's service fits her busy lifestyle as a member of a military family new to Omaha. She has booked 21 trips with Leash after hearing about it from a dog day care provider.
"Our silver Lab, Echo, loved it from the beginning," Fraser said. "We have continued to use Leash and it has saved us tremendously on times we couldn't pick our dog up from day care because we were working."
Leash Pet Transportation now has eight drivers, all who have experience working with pets. Some are retired pet sitters and some currently work as veterinarian assistants, Sampson said.
"At first, (drivers) go on a ride with me to work through the whole process, like how to greet the animals and how to load them into the vehicle," Sampson said. "The dogs are tethered to a seat belt in the back seat and the cats are in carriers."
Sampson said he tries to match the pet with the same driver as much as possible. There are instances of puppies "talking a driver's ear off," and a few larger dogs have been known to administer "ear kisses," but no real behavioral issues, he said.
The company has seen a huge jump in bookings from its modest beginnings in 2020, when it had just 50 bookings. Through September of this year, Leash has completed 400 bookings, Sampson said.
"Overall, pet ownership has gone up, and the amount of money people are spending on pets has gone up," he said. "A lot of people adopted pets during the first six to nine months of the COVID pandemic."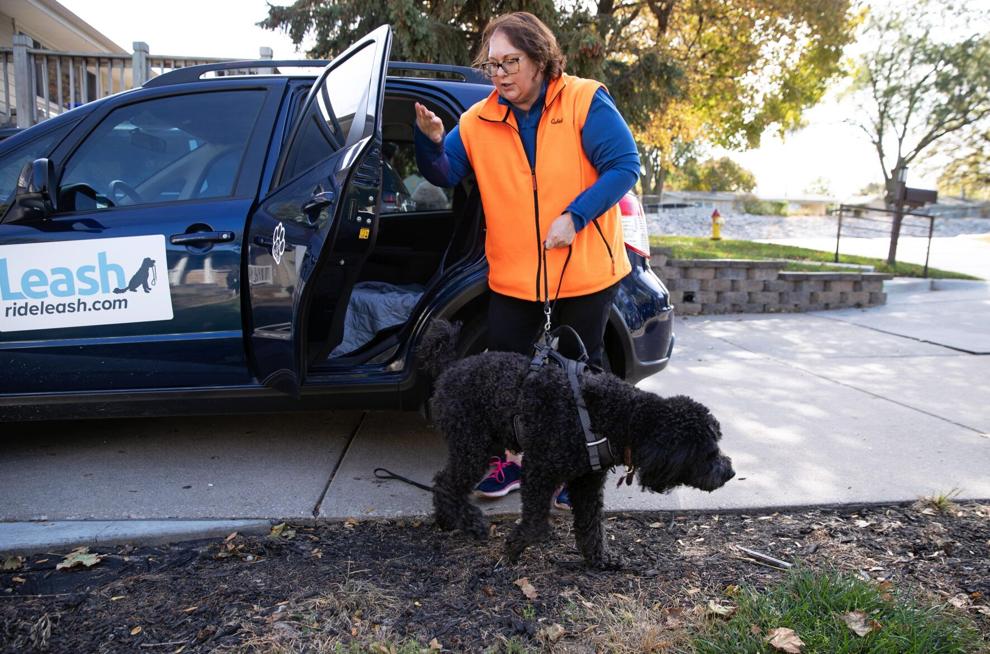 Leash charges $15 for the first five miles and $2 per mile thereafter. Sampson said his business has benefited from receiving referrals from pet-centric businesses such as groomers.
Susan Bailey, owner of Bonafide Dog Academy at 960 S. 72nd St., said she gladly refers clients to Sampson's business. Dogs benefit from having a structured environment on a regular basis, she said.
Brook Janousek of Omaha said she wishes that she had found Leash sooner. Janousek said she is a single professional woman with two dogs that often need to be taken to the veterinarian or day care.
"The drivers are professional and take great care of my dogs. They treat them like their own," Janousek said. "I do not worry about them arriving safely to their appointments or home."