Kirsten Larson is a list maker.
After some investigating, the Bennington mother compiled a list of mom-and-pop stores in the Omaha metro area so she could shop locally instead of going online or to a big chain store.
As the daughter of small-business store owners while growing up in Montana, she knows what a difference it can make, both for the shops and the city as a whole.
"I just think feeding dollars in through local businesses is a better stimulant for the local economy," Larson said.
According to one often-cited study, she's right.
A study by the research firm Civic Economics found that for every $100 spent at a local retail business, $48 stays in the local economy, compared with less than $14 of purchases at chain stores.
Those dollars pay wages and taxes and help support local schools and nonprofits.
"The success of our local businesses is what drives our community's prosperity," said Anne Branigan, senior vice president, innovative services, with the Greater Omaha Chamber of Commerce. "Business income supports jobs, a variety of civic investments and taxes within the local community and our state."
The chamber tapped "The Local Multiplier Effect: How Independent Local Businesses Help Your Community Thrive," from the American Independent Business Alliance, to come up with its data. Applying it to the Omaha area, for each shift of 10% of retail spending away from those operating outside the local market, an additional $210 million stays within the local economy.
This Saturday is Small Business Saturday. Last year on that day, shoppers in the U.S. spent about $19.8 billion, according to Elizabeth Yearwood, an economic development specialist with the Nebraska district office of the U.S. Small Business Association. Her organization is hoping that with COVID-19 vaccination levels increasing nationwide and overall consumer confidence up, consumers will spend even more this season.
Getting customers in the door on Saturday can lead to future sales, too.
"And while the sales revenue is obviously a huge focus of the holiday spending, it's also important for Omaha shoppers to realize that every time they spend money at their local store, they are sustaining local jobs and boosting Omaha's economy — something that is vitally important as we're coming out of the pandemic," Yearwood said.
The U.S. has more than 32.5 million small businesses, and about 181,000 of them are in Nebraska. A total of 99.1% of businesses in Nebraska are small, and almost 50% of Nebraska employees work for small businesses.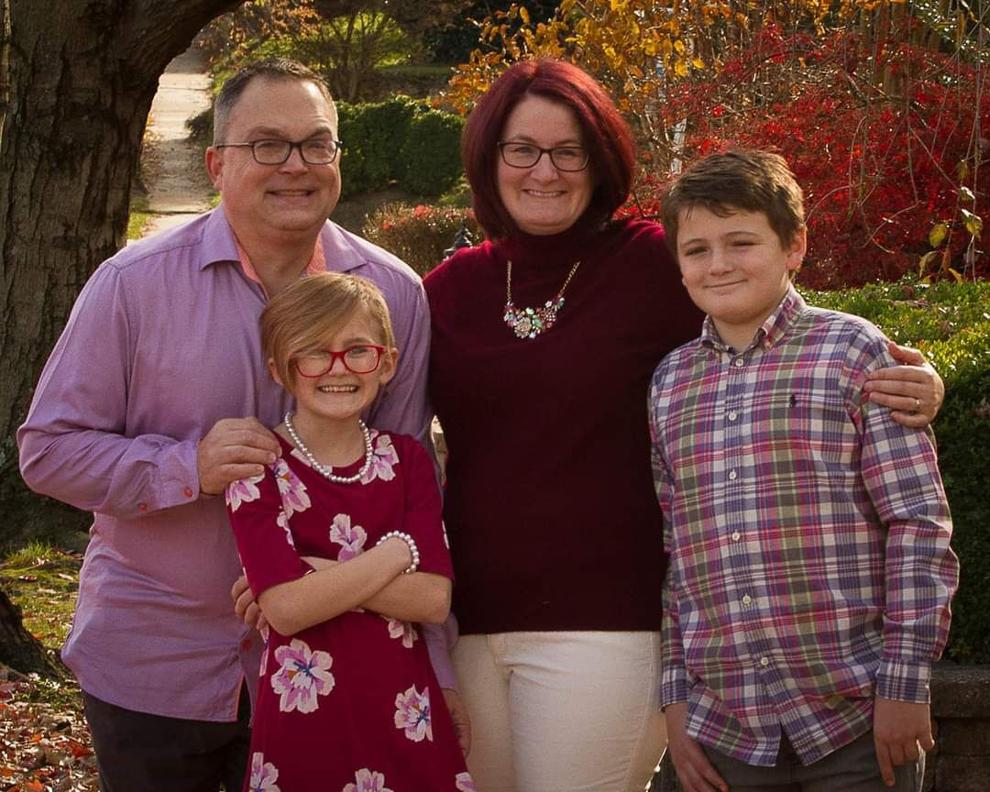 Larson also likes shopping smaller so she can get more one-of-a-kind items.
"I think it's really fun to wear or use something unique or gift it," she said. "Something you can't get everywhere."
Larson purchased several fun novelty gifts to use as stocking stuffers in the shops on her list. She bagged a shirt for her husband and a beautiful sweater for her mom. At Little Scandinavia in Elkhorn, she found an impressive array of snacks and wool socks.
Once she checks off dog gifts, she'll be done.
"I do some shopping on Amazon," she said. "But seeing all the brick-and-mortar shops going away because they can't stay in business is sad.''
Customer service
Donald McPherson, the owner of Styles of Evolution, a clothing store at 24th and Lake Streets, said buying local helps build local businesses and creates jobs.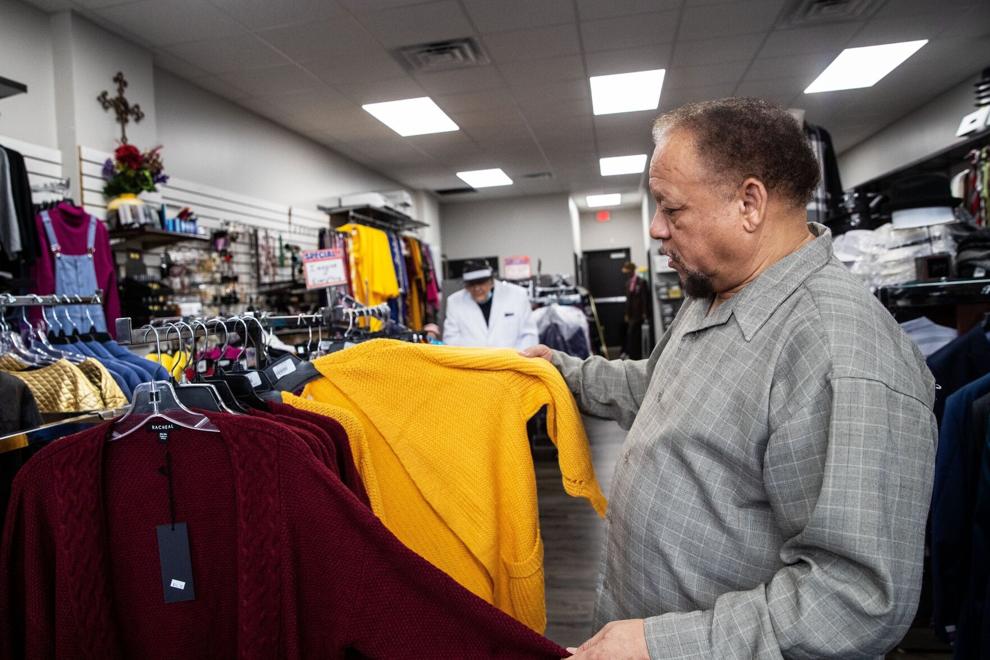 He can also provide a personal touch.
Those who frequent his store get great customer service and don't have to worry about returning something because they can make sure their purchase fits before they leave.
Also, McPherson said, "If we don't have it, you tell us what you want, and we'll try to get it for you. One on one with the customer is vital. When they think about buying something, they are coming to see you."
McPherson said customers come from as far away as Des Moines, Grand Island and Kansas City because they like the service they receive at the store, which has temporarily moved to 2518 N. 24th St. while renovations are done at its original location.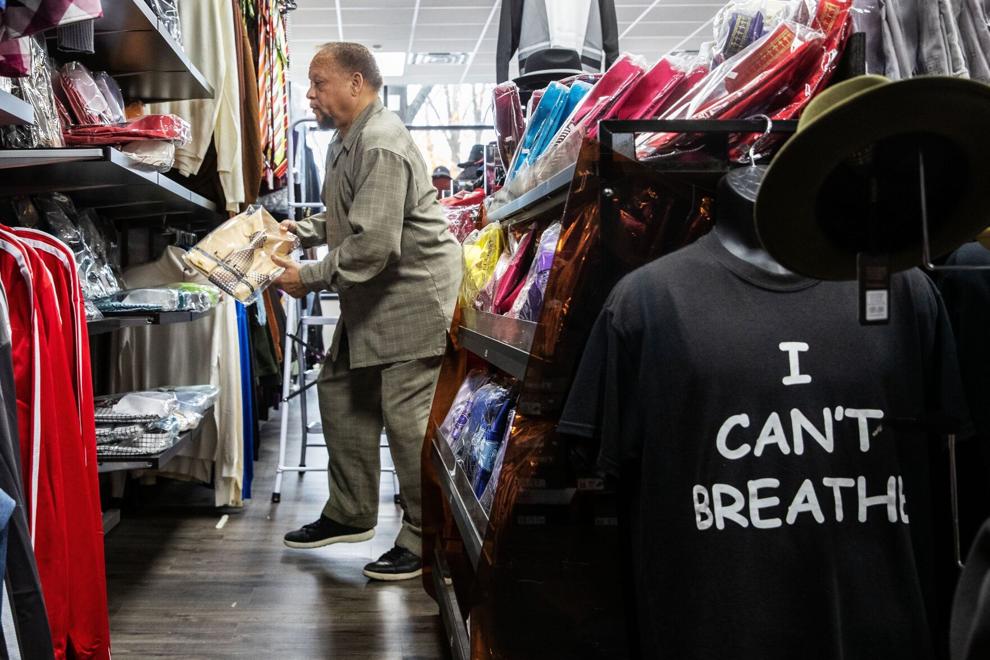 It was hard when people weren't getting dressed up for church activities, because that's a big part of his business.
"Last year was kind of dismal for everyone," he said. "We just waited things out, and all of a sudden it just picked up."
Fun atmosphere
Fala's Treasures & Coffee House in the Elkhorn area knows all about supply chain issues.
Owner Jackie Schmidt said she is having a hard time sourcing tissue paper to wrap new purchases. She knows others who can't get bags.
Finding employees is tough, too. She's five to seven people short in the kitchen. That means when Fala's does live music nights, the menu needs to be as simple as possible.
But she's still doing the best she can to attract customers. Besides a huge collection of drinks, she sells jewelry, boutique clothing, home decor and furniture.
"Fala" stands for fun and loving atmosphere.
"First of all, I try to keep my prices as reasonable as possible," Schmidt said. "I have things made by local people. I have unique things that no one else has or can find.
"Everything in the store is for sale. Even if it looks like a display it can happily go home with you."
Schmidt also is proud of the home-cooked breakfasts, lunches and dinners she makes.
She wants to remind people to shop local to keep small businesses afloat.
"If I were to go out of business, it would affect a lot of local businesses and people," she said. "I will not buy off of Amazon or a lot of those other places. I won't do it. My heart can't do it."
A struggle for artists
Molly Hobson said she carries a little bit of everything at Landlock Gallery in the Blackstone neighborhood.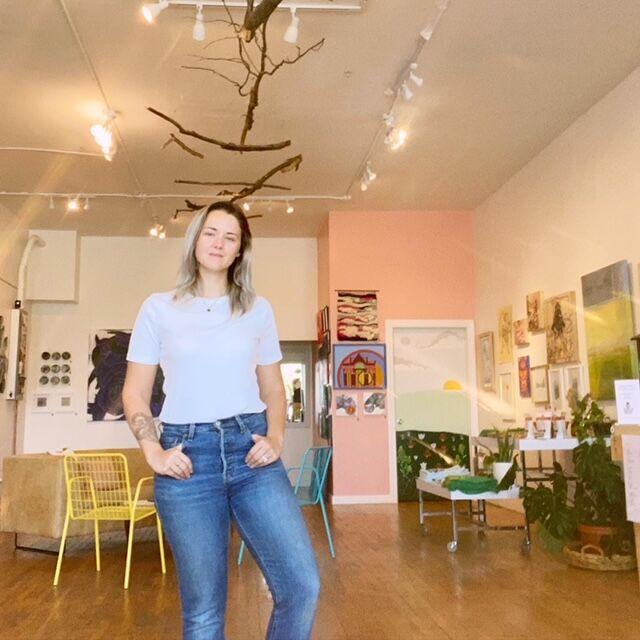 There's original artwork from $50 to $500 and items in the print shop in the $20 range. Jewelry, candles, chocolate, stationery and ceramics fill the store, which she opened after being furloughed at the start of the pandemic. More than 70 people have items on display.
"My biggest goal is to give artists an opportunity to get some of their stuff out, especially new artists," she said. "Take some feeling of power back when everyone was feeling pretty powerless in the world."
Taking the time to shop for something unique for someone seems so much more of an investment than purchasing something online that looks like everything else, Hobson said.
"The thought of something local from their community going into someone's house is so much cooler than online shopping," she said. "Keeping all of our money and supporting our local economy and getting things that are truly unique and really, really special."
Hobson, 29, opened her store last year. During quarantine, she said, people made an effort to support local businesses, and that appears to be continuing in 2021.
That trend is especially important for local artists, who she said took a direct hit because of the pandemic.
"They weren't able to do shows. They weren't able to get their stuff out. They suffered a loss of income from second jobs and the stress made it hard to be creative." she said. "We have to do all we can to support creativity, especially during times of hardship."
Sharing memories
You can't buy memories at a big chain store, Joe Secord says.
Customers go to their Facebook pages to buy items but also to share memories — their favorite dish at one restaurant and special occasions at other places long gone.
"We're keeping those memories alive and selling the T-shirts along the way. They are a great gift," Joe Secord said. "If they are the least bit nostalgic or sentimental, it will give them something to reminisce about for hours."
Secord, 49, started the business five years ago as a side hustle. He learned how to make the shirts, and things started taking off when they started doing shows.
"I grew up in South Omaha, so the nostalgia and memorabilia of the stockyards and the old businesses has always been an interest to me," he said.
Chain stores and online companies have their place, Secord said, but by shopping local businesses, shoppers are keeping their money in the community.
"The small businesses are the fabric of America," he said. "You need someone to fill those gaps that aren't going to be filled by big businesses.''