With a sign that read "Shame on Kellogg" in his hands and his 5-year-old son on his shoulders, Jeffrey Jens stood outside the Kellogg cereal plant in Omaha Wednesday.
The second generation, 24-year employee of the Omaha plant was among upward of 60 employees and local union members to rally near 96th and F Streets in support of a worker's strike that started Oct. 5.
The union and Kellogg have been at an impasse at the bargaining table for more than a year, Daniel Osborn, president of the local union in Omaha, said last week. The dispute involves an assortment of issues such as health care, holiday pay and vacation time, and Osborn said the company has threatened to move some jobs to Mexico. The company said earlier this week that it has "not proposed moving any cereal volume or jobs outside of the U.S. as part of these negotiations."
Jens also pointed to the company's two-tier wage system that began in 2015, which he said offers new employees lower wages and benefits than current workers.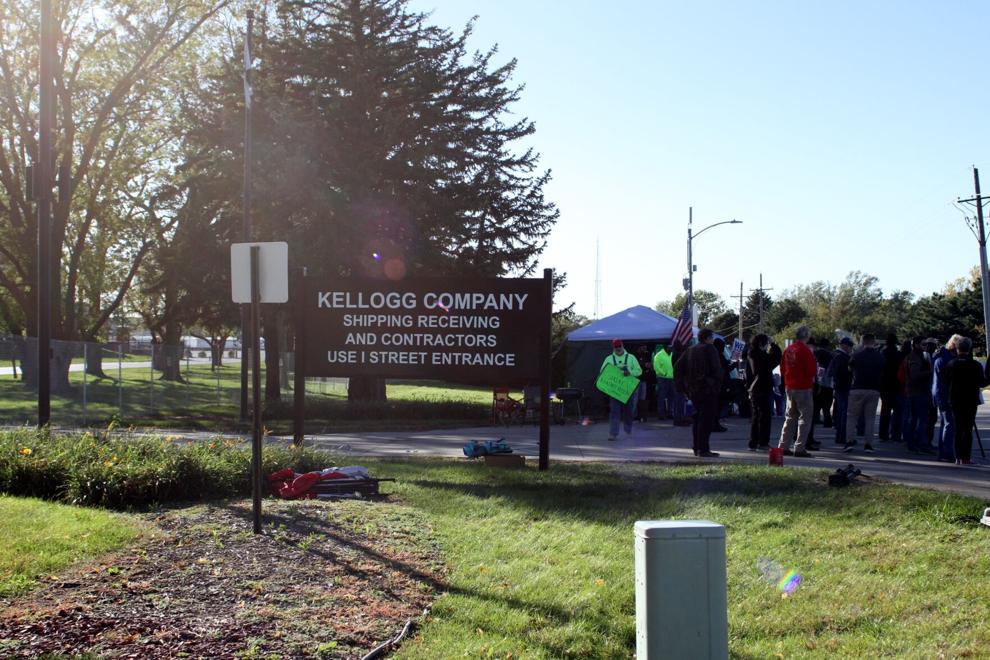 "We put long hours and long weeks in here, we work through the holidays," Jens said. "Over the years, nobody complains. We work these hours because we have the good benefits, and now they're trying to do this two-tier wage system and it's not right."
Kellogg spokeswoman Kris Bahner said in an email Wednesday that Kellogg and the Bakery, Confectionery, Tobacco Workers and Grain Millers International Union "are engaged in negotiations to finalize a master labor contract for (the company's) four U.S. Ready to Eat Cereal (RTEC) plants."
"We are disappointed by the union's decision to strike," Bahner said. "Kellogg provides compensation and benefits for our U.S. RTEC employees that are among the industry's best. Our offer includes increases to pay and benefits for our employees, while helping us meet the challenges of the changing cereal business."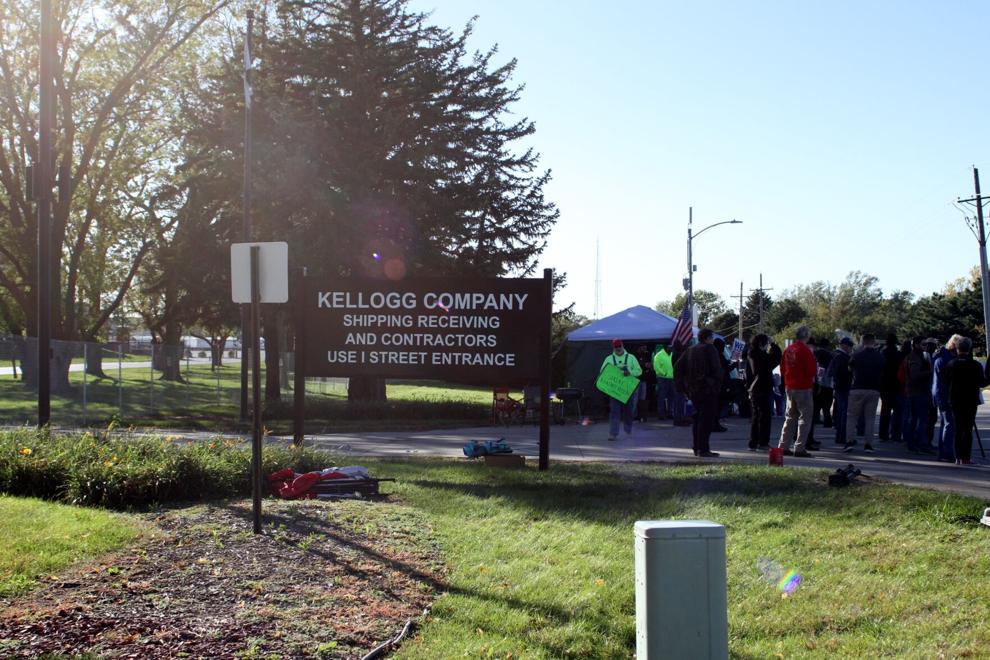 Jens said that he wants the public to know that the strike isn't about how Kellogg compares to industry competitors, but is a fight for equal benefits among employees.
"We're out here today fighting for all the newer employees, which make up almost a third of the building," Jens said. "We're fighting for equal rights, equal benefits and equal pay."
At least one striking worker has picketed at the Omaha plant around the clock since the strike began.
A photo of a man with a picket sign standing in the rain outside the plant Tuesday night was shared widely on social media Wednesday.
Wednesday's rally, organized in part by Terry Moore, former president of the Omaha Federation of Labor, brought several unions to the picket line.
Moore was an employee at the Omaha plant when he was elected Omaha Federation president in 1976. Addressing the crowd Wednesday, he called for the support of local unions to work together in sending a message "not only to Kellogg's, but to the community."
"We will not stand by and watch our brothers and sisters be degraded in all of their benefits, and I can tell you, if you allow it to happen to them, it's going to happen to you," Moore said to the crowd. "This company is trying to break the back of this local union."
Bahner, the Kellogg spokeswoman, said the company remains "committed to achieving a fair and competitive contract that recognizes the important work of our employees and helps ensure the long-term success of our plants and the Company. We remain ready, willing and able to continue negotiations and hope we can reach an agreement soon."
Bahner also said the company is "implementing contingency plans to mitigate supply disruptions," including the use of salaried employees and third-party resources to produce food.
Sitting on his father's shoulders, Jens' son Brayden waved to passing cars as they honked.
Jens noted this his own father worked at the Kellogg plant for more than 40 years.
"He might be a third generation," Jens said, looking up toward Brayden. "We'll see how this strike goes."
This report includes material from the Associated Press
---