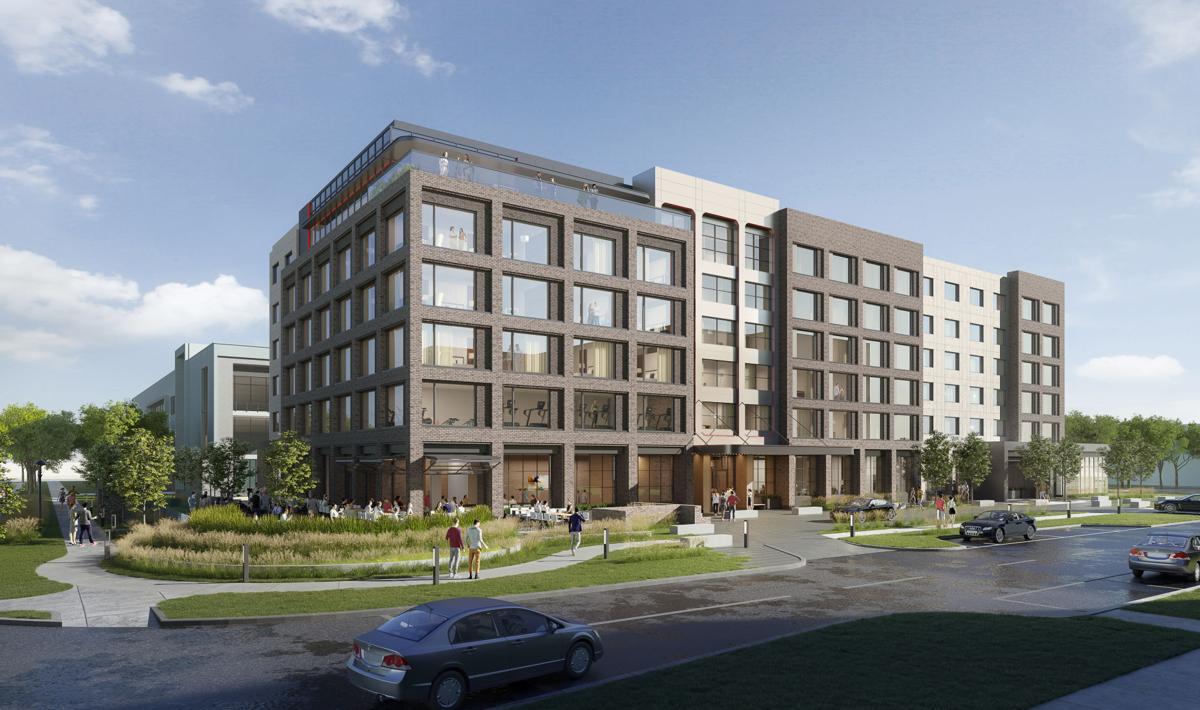 Ground work has started on a six-story, $23 million hotel on the Nebraska Innovation Campus in Lincoln.
The 154-room Marriott Tribute property, scheduled for completion in late 2021, is designed by DLR Group, developed by Goldenrod Cos. and under construction by the Omaha office of McCarthy Building Companies.
According to McCarthy's Ryan Sawall, a 10,000-square-foot portion of the first level will be designated as educational and amenity spaces for students of hospitality, tourism and restaurant management programs. Included will be an instructional kitchen, classrooms and student lounge.
Other hotel amenities include a full-service restaurant, rooftop bar, coffee shop and fitness center.
The hotel is rising adjacent to the Rise Building (which houses start-up and private businesses) and across the street from the campus' north innovation Commons building.
---
Parables bookstore to close
A nearly four-decade run of growth and prosperity for an Omaha Christian bookstore has come to an end: Parables at 11212 Chicago Circle is closing.
"We are closing our doors forever," said a letter that went out to loyal customers who were invited to an early liquidation sale.
Bill Alford, who started the business in 1983 with wife Dorothy, said he'll lock up after merchandise clears out. "When it's gone, it's gone."
The Alfords started the enterprise by buying a small Christian college bookstore. Business grew, he said, and they relocated to larger places before building their current facility in 1996. "It prospered beyond belief. It kept growing so fast we had to keep moving."
But, reader habits changed, said Alford, whose children have helped manage the store in recent years. He said low profit margins can't keep the doors open.
"Amazon has just dominated the book business and, well, people don't read the newspaper or books as much as they used to."
Dorothy passed away Dec. 6th, Alford said. He is 94 years old (and still has the VIP car wash near 120th and L Streets).
"It was wonderful while it lasted," said Alford.
---
Investors Realty leadership changes
Locally born and raised Investors Realty has shifted leaders, with Tim Langan succeeding R.J. Neary as president. 
Neary, who served as president since 2010 and has been with the real estate company since 1987, will remain as board chairman, helping to guide strategic growth.
Langan, also an Omaha native, joined Investors Realty as chief operating officer in 2013.
Other management changes also are taking place, including that co-founder Steve Farrell goes from chairman to advisor. Farrell and Jerry Heinrichs founded Investors Realty "on little more than the back of a napkin 45 years ago" and built a foundation that enabled steady growth, according to a statement.
Investors Realty today says it manages more than 6 million square feet of office, industrial and commercial space, and provides brokerage and consulting services.
---
Real Estate Summit to zoom in on COVID
Organizers of Omaha's annual Commercial Real Estate Summit — set to be held virtually on Aug. 14th — say they have retooled this year's conference and workshops to focus on the up-to-date impact of COVID-19 on the real estate industry.
"Our panels and breakouts will also discuss strategies for working through this difficult period with ideas to survive and thrive after this pandemic departs," said an announcement from the steering committee.
The group said they've seen substantial change in retail, hospitality, office and restaurant markets. And although the industrial and apartment sectors are sustaining at this point, they said, "the future for these types of properties is also uncertain."
Keynote speakers for the event, that in the past has drawn up to 1,000 participants, include Ryan Severino, a New York-based economist, and World Boxing Organization Welterweight champion and Omaha native Terence "Bud" Crawford.
---
Campus for Hope renovation
A north downtown Omaha facility that offers residential and recovery programs is undergoing a $7 million makeover and expansion.
Campus for Hope formerly was operated by Catholic Charities of Omaha, before Catholic Charities cited cost and government regulations in a decision a few years ago to get out of the addiction treatment and mental health services.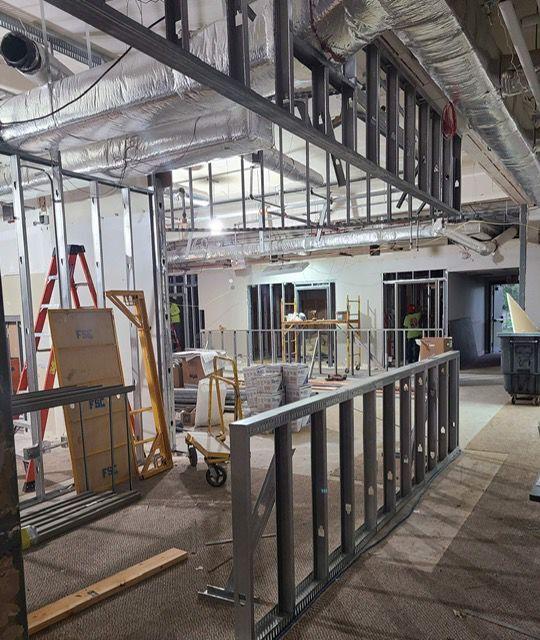 For the past three years, CenterPointe has operated the campus and leased space from Catholic Charities, said CenterPointe spokeswoman Kelsey Lang. This April, she said, CenterPointe acquired the complex by securing low-income housing tax credits and additional financing that will allow for the renovation.
The rehab work includes new roofing, windows, paint, kitchen area and heating and air-conditioning systems.
"We know this renovation will help to provide treatment services as the demand is high and the line is long," said Topher Hansen, chief executive officer.
CenterPointe offers more than 35 programs in Omaha and Lincoln in areas of crisis response, mental health and addiction recovery and housing.
---
First Nebraska Bank branch opens in Elkhorn
First Nebraska Bank has opened its first location in the Omaha area, and its 11th branch overall.
The Elkhorn area facility at 20421 George B. Lake Parkway features three interactive teller machines in its drive-through area. ITMs offer connection with a remote bank teller.
First Nebraska is a locally-owned community bank whose history in the state can be traced back to 1879. The new Elkhorn branch joins bank sites in 10 other Nebraska cities.
---
Carson Group HQ "topped off"
Construction of the new Carson Group headquarters continued during the pandemic and has reached its pinnacle height — which called for a "topping off" celebration Friday at the site southwest of 144th Street and West Dodge Road.
Company spokeswoman Kendra Galante said about 40 Carson Group supporters gathered for the occasion, including several employees, founder Ron Carson and his toddler grandson, Carson Morales.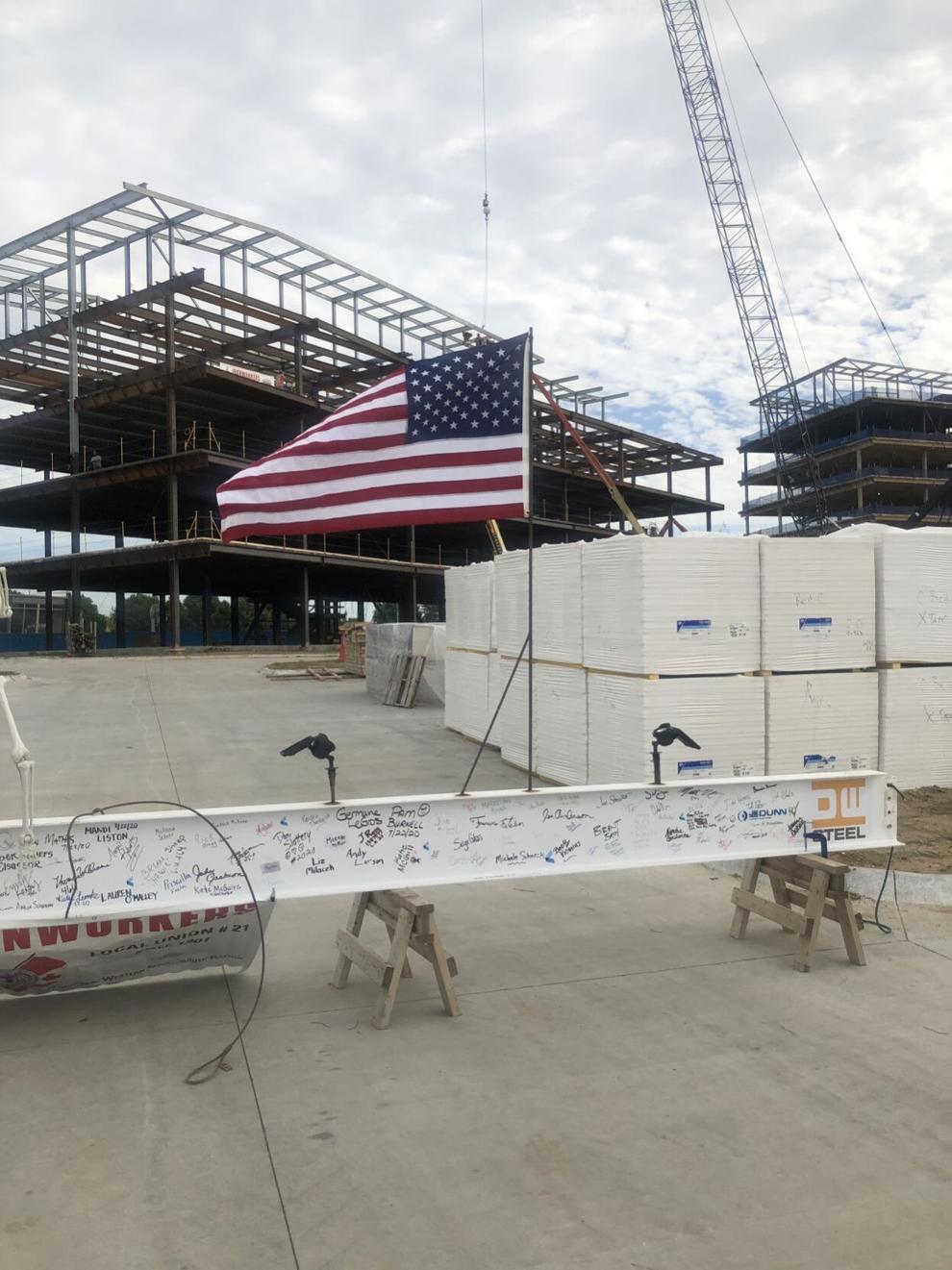 Galante said the event featured contractor JE Dunn Construction hoisting the final steel beam into place atop a tower. The beam contains names of various "stakeholders," who over the last several days signed it.
The event at the Heartwood Preserve redevelopment site was an opportunity for employees to see each other after having worked remotely because of the pandemic since March 16th.
"With the uncertainty around the coronavirus ... it does speak to that future hope," Galante said.
Carson, a financial services group, is partnering with developer Tetrad Property Group to build and co-own the estimated $50 million, six-story headquarters on eight acres. Another building is to come later in the anticipated second phase. The complex is to be a northern anchor on the broader Heartwood Preserve.
Galante said the move to the new headquarters is projected to be spring of 2021.