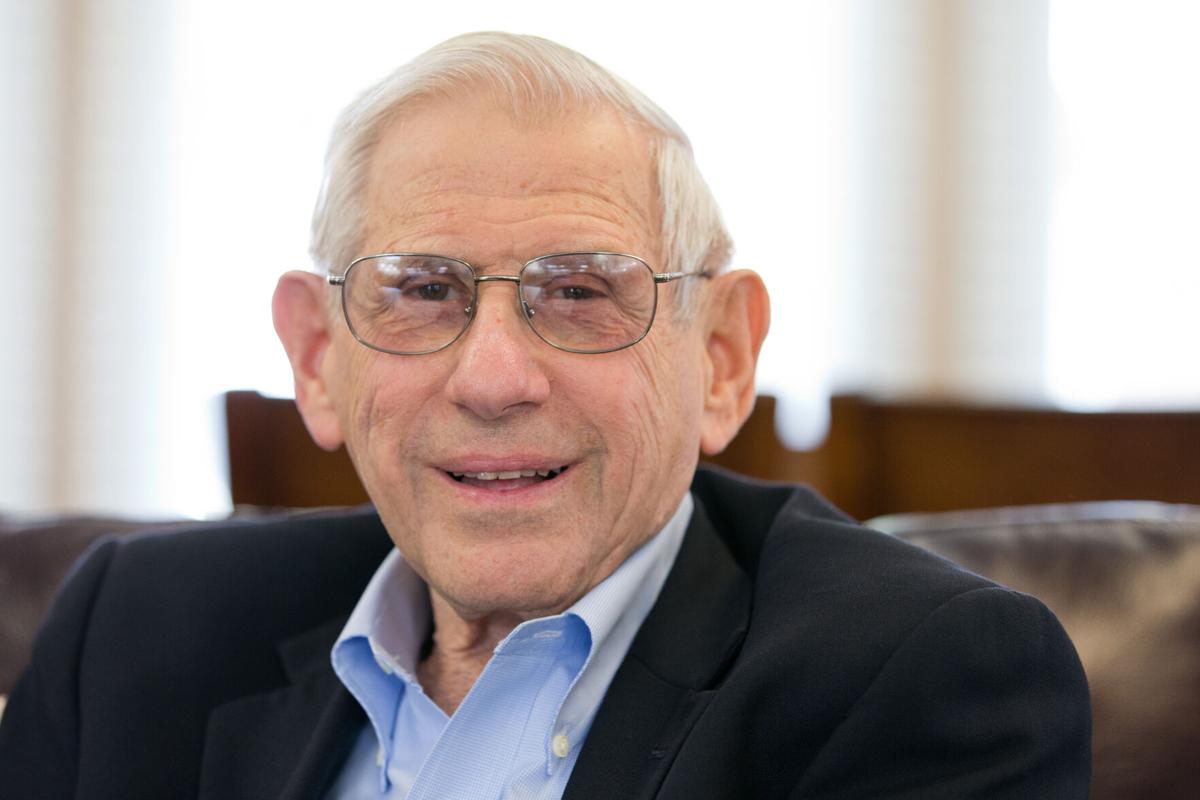 Well into his 80s, Ted Seldin was a regular at area real estate seminars and events, garnering admiration from up-and-coming peers hoping to make their own mark on the Omaha area landscape.
The co-founder of the Seldin Co. made a point to visit and get first-hand feedback from residents and shoppers representing the thousands of homes and commercial enterprises he helped develop.
Indeed, say friends and family, Seldin was on the phone and involved in business decisions up to nearly the day he died last week at age 89.
"I don't know that you could say Ted ever retired," said Bob Dean, former president of Seldin Co. "He was very diligent about how his property was presented to the public and how he treated customers and residents."
Seldin died of natural causes Saturday at his Omaha home, surrounded by family including his wife of 64 years, Sarah, and daughters Stephanie and Beth. Stephanie Howard said that her dad was devoted to family and forever boasted about Council Bluffs, his hometown, and Omaha, the multi-state company's headquarters.
Perhaps Seldin's most recognized work is the transformation of about 1,000 acres of farmland along the West Center Road corridor, from 114th to 136th Streets, into houses, apartments, professional buildings and shopping and entertainment centers.
A local commercial broker who grew up in one of those developments, Royalwood Estates, recalled living near Seldin in the late 1960s and '70s, and learning from him as the decades went on.
"He was hands-on, no matter how small or big a problem was," said Scott Moore of OMNE Partners. "A salt-of-the-earth gentleman. To him, a handshake was everything."
On the Seldin Co. website, company leaders recalled Seldin's "relentless promotion" of "the 10-second look standard" and the MBWA rule (management by wandering around), both aimed at ensuring top-notch property management.
Seldin was proud of the company's preservation projects, including the conversion of downtown Omaha's old Lerner retail building into the Limelight urban apartments and ground-level commercial space. Dean said Seldin didn't like to tear down.
Yet colleagues and family agreed that Seldin's most gratifying projects related to affordable housing, particularly for seniors.
That was noted when he accepted awards including the annual Housing Champion of the Nebraska Investment Finance Authority and the University of Iowa's distinguished alumni achievement award. He also was inducted into the Greater Omaha Chamber's Business Hall of Fame.
The University of Nebraska at Omaha named the Ted M. Seldin Commons in Mammel Hall in recognition of his support of the university's real estate program. Seldin and his wife were honored as the 2015 Humanitarian of the Year by the Jewish Federation of Omaha.
Alan Potash, who heads the federation, recalled Seldin's devotion to Livingston Plaza on the Jewish Community Center campus. He said Seldin worked with federal housing officials to establish the apartments that were open to elders of all faiths and physically linked to an array of services at the JCC.
Potash said Seldin urged people to use the term "affordable housing," saying he didn't want seniors to feel any less dignified for needing a federal subsidy.
Seldin Co.'s current president, Alicia Stoermer Clark, said part of the Seldin legacy is in careers launched and jobs provided — she said the company has about 600 employees currently. She said Seldin first asked employees about family, then went on to business.
"He had a far-reaching impact," Clark said. "He wanted to make sure we did things the right way."
Notable Nebraska, Iowa deaths of 2020
A roll call of notable people who have died in 2020: