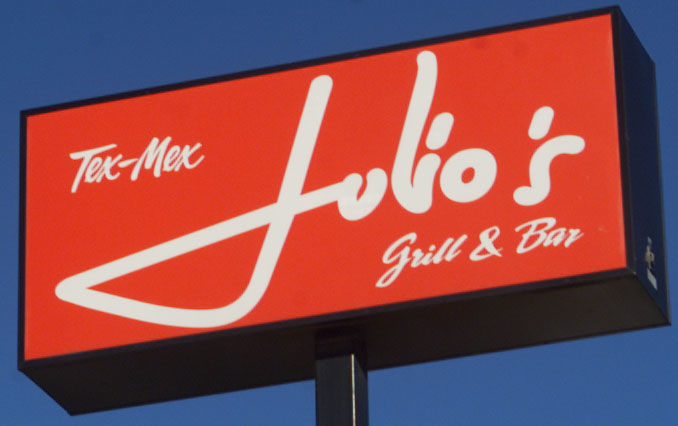 From the Julio's bar counter and margarita glasses to the kitchen sink — everything must go.
Julio's at 123rd Street and West Center Road closed last June and the remains of the 6,000-square-foot Tex-Mex restaurant are being sold to make way for a new tenant to renovate and move in.
A business already operating at the Westwood Plaza shopping center — not a restaurant — is in line to expand into the former Julio's spot. (Leasing agent Dan Dutton said the client, a non-shopping service provider, was finalizing its contract and wasn't ready to be identified.)
Meanwhile, the Westwood Plaza landlord has tapped an online auction company to sell off tortilla steamers, griddles, grills and whatever else is left of the Julio's that shut in the midst of the coronavirus pandemic.
Omaha-based PartnersBid LLC, created by four brokers from OMNE Partners commercial real estate, is a newly formed company expected to gain popularity now that handling business virtually (during COVID-19) has become more commonplace, said Scott Moore, an OMNE and PartnersBid representative leading the Julio's equipment auction.
He said the online platform broadens the pool of buyers and also expands services the brokers can provide.
For-sale merchandise includes typical Tex Mex diner paraphernalia: Corona beer buckets, taco holders, deep fryers.
There's also more unusual fare: an ornate wooden archway the former owner picked up at a mansion estate sale; tables with bases that resemble an antique sewing machine; art including stained-glass windows.
Of course bidders can choose from lots of tables, chairs, shelves, pots, kitchen utensils, an outdoor fire pit, beer glasses and beer taps.
When Julio's closed last summer, it had been offering takeout food only. The owners said then that the coronavirus pandemic was the last straw in an industry that's challenging even in good times.
Julio's started in downtown Omaha in 1977. At one point, there were 11 restaurants in the chain throughout Omaha, Lincoln and Des Moines, and the 123rd and West Center store was the last of those to close.
Fans of the restaurant became hopeful when, shortly after the closing, the Julio's Facebook page announced that a longtime customer had bought the brand and recipes and planned to create a "new and improved" establishment.
OMNE's Dutton said his team heard that plan still exists. But, he said, it won't happen at the former bay.
As for shopping centers like Westwood Plaza, Dutton said he doesn't paint the future in the same "doom and gloom" way some do. He said success will come by diversifying and offering a consumer "experience" beyond traditional shopping and eating.
Dutton noted that new tenants have moved the past year into about 40,000 square feet at Westwood, including 1/2 of 1/2 Name Brand Clothing, which relocated from the old Crossroads, St. Vincent De Paul store and Athletico Physical Therapy.
"What we view as retail is changing," he said.