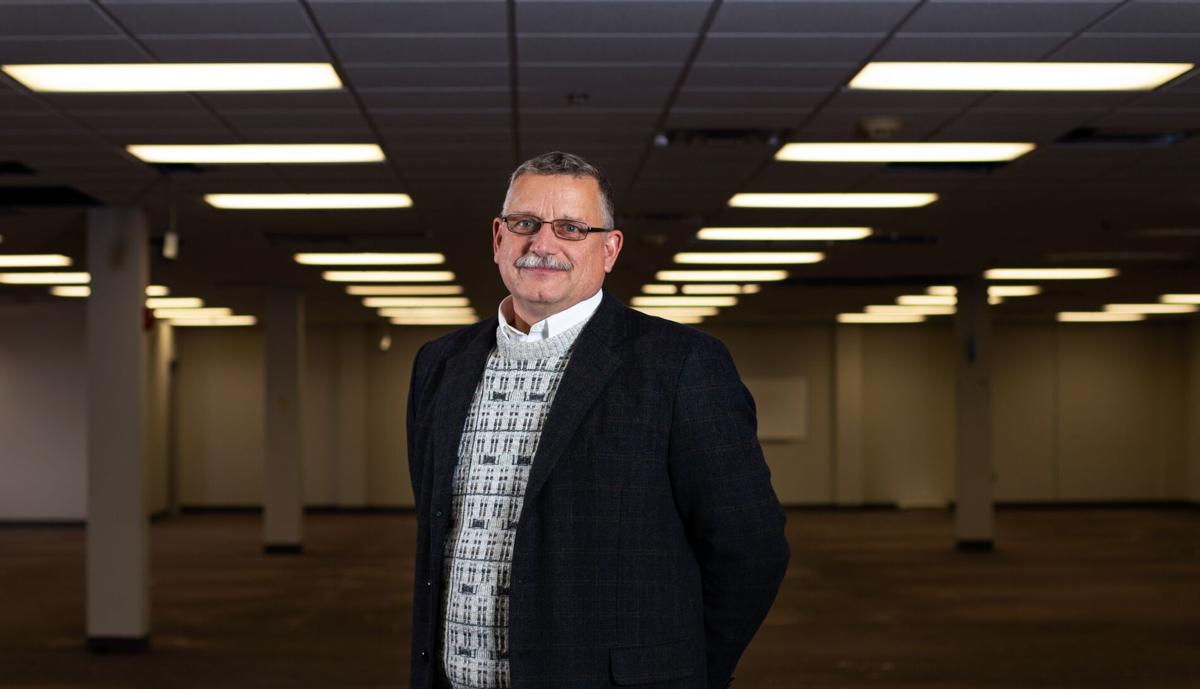 A new Omaha-area business offers a tantalizing perk — a trip to Europe, anyone? — as it starts to fill up to 500 jobs to carry out a contract that propels a local workforce into the world of patents.
FSC Edge is taking some of its early hires to a France-based sister company for training. They're preparing for the new local venture that will manage documents and data for the U.S. Patent and Trademark Office.
Led by Omahan Steve Scheuber, FSC Edge has been awarded a highly specialized contract that has a potential maximum value of $1.4 billion over a decade.
Faced with a labor shortage and a need to get the operation up and running later next year, Scheuber says his team is trying to create a Google-like campus to attract a workforce of 300 by July and about 500 within three years.
A range of talent is needed, including software engineers and managers, but the bulk of workers will be data entry operators who have a high school diploma and computer skills.
Their home base will be 13831 Chalco Valley Parkway in Sarpy County. Under renovation now is about 60,000 square feet across three floors of the structure, which used to be a Hayneedle call center.
The facility will feature a kitchen with free snacks, Scheuber said, along with new furniture, brighter walls and other investment totaling more than $3 million.
"We realize we're going to have to compete — we see the low unemployment rate," he said, referring to Nebraska's 1.9% October rate, which was the lowest of any state since data collection started in 1976.
FSC Edge's move is an upbeat sign for the Omaha area office market, still struggling with a 13% vacancy rate compared with a pre-COVID-19 rate of 8.5%, according to statistics from the local office of CBRE, a real estate services and investment firm.
The metro area now has seen two consecutive quarters when more office space was filled than vacated. That comes after six straight quarters of negative leasing activity, said CBRE first vice president Steve Sheppard.
"Moving forward, we're very optimistic," said Sheppard, who along with Dave Maenner represented the landlord of the Chalco Valley property in FSC Edge's lease agreement for the property. Ed Fleming of Omaha's Colliers International represented FSC Edge in the deal.
In launching the patent-related project, Scheuber said his team essentially spent the last six years preparing for and pursuing the contract work, which had been carried out the past 40 years by the same Pennsylvania group.
Now, Scheuber said, FSC Edge will share the workload with that Pennsylvania group, which has its own contract and its own processing methodologies. Scheuber said he is hopeful that FSC Edge eventually will get the lion's share of the overall work because its fee is lower.
He described as "somewhat monumental" the fact his company was able to break into the work space of an "entrenched incumbent."
Good news for the Omaha area is that FSC Edge chose to build its new operation locally, despite advice from a consultant that, Scheuber said, had recommended three other host cities. Among the factors considered were internet speed and availability of the targeted workforce.
Scheuber said he advocated for the area he's lived in for the past three decades. He said local business connections from his career and a suburban Rotary group have helped launch the venture.
At least one thing the consultant underestimated, Scheuber said, was that the Chalco Valley location, with its Interstate access, allows FSC Edge to pull job candidates from areas such as Lincoln.
Hiring has begun. Early employees, including production managers and some senior data entry operators, are being sent to France to learn patent processing systems of the European sister company, Scheuber said.
Full-on production is to begin around September, after people are trained.
FSC Edge, overall, will be using its signature technology to convert patent applications into a digital format — or, as Scheuber describes it, "into a very pretty PDF format."
Most employees will have a specified task within the highly automated system that can be learned within a matter of days, Scheuber said.
He said the business will be competing with entry-level jobs and fast-food restaurants for staff, but will offer a benefits package (including paid holidays and two weeks' vacation) and a professional office environment that Scheuber hopes is alluring to workers.
"They won't be slinging french fries," he said.
---