Warren Buffett's daughter has joined him on the board of Berkshire Hathaway, a move Buffett says will help preserve the company's unique culture even after he is gone.
Susie Buffett's appointment could also carry implications for Omaha, giving her a voice in the company that her father built in Omaha — and which he has said should always remain rooted here.
Berkshire recently announced that Susie Buffett and investment fund manager Christopher C. Davis had been elected to its board of directors. Susie Buffett became the third Buffett on the board, as her brother Howard Buffett has served for almost three decades.
Warren Buffett said in an interview with The World-Herald that he likes to have board members who understand Berkshire's distinctive culture and who are invested in the company's long-term success. He said both of the new directors — including his daughter — fit that bill.
"All three of my children are devoted to maintaining the culture of the place," said Buffett, Berkshire's founder, chairman and CEO. "They have an unusual amount of devotion to that."
Besides being a significant Berkshire stockholder herself, Susie and her two brothers will one day be the executors of Buffett's estate, which has 99% of its holdings in Berkshire stock. Forbes currently values Buffett's net worth at just under $100 billion.
Having directors who are heavily invested in the company also helps preserve Berkshire's stockholder-centered orientation, Buffett said.
The 91-year-old Buffett has shown few signs of slowing down. He continues to run a conglomerate that ranks No. 6 on the Fortune 500 list of the nation's largest companies. But the country's oldest Fortune 500 CEO has also long been attentive to preparing the company for when he is gone.
Previously, he has said Howard Buffett would succeed him as chairman, though not as CEO. Buffett earlier this year confirmed that title would go to Greg Abel, who currently oversees Berkshire's non-insurance operations.
Long considered one of the nation's most stable and admired companies, Berkshire's culture is unique and firmly rooted in Buffett's philosophy and principles.
Berkshire has always taken a long view. It seeks to acquire strong, well-managed companies and gives them freedom to operate autonomously under the Berkshire umbrella. It eschews shareholder dividends, preferring to invest in the company's long-term growth and value.
He believes that Berkshire's location in a hardworking city far from the daily chatter of Wall Street has been integral to Berkshire's success. Buffett once joked that he would haunt from the grave any future Berkshire leaders who contemplated moving the company.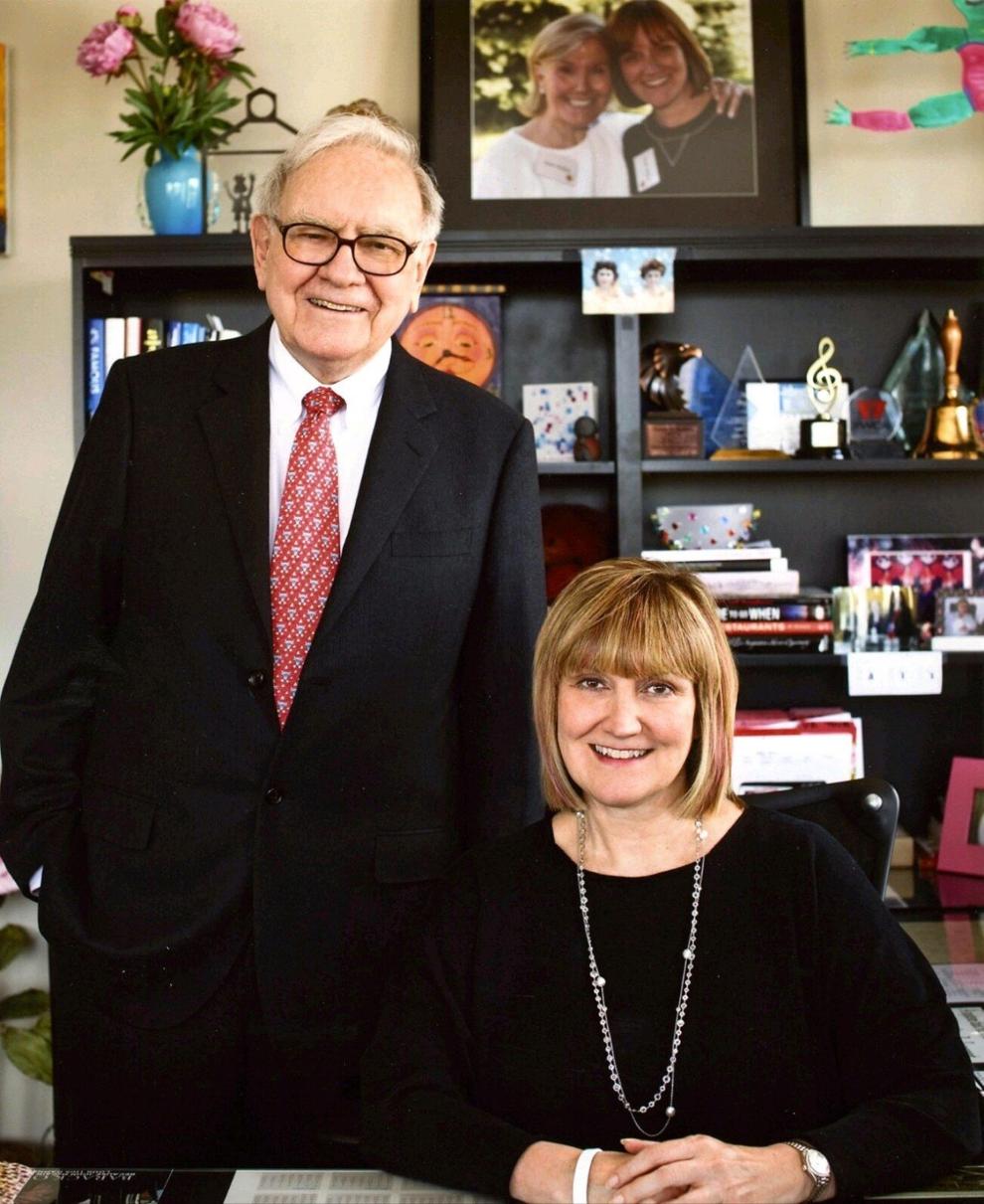 Susie Buffett, 68, said she is honored to join the board, some of whose members she has known most of her life.
"I'm looking forward to continuing to learn from my dad for at least another ten years, but the shareholders can be confident that when he's gone, the unique culture will continue," she said. "He's built an amazing company — along with amazing managers — and the board members understand the importance of continuing and preserving what we have."
Lawrence Cunningham, a George Washington University professor who has written books on Buffett and Berkshire, said that while some might be skeptical of another Buffett joining the board, both new directors are "naturals."
Most Berkshire shareholders buy into Berkshire culture and want to see it preserved. But Cunningham said that is increasingly a challenge when growing amounts of the stock are owned by index funds or others who see it as just another investment.
When Buffett is gone, it will be up to the board — now including Susie Buffett — to show mettle and ensure that the culture endures, he said.
"She knows him better than anyone, really," Cunningham said. "What's needed on the board is a group strong enough to push back and keep Berkshire special. She is a tough person. She will not be pushed around."
Davis also has Berkshire in his DNA, Cunningham said, describing him as a longtime student of Buffett with his own proven record as an investor.
"Expect him to offer forthright, intelligent and persuasive defenses of Berkshire and its methods against all antagonists," Cunningham wrote in a column published last week by business news website MarketWatch.
This is not the first time that three Buffetts have served on the Berkshire board. Before her death in 2004, Buffett's wife, Susan Thompson Buffett, served along with Warren and Howard.
The addition of Susie Buffett and Davis expands the Berkshire board from 14 to 15 members. Davis essentially replaces Omaha businessman and philanthropist Walter Scott Jr. as one of the board's independent directors. Scott died in September at age 90.
Susie Buffett is the chairman of the Sherwood Foundation, an Omaha-based charitable foundation with a focus on education, equity and social justice. She also chairs the Susan Thompson Buffett Foundation, an education-focused Buffett family foundation.
Davis, 54, is chairman of investment firm Davis Selected Advisors, overseeing some $25 billion in assets. Berkshire is one of the firm's major holdings.
Buffett said Davis represents the third generation of a successful family of investors.
Davis' grandfather was Shelby Cullom Davis, a legendary financial adviser to governors and presidents. Shelby Davis' son, Shelby M.C. Davis, established Davis Selected Advisors in 1969.
Buffett said he got to know Chris Davis' grandfather and father a little at past Berkshire shareholders meetings and has gotten to know Chris even better. Buffett and Davis served together on the board of the Washington Post. Davis is also on the board of Coca-Cola, a longtime Berkshire investment.
Davis also understands the insurance business, Buffett said, with his family having been an early investor in what is now Berkshire's Geico subsidiary.
For 20 years, Buffett said, Davis has had a framed share of Berkshire's Class A stock on his wall.
Said Buffett: "We are looking for directors who have a special interest in Berkshire."
---