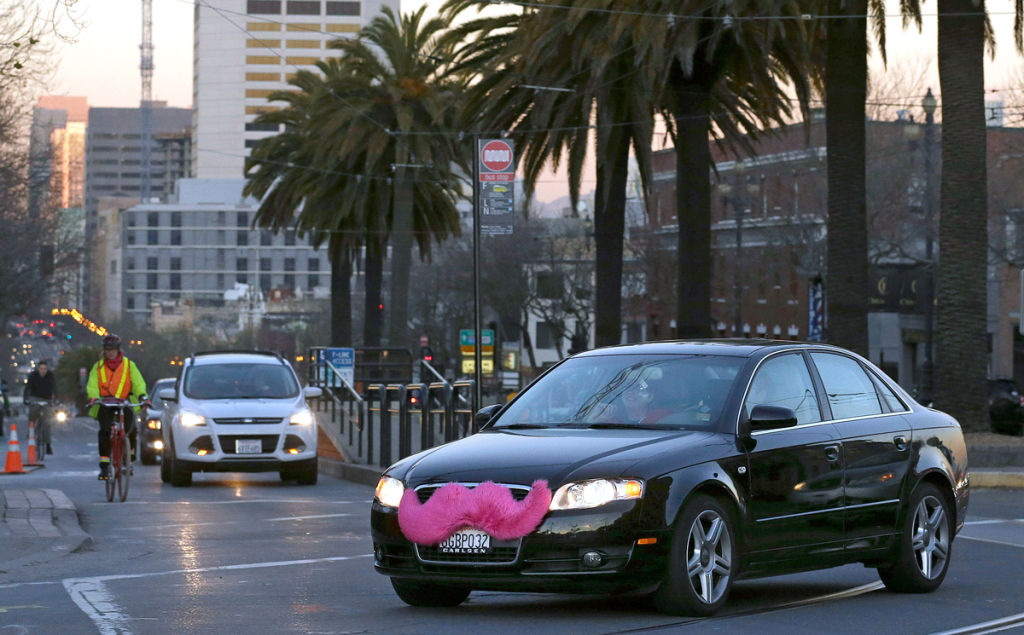 Drivers for ride service Lyft will operate without penalty in Nebraska for the next two weeks because they're not charging for the rides.
Lyft supporters have launched petition drives in both cities, urging officials to "embrace technology to improve mobility for residents," and said strict regulation of services like Lyft sends the message that Nebraska is not a progressive place for tech companies to do business.
But regulators remained concerned, saying that not enough is known about the service and its insurance coverage and that it could be a risk to public safety.
"It's to protect the public," said Anne Boyle, the Public Service Commission member representing Omaha. "That's all we care about."
Lyft, like its competitor Uber, is an app that allows riders to connect via smartphone with independent drivers who use their private vehicles to provide rides. The San Francisco startup was founded in 2012 and operates in 60 cities, including 24 added Thursday, among them Kansas City, Mo.; Tulsa, Okla.; and Colorado Springs, Colo.
"We thought Omaha was a really good fit for Lyft," said spokeswoman Paige Thelen, calling Omaha "friendly" and mentioning the city's "entrepreneurial spirit."
"We're confident residents will embrace the service."
In the first hour of service, the Lyft app showed as many as five drivers available at a time. Drivers seemed to congregate downtown, in Midtown and in the Old Market area as they waited for riders. The app also showed drivers near the University of Nebraska at Omaha, near 60th and Maple Streets, and in Ralston and Papillion.
Around 7:30 p.m., users got a notice that service had switched into "Prime Time," a time when ride requests outnumber available drivers on the road and driver pay is boosted.
Several drivers also were available in Lincoln, enough that at one point Lyft turned on its "Happy Hour" feature, which offers discounts when the number of rides exceeds demand. Omaha also was in "Happy Hour" at one point.
Nebraska Public Service Commission transportation director Mark Breiner on Monday sent letters to Lyft and Uber, telling them to stop advertising for drivers in Nebraska and warning that they would be in violation of state law if they operate here.
He said Thursday that the commission would not intervene as long as the service is offered for free but that he remains concerned about the service's insurance coverage.
The commission will monitor the service, Breiner said.
"If we find that it is not free, we will take the appropriate action, which could include criminal citation and the impounding of the vehicle," he said.
A spokeswoman for Omaha Mayor Jean Stothert said: "The City of Omaha will look into the services provided by Uber and Lyft to educate the companies about the local laws. If laws are broken, the violations are subject to enforcement action."
Lyft drivers have been ticketed in other cities, including St. Louis, where the service launched last Friday, ignoring a cease-and-desist order from a city taxi commission.
A national trade association weighed in Thursday. "Lyft will be deploying thousands of unsafely insured and unlicensed taxicabs, with drivers who have not been fingerprinted or properly background-checked," said Dave Sutton, spokesman for the Taxicab, Limousine & Paratransit Association.
Lyft is aware of the commission's concern about its service but does not believe it is illegal to provide free rides.
"We decided to start an exploratory phase in Omaha, given that we would not be charging for rides," Thelen said. She said Lyft wants to open a conversation with Nebraska state leaders.
New app users who sign up through May 8 will have two weeks of free rides credited to their account, Thelen said. A user must provide a credit card number, and signing into the app requires a Facebook profile.
Boyle is concerned that the services would not provide customers with the same safety protections as regulated taxicab companies.
Thelen said Lyft's requirements are "above and beyond" requirements for taxis and include a background check, a driving record check, a vehicle inspection and excess liability insurance coverage of up to $1million covering passengers and third parties.
The driver is required to have his or her own insurance, and Lyft provides excess liability coverage if the vehicle is hit by an uninsured or underinsured driver.
The services also rely on rider reviews to help users find quality drivers.
"We have a good group of drivers onboard" in Omaha, she said.
Among them is Heather Farmer, who works in a West Corp. call center and said giving her first ride was a thrill. She said Lyft was paying the drivers an hourly rate during the first two weeks.
Farmer said she hopes the issues with regulators will be worked out soon."I think that once the community really sees the difference and the joy and just the community of it, they're really going to like it."
Christy Menendez, Farmer's roommate, signed up to be a driver on top of her full-time employment at a cancer clinic and her part-time work as a gymnastics coach "to make some extra money."
Menendez said she wasn't nervous about whether it was safe for her. "I think having the app will help filter out some weirdos," she said, and she would decline to offer a ride to areas where she didn't feel safe. People who use it, she said, "they're pretty tech-savvy."
Since Breiner's letters went out, there has been a show of support locally for the services, especially among younger people, and employees and founders of startup companies.
Paul Jarrett, founder and CEO of Bulu Box in Lincoln, started a petition Thursday on change.org, asking Lincoln Mayor Chris Beutler to "join me in embracing new mobile app-based transportation options and welcome ridesharing to our region."
Bulu Box relocated to Lincoln from San Francisco, and Jarrett said he has tried to attract and retain tech talent from other states.
"You want to send that message that we're progressive," he said. But with the state response to Lyft, he said, "We give this message that we are not accepting of innovative companies and ideas."
Entrepreneurs are excited about Lyft because they want to use the service and because it contributes to Omaha's "cool factor," said Mark Hasebroock, founder of Dundee Venture Capital. So they were surprised to hear regulators "slam the door" on the company.
"Among the startup and the tech community, people are looking at each other kind of dumbfounded," he said.
He encouraged Stothert or Gov. Dave Heineman to get involved as a mediator and help find a solution. "Let's figure out a way to make this happen."
Boyle said the commission can work with Lyft to understand the service and discuss granting it authority to operate.
"As our world moves forward, these are the kinds of things that are going to be changing and we will have to deal with them," she said. But for the time being, "We can't defy the statute of the State of Nebraska."
The business news you need
With a weekly newsletter looking back at local history.