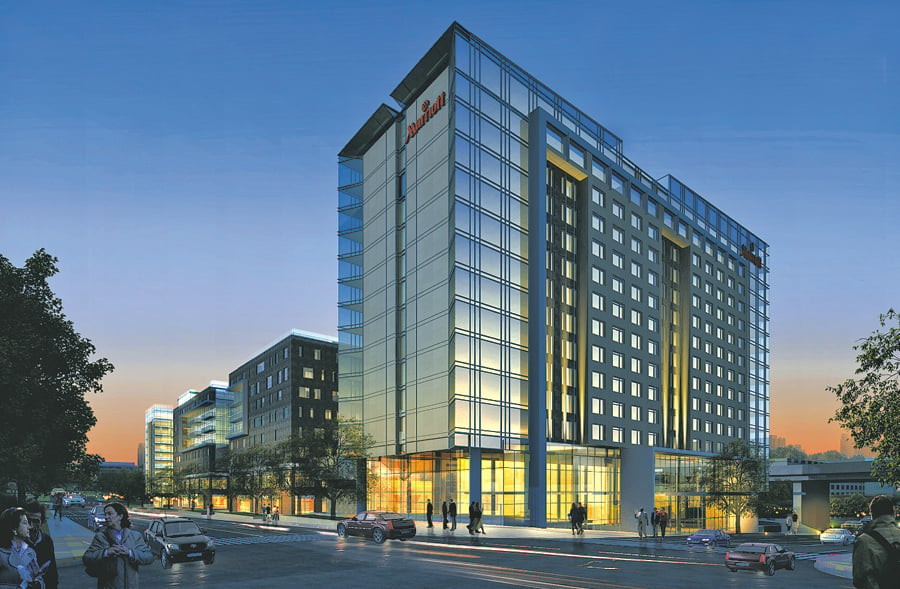 While behind schedule again, the $205 million Capitol District project in downtown Omaha is "absolutely" moving forward, the developer said Monday.
But Mike Moylan of Shamrock Development and an aide to the mayor said the hotel won't be completed in time for the 2016 College World Series or the U.S. Olympic Swim Trials, as once hoped.
Moylan said his team still was working out details on the project, which he called complex because of the numerous uses and building types within a small physical area. The project would include a 333-room, full-service Marriott hotel, 226 apartments, 125,000 square feet of office space and a central plaza that could host large outdoor events.
Moylan could not give an exact date on when Omahans will see actual construction on the site.
Cassie Seagren, Omaha Mayor Jean Stothert's deputy chief of staff for economic development, said Monday that Moylan, city officials and the Metropolitan Entertainment and Convention Authority had hoped to have the hotel ready by the trials.
"The reality is it won't happen by then, but it's still going forward," she said.
Seagren said developers were "still working on their financing."
Moylan, elaborating on the delay, said construction needs to start at the same time for the hotel, the apartments and a parking garage.
"All sources for financing on those three are in place," he said. "We're just finalizing the documentation and hoping to commence construction very soon."
He said Shamrock is in regular contact with the city and MECA.
The city and MECA selected Shamrock to redevelop the site — now used as MECA parking lots — in 2011. Moylan's goal at the time was to have the project completed by the end of 2014.
The City Council has approved up to $35 million in tax-increment financing for the project.
An official groundbreaking of the project was held in June, with city officials and business leaders gathered at the 10th Street and Capitol Avenue redevelopment site. The project was touted as the key to the continued success of downtown Omaha.
Progress initially was slow as Shamrock worked to find a hotelier willing to open a full-service facility and to land financing. At the groundbreaking, Moylan pointed to assistance he received from Gov. Dave Heineman in securing foreign financial backing, primarily from China.
Moylan said Monday that the hotel still is using the foreign investor financing as a source.
"It's complicated and difficult," he said of the multimillion project. "But it's positive."